Baccarat is a classic table game that can be found at casinos around the world. It can also be played online, and while the game looks very sophisticated to those who encounter it for the first time, it's actually quite easy to play. In this guide, we will discuss how to play baccarat online and the main baccarat rules you need to be aware of. We will also discuss baccarat strategies and how some versions of offline baccarat differ from the online baccarat game.
Best Baccarat Online Casinos

Online Baccarat: Basic Rules and Objective
When you play baccarat online, you are almost always playing a version of the game called Punto Banco. This is a game of pure chance, so you don't need any skill to play and whether or not you win depends entirely on whether or not you happen to get lucky. Online baccarat is therefore just as suitable for complete beginners as it is for those who have been visiting casinos for years.
Baccarat is a card game that uses a standard deck of 52 playing cards. The cards are dealt from a shoe that contains six to eight decks. All of the action takes place on a table layout that shows three different betting options. These allow you to bet on the Player, the Banker, or the Tie (as illustrated below).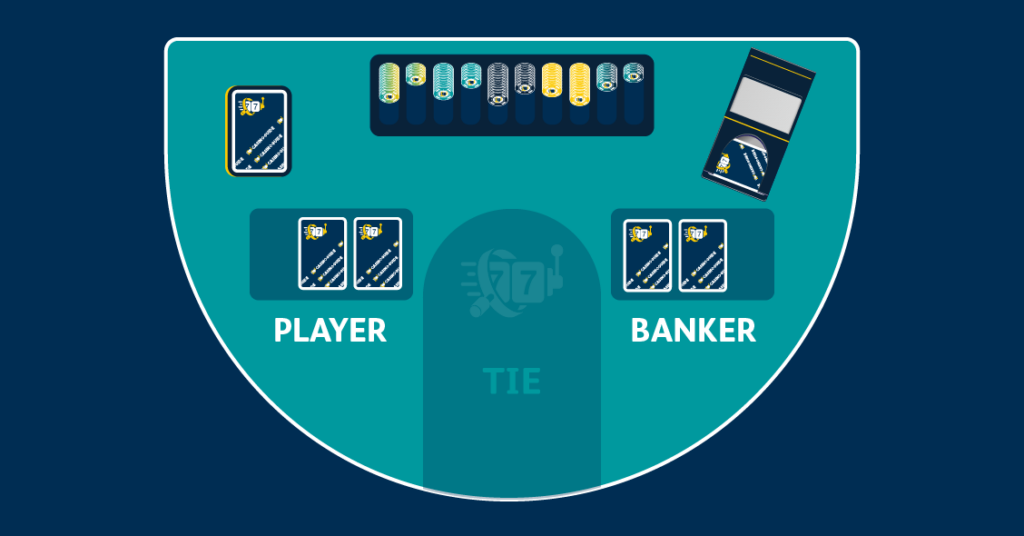 It's important to note that the Player and Banker labels are simply game positions, and don't represent you as an individual player or the casino as the banker.
The aim of online baccarat is for you to bet on whether the Player or the Banker will achieve the hand with a total that is closest to 9. Cards have the following values:
King, Queen, Jack, 10 = 0
9, 8, 7, 6, 5, 4, 3, 2 = Face Value
Ace = 1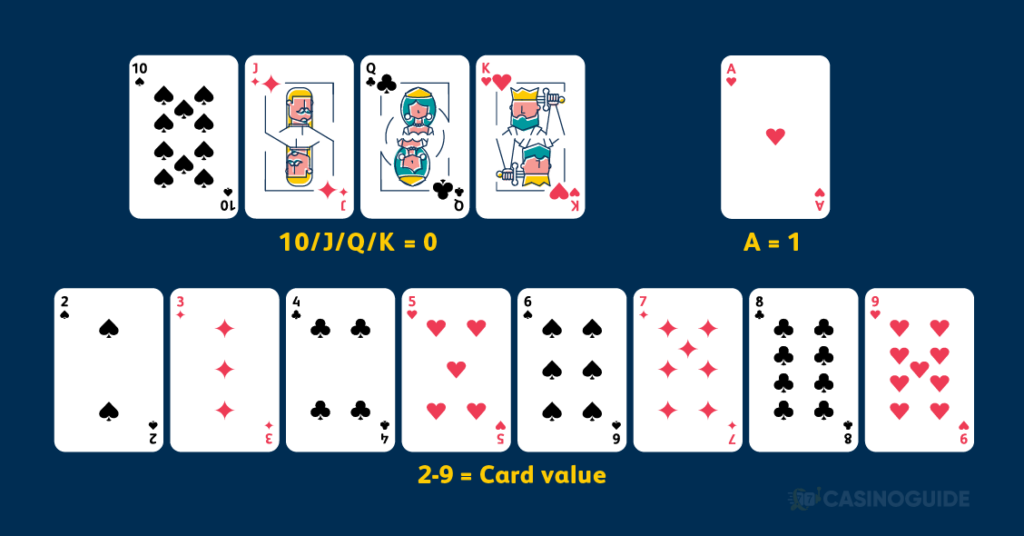 Both the Player and the Banker receive two cards, and those are totalled up. If the total goes into double digits, only the second digit will be used to determine the value of the hand. For example, if the Player is dealt a 5 and a 9, the total of 14 would give the hand a value of 4. Similarly, if the Banker is dealt a 2 and a 9, the total of 11 would give the hand a value of 1.
A third card may also be dealt, but that will depend on the two-card hand total, as we will explain a little later.
The hand that gets closest to 9 will be declared the winner. If both the Player and the Banker have the same total, a Tie will be declared.
How much you can win from a hand of baccarat depends on the outcome. Here are the usual payouts, though it should be noted that some versions of the game can deviate from the odds shown:
A winning bet on the Player will pay 1:1.
A winning bet on the Banker will pay 19:20 (1:1 minus 5% tax).
A winning bet on the Tie will pay 8:1.
How to Play Baccarat Online
Now that you are familiar with the basic rules of online baccarat Canada, we will take you through a hand step-by-step so that you can see how they work in practice. Along the way, we will also explain the rules that determine whether or not the Player or Banker receives a third card.
1. Select Your Stake
The first thing you need to do is decide how much you want to bet on the next hand to be played. You can then select the appropriate chip value from the interface at the bottom of the on-screen baccarat table. Simply click the required chip value to activate it.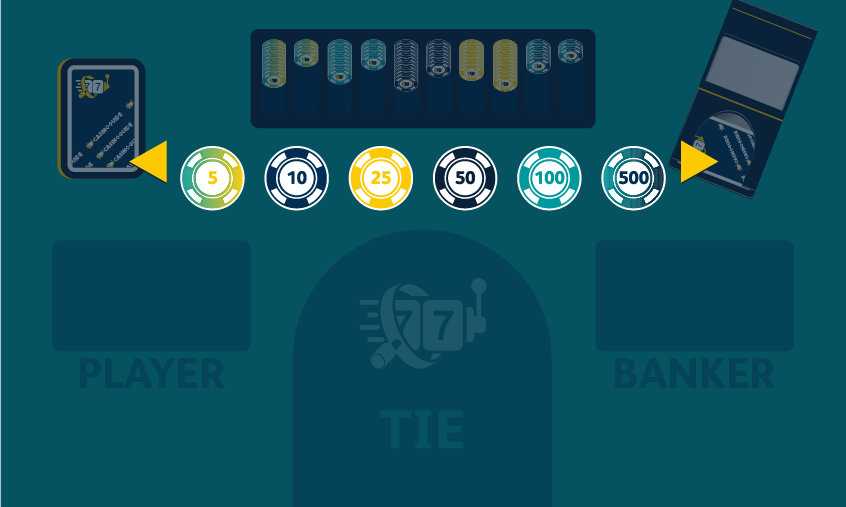 2. Place Your Bet
Now you need to decide whether you want to root for the Player, the Banker, or the Tie, and place your bet by clicking the area of the table layout that represents that outcome. For example, if you wanted to bet $25 on the Banker winning the hand, you would select a $25 chip and click the Banker area once.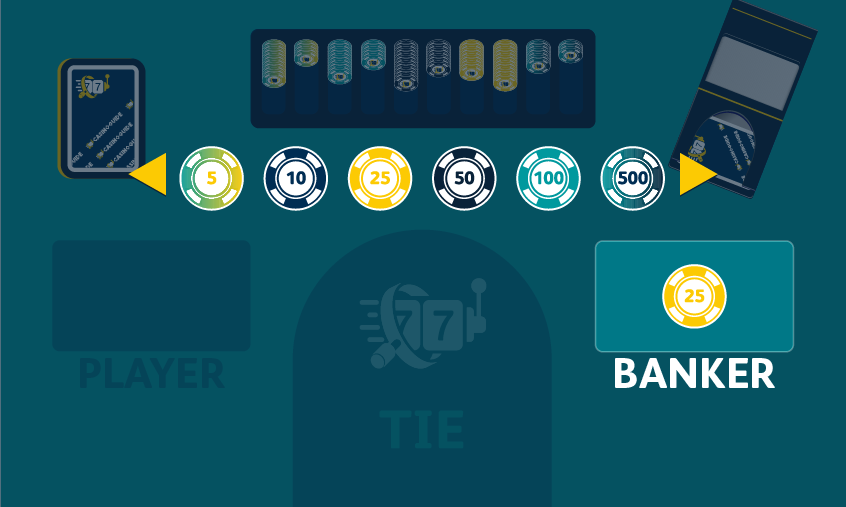 3. Watch the Dealer
When you have placed your bet, the Dealer will deal two cards to each of the Player and Banker. Each hand will then be totalled according to the rules that we explained earlier. Remember, picture cards and the 10 cards all have a 0 value. Cards numbered 2 to 9 have their face value, and the Aces each have a 1 value. One of the great things about playing baccarat online is that the value of each hand will be calculated automatically, so you needn't do anything yourself. Simply watch the cards being dealt and see what happens.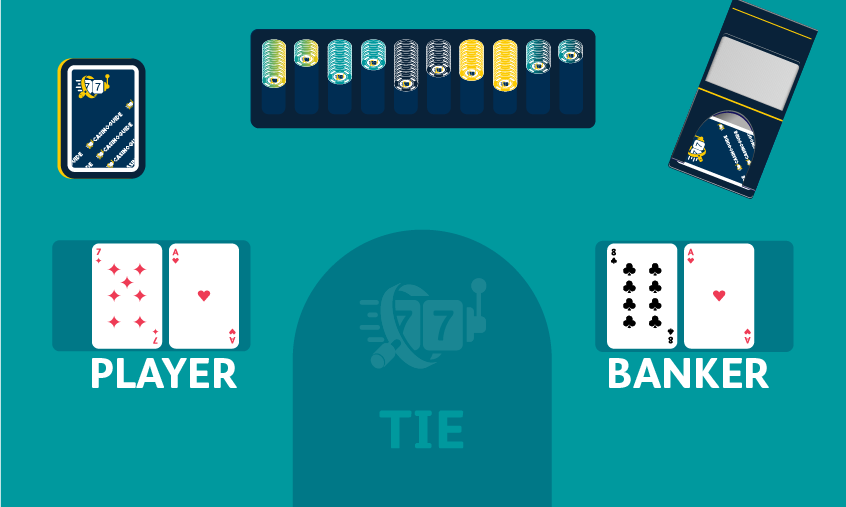 In the scenario illustrated above, you'll see that the Player has a hand total of 8 and the Banker has a hand total of 9. These are both examples of something called a 'Natural', which is a total of 8 or 9 from the first two cards. A Natural being dealt will always mean that the game is over. When two Naturals have been dealt, the highest one wins. In other words, a Natural 9 beats a Natural 8, so in this case, the Banker has won and all bets will be settled accordingly.
4. Look Out for Third Card Rules
Now let's imagine a scenario in which neither the Player nor the Banker has been dealt a Natural. In this case, the third card rules come into play. Again, this isn't something that you need to worry about because all of the action takes place automatically and the Dealer will determine whether a third card is dealt and to which hand(s). However, it's good to be familiar with third card rules just so you know what to expect.
Whether or not the Player receives a third card will depend on the total of the two cards that have already been dealt. The rules are as follows:
If the Player hand totals 0, 1, 2, 3, 4, or 5, a third card is drawn.
If the Player hand totals 6 or 7, the hand stands as it is.
If the Player hand totals 8 or 9, it is a Natural.
Whether or not the Banker receives a third card depends on both the total of the two cards that have already been dealt and also the value of the Player's third card, if any. If no third card has been dealt to the Player, the Banker proceeds according to the Player third card rules. This means that the Banker will receive a third card on a total of 5 or less, and will stand on 6 or 7.
If a third card has been dealt to the Player, the following rules apply according to the total of the Banker hand:
0 = a third card is drawn.
1 = a third card is drawn.
2 = a third card is drawn.
3 = a third card is drawn unless the Player's third card is an 8.
4 = a third card is drawn if the Player's third card is 2, 3, 4, 5, 6, or 7.
5 = a third card is drawn if the Player's third card is 4, 5, 6, or 7.
6 = a third card is drawn if the Player's third card is 6 or 7.
7 = no third card is drawn.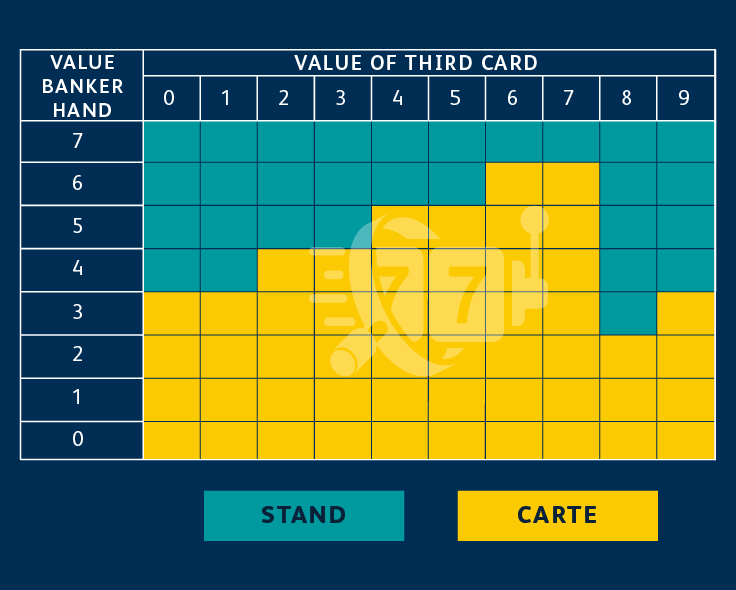 4. Enjoy Your Winnings
If the outcome that you have bet on eventually wins, you will be paid according to the corresponding odds. As we said earlier, a winning Player bet pays 1:1 and a winning Banker bet pays 19:20, while a winning Tie Bet pays 8:1.
How to Get Started Playing Baccarat
As you have seen, playing baccarat online requires very little from you as a player. In fact, all you have to do is:
Select your stake from the virtual chip rack.
Choose which outcome you want to bet on.
Place your stake on the corresponding betting area of the table.
Everything else - the dealing of the cards, the assessment of each hand and the dealing of a third card, if needed - will take place automatically. This effectively means that you don't even need to understand the rules of the game in order to play it, as you won't be required to make any strategic decisions at any point.
Baccarat Variations
There aren't as many variations of baccarat as there are of some other casino games, but a few variations do exist. The main ones are as follows:
Punto Banco
This is the version of the game that we have just explained. Punto Banco is a game of pure luck, and no skill or decision-making is required, apart from the initial decision about what outcome you want to bet on. Most online casinos will offer baccarat games from several developers, and some developers will call their games Baccarat while others will call their games Punto Banco, even though they are all, technically speaking, Punto Banco.
Chemin de Fer
Chemin de Fer is an offline casino baccarat game that you can only play at land-based casinos. This is a variation that has been around since the 19th century, and it involves multiple players sitting around a kidney-shaped table. One player serves as the Banker in each round, and he deals (from a shoe of six decks) two cards to himself and two community cards for the Player hand.
What makes this game particularly different from Punto Banco is that players can choose whether or not to accept a third card. That means there is an element of skill involved in the game - something that isn't present in Punto Banco.
Baccarat Banque
This is another offline version of baccarat, and it is very much like Punto Banco, in that players don't have any choice over whether or not they receive a third card. Another thing that sets Baccarat Banque apart from Chemin de Fer is the fact that no players serve as the Banker at any time. Instead, the casino dealer is always the Banker.
INTERESTING FACT:

At one point, Baccarat Banque was so popular that casinos in Monaco created a sub-variation called Baccarat à Deux Tableaux (baccarat on two tables) where two tables were put together to accommodate more players!
Best Baccarat Gaming Providers
Baccarat is one of a handful of table games (along with blackjack, roulette, and craps) that is widely viewed as a traditional classic. For that reason, it isn't surprising that plenty of casino game providers have released their own online baccarat titles. Here are a few of the best:
Baccarat Pro
Released by Platipus Games in 2020, Baccarat Pro is Punto Banco played with a shoe of six decks. As well as being able to bet on Banker, Player and Tie, you can also place a number of optional side bets, including Player Pair, Banker Pair, Perfect Pair, Big and Small.
Super 8 Baccarat
This is a classic baccarat game from Pragmatic Play that was launched in 2022. It provides a traditional gaming experience, but also allows you to place a side bet that the first two cards dealt will make a Natural 8. The side bet can also win if the first two cards are of the same suit or color.
Live Baccarat
This game from Evolution can be found in the Live Casino area of the venues offering it. This is a live dealer version of baccarat which is as easy to play as an automated online baccarat game but has the added attraction of being operated by human beings rather than computer software programs.
A Brief History of Baccarat
Who invented baccarat? Well Baccarat has been played for centuries, and baccarat origin has its roots traced back to 19th-century France. Punto Banco came after Chemin de Fer and Baccarat Banque and went on to become the most popular variation. Today, all online baccarat games are either Punto Banco or derivatives of Punto Banco.

Online Baccarat Strategy and Tips
The big question - is there a strategy to baccarat? Well not quite, since online baccarat is a game of chance and that players aren't able to make any decisions apart from choosing which outcome to bet on. Even so, there are a few baccarat tips and strategies that can help you to get maximum enjoyment from the game.
1. Play Free Online Baccarat
Many online casinos will let you try their games for free, and if you can play free baccarat you should do so until you are completely confident that you understand how the game works.
2. Never Bet on the Tie
The Player and Banker bets have some of the lowest house edge figures in the casino, at 1.24% and 1.06%, respectively. But the Tie bet has a house edge of 9.5%. Therefore, avoid betting on the Tie to preserve your bankroll for longer.
3. Avoid Side Bets
Side bets can be found in some online baccarat games and have attractive potential payouts, but the house edge that comes with them can be crippling. To have the best chance of winning, stick to betting on the Player or Banker.
4. Root for the Banker
As we've said, the Banker bet has a house edge of just 1.06%. The house edge for the Player bet isn't much bigger, at 1.24%, but it is still sensible to root for and bet on the Banker whenever possible.
Baccarat Online: CasinoGuide Summary
Online baccarat is a game of luck that looks complicated at first glance but is actually very easy to play. You don't need to make any decisions during the game and everything happens automatically, so all you have to do is place your bets and hope for the best. This makes the game ideal for beginners, but it is still entertaining enough to keep regular players coming back for more.
FAQ
🔎 Is Baccarat easy for beginners?
🔎 Which is better - Live Baccarat or Automated Baccarat?
🔎 Where can I play baccarat in Canada?
🔎 What is the best strategy to win Baccarat online?
🔎 Is Baccarat better than blackjack?