Poker is a card game that is played to the exact same rules as the poker games you'll find at land-based casinos around the world. It's one of the most popular games around and involves elements of both skill and luck. While it is often said that poker takes just a minute to learn, it can take a lifetime to master.
In this guide to online poker, we'll tell you all you need to know about the game, how to start playing it. You'll learn about poker hand rankings, the various types of poker than can be played online, and how to give yourself the best chance of winning. But first, let's show you some of the best online casinos to play poker in Canada:
Best Poker Casinos and Online Poker Rooms
Poker Hand Rankings
Before we discuss how to play online poker, we should first spend a few moments talking about poker hands and their rankings. While some poker variations differ slightly, most use a standard deck of 52 playing cards. The numerical cards 2, 3, 4, 5, 6, 7, 8, 9 and 10 each have their face value, followed by the Jack (J), Queen (Q), King (K) and Ace (A). This makes 2 the lowest value card and A the highest, although an A can also be used as a 1 value card in some very specific circumstances.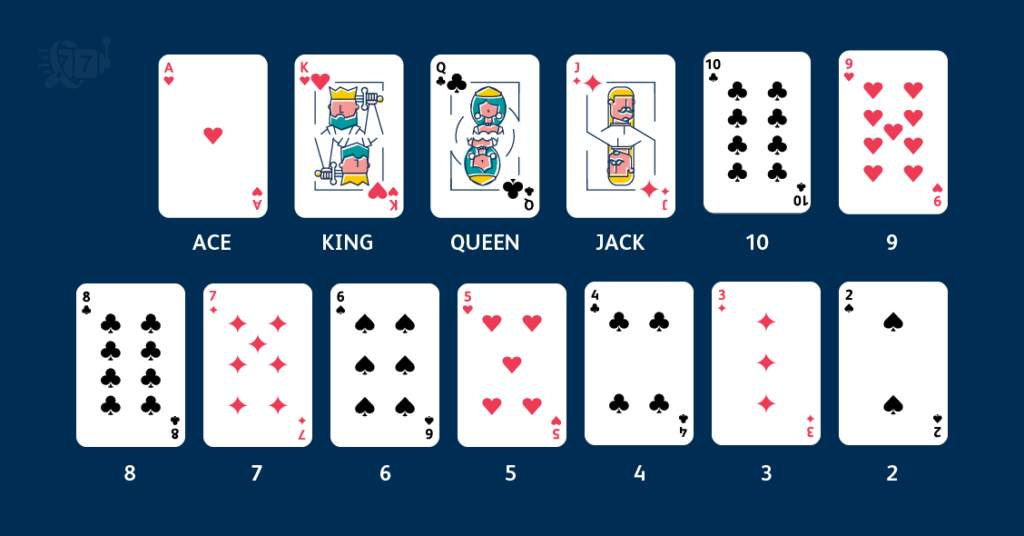 The aim of most poker games is for players to make the best (meaning the most valuable) hand of five cards. Below we will illustrate the poker hands order from best to worst:
Royal Flush
The best possible hand in most poker games is the Royal Flush, which comprises 10-J-Q-K-A, all in the same suit of hearts, diamonds, clubs or spades. Actually getting this hand is quite rare, so you'll definitely have cause to celebrate when you do.
Straight Flush
This hand is made up of five cards of consecutive rank, all of the same suit. For example, 4-5-6-7-8 of hearts, or 7-8-9-10-J of clubs. When two or more players have a Straight Flush, the one with the highest valued top card will win.
Four of a Kind
A Four of a Kind is any hand that contains four cards of the same rank, plus any other. The higher the value of the matching cards, the stronger the hand, so A-A-A-A-3 would beat 2-2-2-2-K.
Full House
Three matching cards of one rank and two matching cards of another rank give you a Full House. The value of the cards in the Three of a Kind element determines the strength of the hand, so A-A-A-7-7 would beat K-K-K-7-7.
Flush
This hand is one that contains any five cards of the same suit, and the value of the highest card in the hand determines its strength. A-5-8-2-K of clubs would therefore beat K-5-8-2-Q of hearts.
Straight
This hand contains five consecutively ranked cards of different suits. The value of the highest card in the hand determines its strength. 4-5-6-7-8 would therefore beat 3-4-5-6-7. Note that here the A can count as 1, so the lowest Straight possible is A, 2, 3, 4, 5. This is also known as a 'wheel'.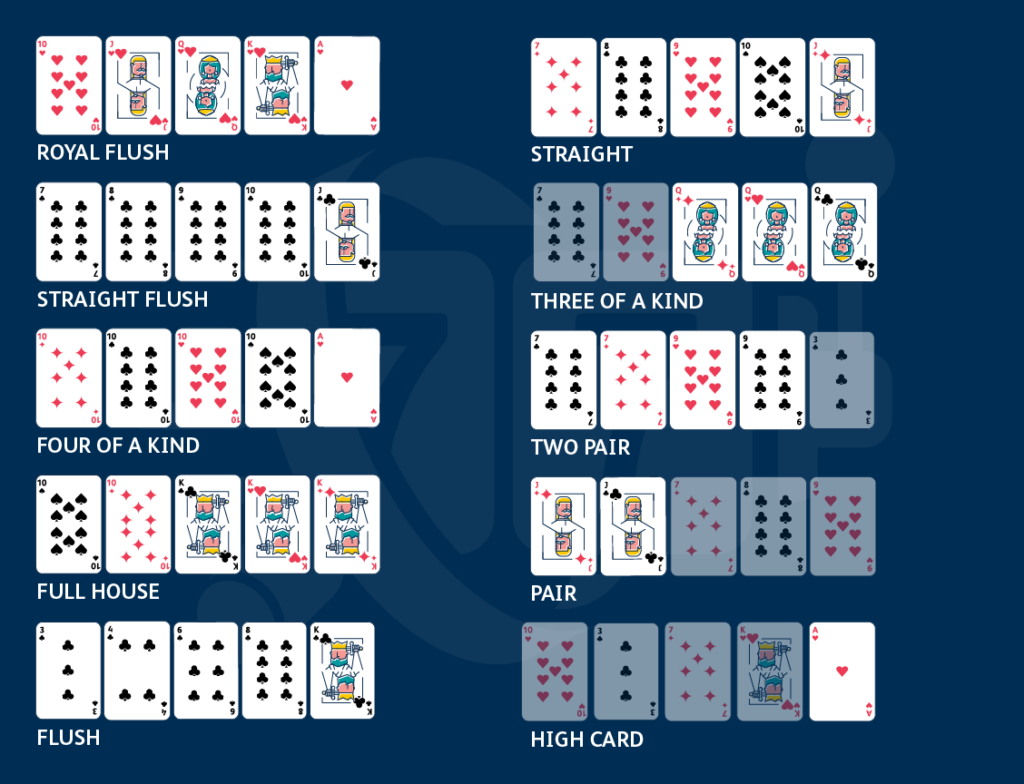 Three of a Kind
Get three cards of the same rank plus any two others and you have a Three of a Kind. The value of the matching cards determines how strong it is, so 8-8-8-2-3 is better than 4-4-4-J-A.
Two Pair
This is a hand that has two cards of one matching rank, two cards of another matching rank and any other card. The value of the highest Pair determines the strength of the hand, so A-A-6-6-4 would beat K-K-Q-Q-4.
Pair
A hand with two cards of the same rank, plus three other cards. The value of the Pair determines the relative strength of the hand, so 9-9-3-J-A would beat 8-8-4-K-Q.
High Card
When a player has a hand that doesn't meet any of the criteria for the hands previously described, it will be referred to as a High Card hand. The strength of the hand is determined by the value of its highest card.
How to Play Online Poker
Online poker is played in much the same way as poker in land-based poker rooms and casinos. The only real difference as far as setup is concerned is that everything is portrayed visually on your computer screen. You will be given a seat at a virtual table, bets will be made using virtual chips, and so on.
Your aim in Texas Hold'em is to make the best possible five-card poker hand that you can from two personal hole cards and up to five community cards. A typical hand of Texas Hold'em will have several key stages. We will take you through each of those stages in turn so that you can see how the game progresses naturally from one to the next.
Posting the Blinds
The player who is forced to act first in a poker game is at a disadvantage over every other player at the table. Similarly, the player who gets to act last in a particular round has an advantage over everyone else. For this reason, a marker called a button travels around the poker table between hands, one player at a time, so that everyone gets to act last in due course. The player with the button is always the last to get involved in the first betting round, as you'll soon see.
The player seated two positions to the left of the button must pay a blind to get the betting pot started. This costs the same as a minimum bet at the table. The player between the blind and the button must pay a small blind which is half the minimum bet. If the small blind player wants to actually be dealt into the game, they must 'top up' the bet to match the value of the blind. This payment by one or two players at the beginning of the game is referred to as posting the blinds.
Dealing the Hole Cards
When the blinds have been posted, two cards will be dealt face-down to each player. These are known as the "hole cards", and they remain private to each player right until the very end of the game. Some hole cards are better than others, so it is at this point that players decide whether they want to proceed with the hand or not.
Pre-Flop Betting Round
A round of betting now follows, starting with the player to the left of the blind and proceeding in a clockwise direction. During this and subsequent betting rounds, each player can take one of several different actions:
• Fold: This means to put down the cards you have been dealt and sit out the rest of the hand. Folding your cards when you don't believe that they will help you to win a hand of poker is one of the best things you can ever learn.
• Call: This means to make a bet equal to previous bets at the table. If you don't at least call then you must fold. When a game has just started, the first player can call by placing a bet of equal value to the Blind.
• Raise: This means to make a bet of greater value than those that have gone before it. You do this when you believe that you have a strong hand, as it forces later players to call your raise, to re-raise it, or fold their hands.
When all betting is done, the game proceeds to the next stage, but right now an online poker table with four players who have all started betting might look like this: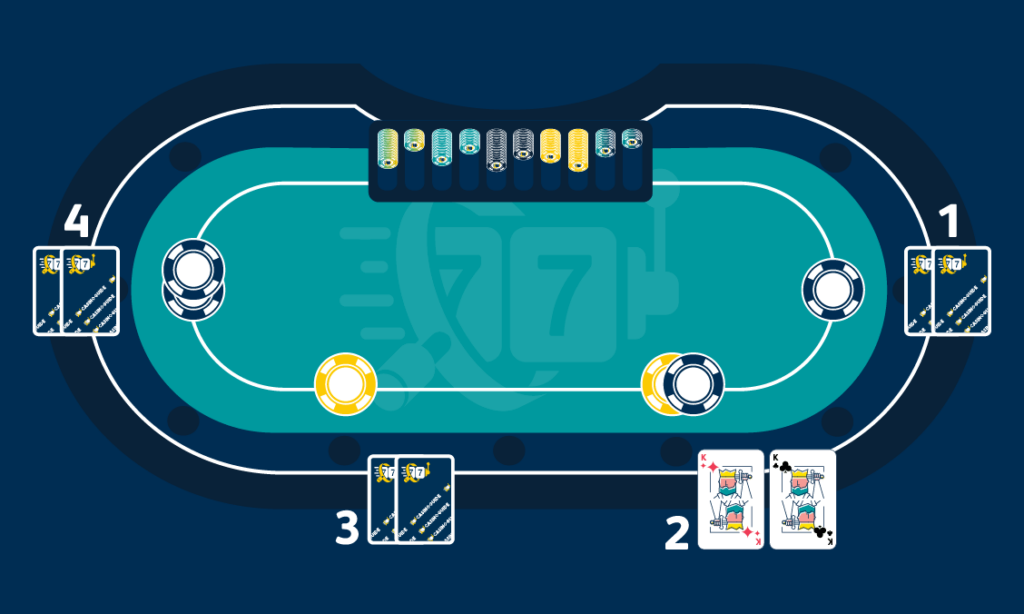 The Flop
Three cards, referred to as the flop, will be dealt, face-up, in the middle of the table. These are the first of up to five community cards that can be dealt in the game.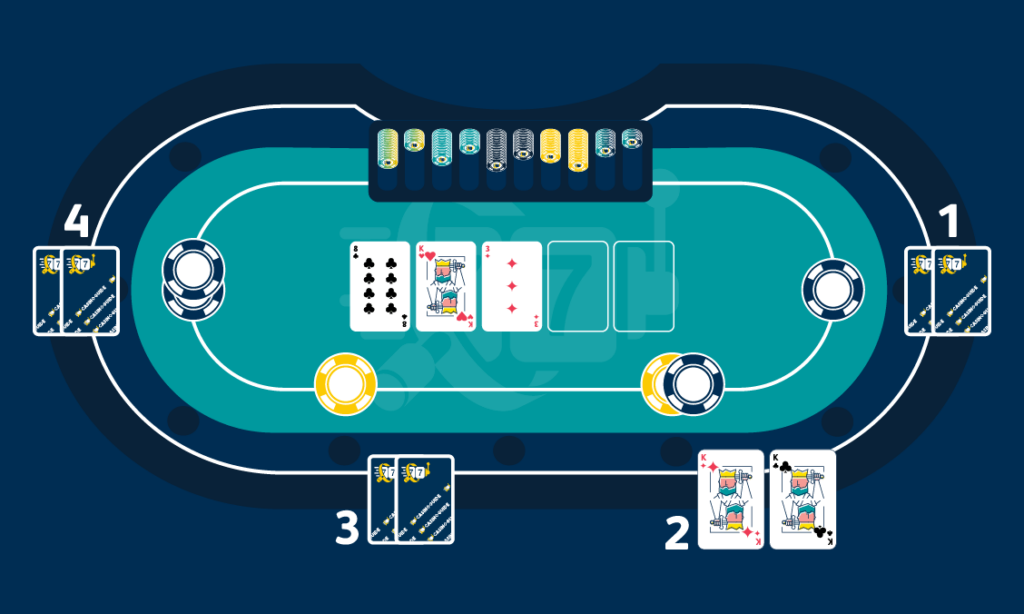 When you have seen the flop, you assess your position, bearing in mind that your aim is to make the best five-card hand from your two-hole cards and the community cards on the table. Depending on how you fancy your chances, you can fold, call or bet/raise. Note that if no other player before you has made a bet, you can simply check, which is effectively calling a zero bet. Because your existing chips will already be equal to the value of previously made bets, making a call/check here won't cost you any additional money.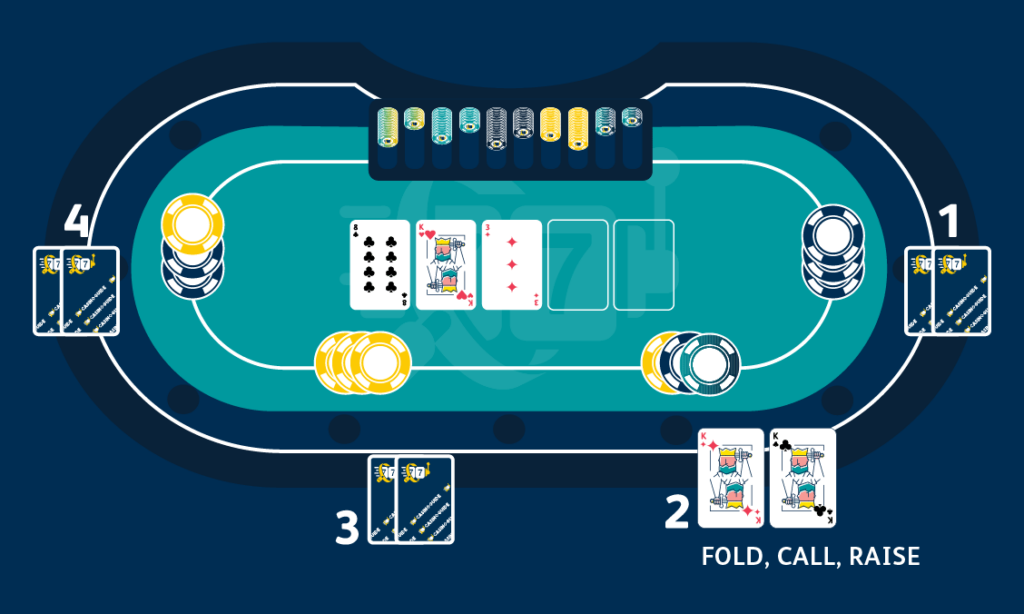 The Turn
When betting has been completed after the flop, a fourth community card will be dealt. This is known as the turn card. Again, you assess your hand in light of the additional card and fold, call, raise or check, as you see fit.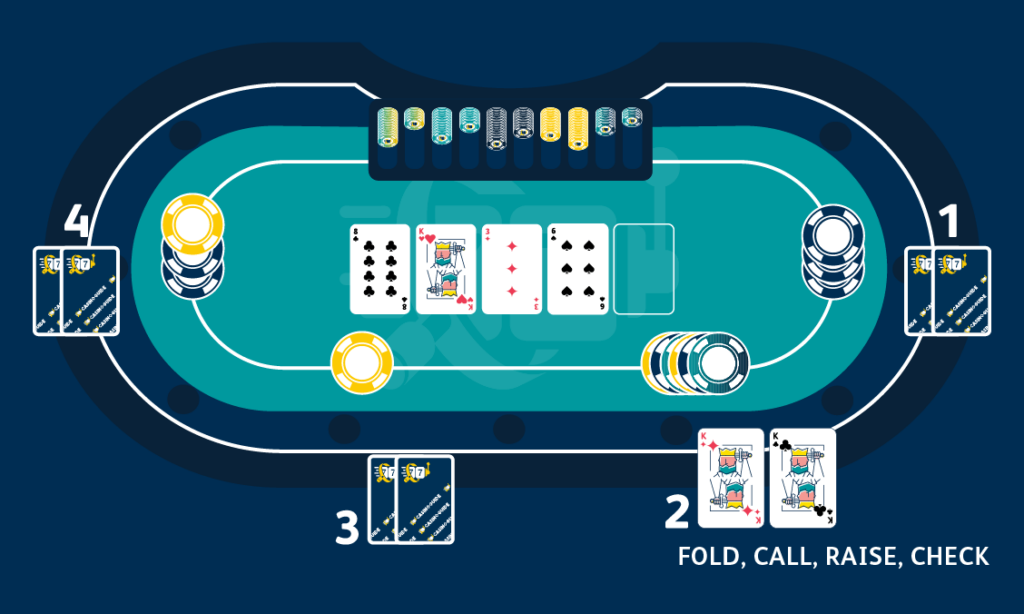 The River
A fifth and final community card will now be dealt and this is known as the river card. By now you will know exactly what your best hand is, so you can fold, call, raise, or check, as you feel appropriate.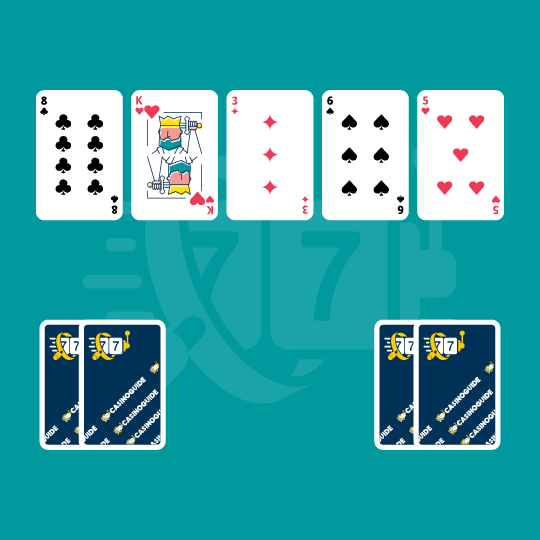 The Showdown
When all betting after the river is complete, if two or more players remain active in the hand they reach the showdown and will reveal their "hole cards" (i.e. the private face down cards). The player with the best five-card hand will win the pot, and if two or more players both have the best poker hands, they will share the pot.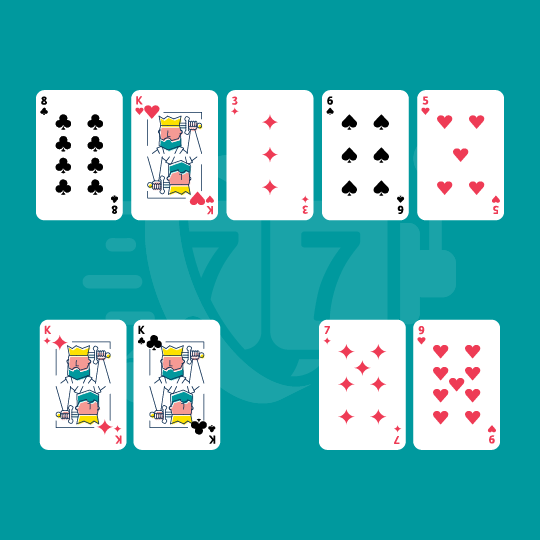 It should be noted that if all other players fold at any time in the game, the last remaining player will win the pot automatically without having to reveal their hole cards. This is why many players like to 'bluff' strength by betting as if they have a really strong hand even when they don't. If their bluff causes everyone else to fold because of fear or uncertainty, it will win them the pot.
Poker Winning Hand
Below you can see that a player has won a hand with a Three-of-a-Kind of Kings - possibly because his opponents believe that he has a Straight: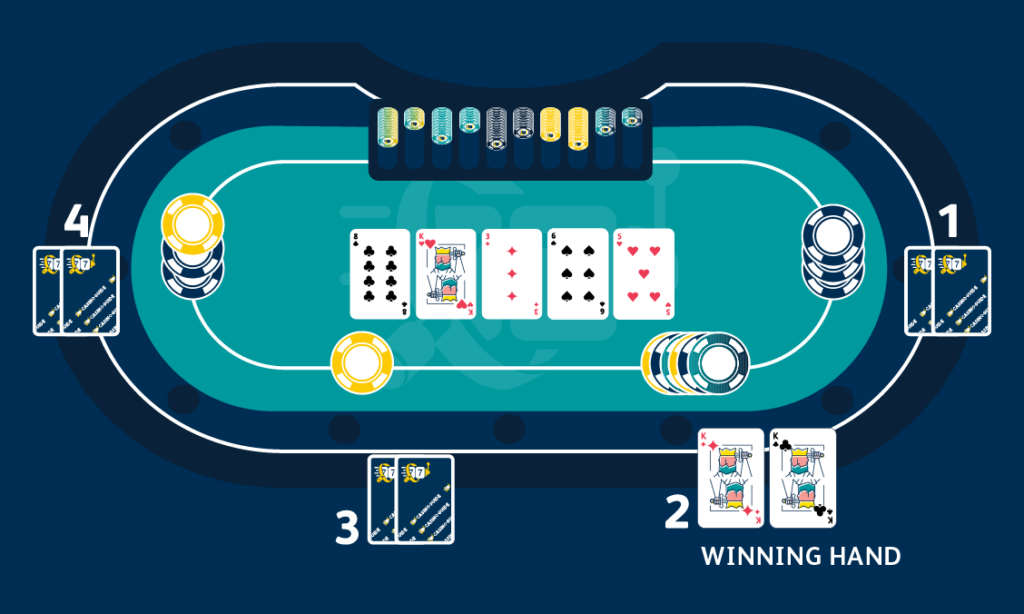 Practice Makes Perfect
We realize that this very brief tutorial on how to play online poker might seem complicated, but it is all quite straightforward when you have seen the game being played for real. Visit online poker rooms or online casinos that offer the game and you'll often find that there are plenty of free tables provided especially for beginners. You can practice at those tables without risk until you're confident enough to start playing with real money.
A Note About Poker Limits
The game of Texas Hold'em and several other variations can be played with certain limit rules in place. You will therefore see games described as No Limit, Pot Limit or Fixed Limit. Here's what those terms mean:
No Limit Texas Hold'em is the most popular version of the game, but Pot Limit and Fixed Limit games also have their fans, so consider trying them all at free play tables to see which you prefer.
Online Poker Variations
Now that you understand the basics of playing Texas Hold'em, you are in a good position to learn a little about some of the other poker games that you are likely to encounter online. There are many different poker variations that can be found, but here are some of the most common:
Omaha Poker
Omaha is very similar to Texas Hold'em, but in this game, you will receive four hole cards instead of two. Five community cards will be dealt and you must use exactly two of your hole cards and three of the community cards to make the best five-card poker hand possible.
Stud Poker
Stud Poker itself comes in a number of different varieties, and those include Seven Card Stud, Hi-Lo Stud and Razz. All Stud games will require you to make the best hand using a combination of hole cards and community cards, but play may proceed according to hand strength rather than position. Other rules can vary so that the best hand isn't necessarily the one with the highest rank. For example, when you play Razz you will be aiming to get the lowest-ranked hand.
Draw Poker
When you play Draw Poker games such as Five Card Draw or Badugi, you are dealt a complete hand of cards at the outset. You then discard or exchange cards to try and improve your hand as the game progresses, with betting rounds taking place in between such cycles of action.
H.O.R.S.E.
This is a game that features five different poker variations. Each variation is played in turn, starting with Texas Hold'em and proceeding through Omaha, Razz, and Seven Card Stud before concluding with Seven Card Study Eight or Better. While H.O.R.S.E. can be very exciting to play, it isn't recommended for beginners as it requires you to adjust your approach from game to game.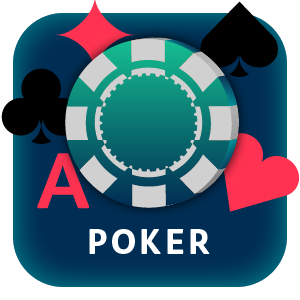 Online Poker Formats
Another thing that you will notice when you come to play online poker is that there are a number of different formats on offer. Most poker variations can be played as cash games, or you can participate in Sit and Go Tournaments and Multi-Table Tournaments. Here's what you need to know about each option:
Cash Games
These games are running around the clock, and all you have to do to get involved is take a seat. The chips you play with will have a real cash value, so you will usually win or lose money on every hand you play. You can leave the table at any time, which is handy if you want to limit your losses or lock in profits for your next poker session.
Most online poker rooms have a wide variety of cash tables available to suit every budget. You can play for as little as $0.05/0.10 at some tables, and often even less, which is ideal when you are just getting to grips with the game.
Sit and Go Tournaments
A Sit and Go tournament is one that has a very limited number of seats (think six or nine) and gets started just as soon as they're all occupied, hence the name. You will buy-in to the tournament for a fixed amount and receive a stack of chips in return. All players start with the same number of chips, and as soon a player loses all of those chips, they are out of the tournament. The game runs until just one player remains with all of the chips that were originally in play.
Sit and Go tournaments are designed to give you a little tournament action as and when you want it. They usually take no more than an hour or so to complete, and prizes are usually paid to the winner and one or two runners-up.
Multi-Table Tournaments
When you want to put your poker skills to the ultimate test, you can take part in a Multi-Table tournament. These get their name from the fact that multiple tables are used to accommodate a large number of participants - often several hundred and possibly even more. Players are re-seated and tables are removed as the number of participants decreases, and your aim is to get to the final table and then play on to win the whole thing outright.
Because the number of players in MTTs is so large, they are scheduled to take place at specific times and can run for several hours, so they aren't quite as convenient as Sit and Go tournaments. On a more positive note, their prize pools can be considerable. The winner will take the biggest prize of all, but in most tournaments of this type, there will also be consolation prizes for a sizeable number of runners-up.
Pros and Cons of Playing Online Poker
Pros
● Online poker is a lot more convenient than the offline game. You can play at any time of day or night, and all you need is an account with an online poker site and internet connection.
● A hand of online poker takes less time to play than a hand at a land-based poker room. That's because the cards are shuffled and dealt automatically, and the pot is distributed in the same way. This means you will get to play more hands per hour online than you will anywhere else.
● It is much easier to find a vacant seat at an online poker table than you will at your local poker room, especially during busy periods. Online poker rooms can simply add more virtual tables to accommodate players, while offline rooms are restricted by the amount of physical space they have.
● When you play online poker, you can refer to books, articles and charts as you do so. This can be very useful in the early days when you are just getting to grips with the game or a new variation.
Cons
● Although you can chat through text when playing online, you can't interact with other players in quite the same way as you can at a land-based venue.
● Because online poker is relatively anonymous, players can be a lot less polite – and often quite a lot ruder – than players who are sitting at the same physical table.
● The inability to see players face to face when playing online can make it more difficult to spot 'tells' (certain facial expressions and mannerisms) that help you identify whether or not someone is bluffing.
Getting Started at an Online Poker Room
At this stage you're probably raring to get started playing online poker, but how exactly do you do that? Fortunately, it isn't at all difficult. In fact, you only have to follow a few simple steps and you'll be playing in no time.
Step #1 - Choose Your Venue
You can play poker at some online casinos and at dedicated online poker rooms. A shortlist of the best casinos for poker can be found at the beginning of this guide, just beneath our introduction. Simply choose a venue that appeals to you and then click the link to visit its website.
Step #2 - Register
The next step is to register for an account. This is a simple matter of clicking the Register, Join or Sign-Up button and then providing the information required by the online registration form. You will only need to give details that are essential for opening an account, such as your name, email address, the poker name you want to be known by when playing, and so on.
Step #3 - Download Required Software
Many online poker rooms will let you play in your web browser, which is always convenient. However, web poker software is never quite as functional as dedicated software that runs on your computer. If your chosen venue offers a software client to download and install, it's usually a very good idea to do that.
Step #4 - Make a Deposit
You now need to sign in to your new online poker account and make a deposit. Most casinos and poker rooms will give you some kind of bonus for doing this (keep an eye on our News page for details) which means you'll be able to play more poker without any additional outlay. You can deposit a modest sum to start with, or deposit more to take full advantage of the welcome bonus being offered, as you prefer.
Step 5 - Choose Your Game and Start Playing
All that's left for you to do now is choose a game that you want to play and start playing. If you are completely new to poker we would recommend playing at free or low-stake tables to start with and to only progress to higher stakes as you grow in skill and experience. Remember, poker might only take a minute to learn, but it really will take a lifetime to master.
Improving Your Online Poker Skills
You now know how to play poker, but this is just the beginning of your journey. If you want to become a player who wins, you will need to start developing and improving your skills. This is something that you will want to do for the rest of your life - or at least for as long as you play the game - and there are various ways of going about it. Here are some of the best:
Study Poker Manuals
There are plenty of books about online poker that will teach you everything from starting hand selection and player types to money management and positional play strategies. If you want to give yourself the best chance of winning then you should study at least a few of these and start applying what you learn at the tables.
Listen to Poker Podcasts
Podcasts are available about every subject under the sun, and playing poker is one of them. The quality of poker podcasts varies massively, so listen to a variety and continue listening to the ones that you get the most from.
Watch YouTube Videos
Visit YouTube and you will be able to watch thousands of poker videos. You'll find everything from brief beginner guides to entire tournaments, and watching these can be almost as useful as reading books on the subject.
Play Poker
Our final tip is to play online poker on a regular basis. The more time you spend at the tables, the faster you will learn how to be successful. However, as well as simply playing you should also get into the habit of analyzing your performance so that you can take steps to improve it. For example, if you make a particularly bad decision that causes you to lose, ask yourself what caused you to make that particular decision and how you can avoid making the same mistake in the future. Another fun way of practicing and learning more about poker overall is by playing one of the many types of video poker online.
Online Poker: A Game That Delivers
Online poker, like any other casino game, is an entertaining, engaging and sometimes challenging hobby and form of entertainment that you can enjoy on many different levels. If you're keen to play, then jump onto your favorite poker site and start playing at the tables. If you want to become a serious player, you can devote more time and study to the game and potentially get so good at it that you dominate the tables when you sit down to play either online or in a land-based casino. Whatever your personality and temperament, poker is a game that you can enjoy for years to come.
FAQ
🔎 Is poker a difficult game to learn?
🔎 Which poker game is best for beginners?
🔎 What are poker freerolls?
🔎 Can I play online poker on my mobile?
🔎 How do I start winning at online poker?