Live Caribbean Stud Poker was launched in 2015 by industry giants Evolution and, at the time, was the first and only live version of the Caribbean Stud Poker table game available online anywhere in the world. This version gives players the thrill of the game broadcast from a television studio, but with additional side bet options to add to the excitement. In this Live Caribbean Stud Poker review, we'll tell you how to play the game, the game features, and the best sites in Canada to play it.
Where to Play Live Caribbean Stud Poker

Live Caribbean Stud Poker Overview
Evolution (or Evolution Gaming as they were formally known), is the brains behind Live Caribbean Stud Poker, the live casino version of the classic table game. This offering was released in 2015 and gives players the chance to win up to 1,000 times their bet. The game is filmed live from the Evolutions studios with shimmering gold bar decor and a live dealer ready to take your bets.
This version of the popular table game is completely mobile-friendly and is designed to play seamlessly across all devices. The game has a Return to Player (RTP) of 98.18%, offers fun optional side bets, and a Jackpot side bet which is available in participating online casinos (not all sites offer this though, so check first).
GAME BETTING AREAS:
The betting area has circles (labelled as Ante, Call, 5+1 Bonus and Jackpot). The 5+1 Bonus and the Jackpot circles are for the optional side bets, though you can play the main game without them if side bets are not your thing.
How to Play Live Caribbean Stud Poker
In Live Caribbean Stud Poker, the goal is to beat the Dealer with a 5-card poker hand. To keep start the game you'll need to place an Ante bet, and either the optional 5+1 Bonus or the Jackpot side bet. You'll then be dealt 5 cards face-up on the table. After this, the Dealer will receive his or her 5 cards and only their first card is dealt facing up.
Once you and the Dealer have both been dealt cards, you then have to choose whether to continue playing, or decide whether to raise or fold.
If you decide to Fold, this will mean that you lose the bet that your placed, but if you placed any optional side bets then they will stand. If you don't want to fold and you want to continue playing, you then make a Call bet (which is of equal value to the original Ante bet).
At this point, you'll see from your dealt cards, plus the Dealers one up-facing card, if you have a 'three of a kind' combination to be eligible to win the bonus money of up to 1,000x your bet.
Once you've made your choice to call, the Dealer will then turn their cards up so you can see they hand. The Dealer needs an Ace and a King or better, and if they don't then your Call bet is returned and your Ante bet is paid out (at odds of 1:1). If the Dealer does qualify, then the best hand wins (as per usual poker hand ranking rules).
Below is the winning hands and payouts: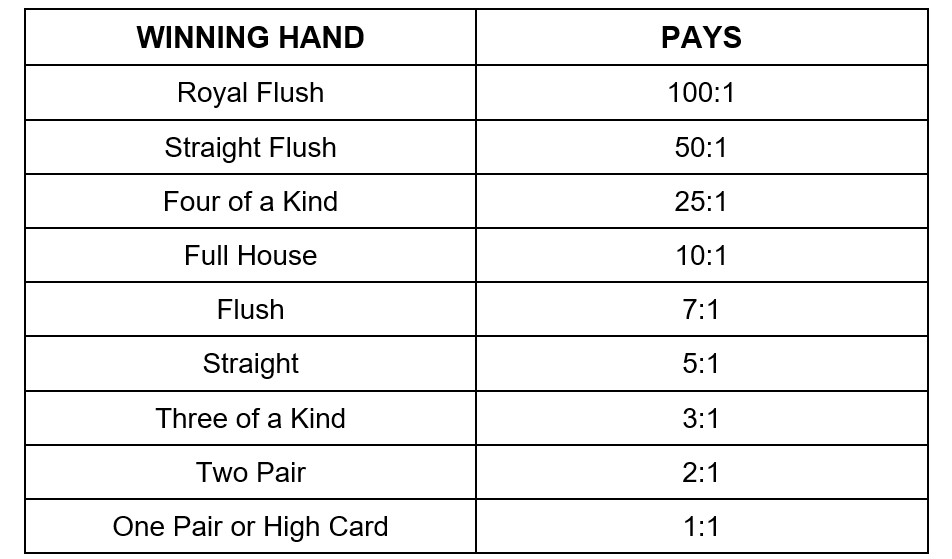 Additional Jackpot Side Bets and Bonus
The optional Jackpot side bets give you an extra chance of winning more, so you'll need to decide whether to play that. The 5+1 Bonus bet is settled using the Dealer's up-card and your own five cards to make the best possible five-card poker hand. The Progressive bet pays out a portion of the progressive jackpot for a Royal Flush or an enhanced fixed payout for lesser hands: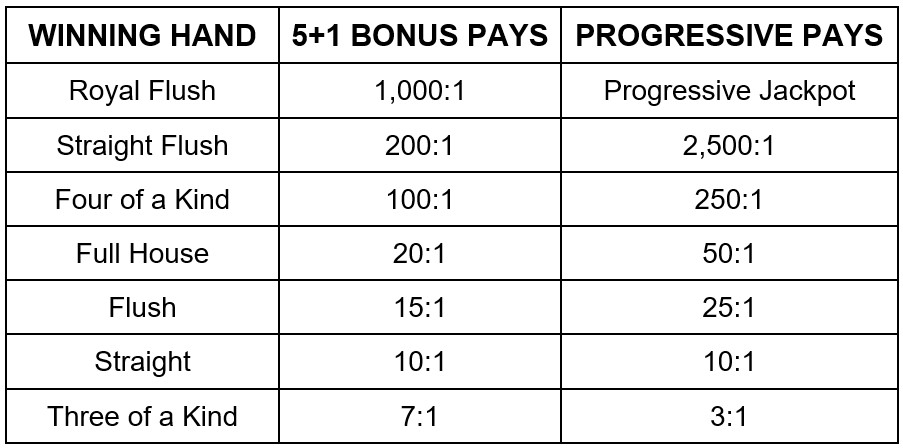 Our Final Verdict
Live Caribbean Stud Poker is a great choice of live casino game if you are a fan of online poker or any live dealer games. It offers you the chance to feel like you're in a land-based casino, with immersive gameplay and a chat with the dealer. Because the game is relatively simple, it can suitable for beginners, and all you would need is some basic knowledge of how to play poker, plus a good internet connection so that you experience seamless gameplay. Enjoy and good luck!