Blackjack is one of the most popular casino games of all time. Playing blackjack online or live blackjack has become incredibly popular in Canada. Whether you've played before or not, we dare say you'll find this ultimate guide to Blackjack helpful. You will learn the rules of the game and what variants there are.
Did you know that blackjack is available both as a slot machine and with a live dealer at the table? You can also play directly via your mobile. There is a lot of talk about strategies for classic table games, but what applies to blackjack? CasinoGuide takes you on a journey of discovery where you also become a fan of blackjack online.
Top Online Blackjack Casinos in 2023

Get to Know Blackjack Online
Historically, blackjack probably originated in the United States. Many have accepted that the game was derived from the French game Chemin de Fer, a baccarat variant that was, americanised to get blackjack. The game is also referred to as 21 because a player's hand's value has to be a total of 21 or close to 21 to win the game.
Blackjack is a game you play against the house. You compete against the croupier to see who comes closest to 21. It is important not to get over 21; otherwise, you lose your hand and your bet. Luckily, a player can make decisions about his/her hand through various options. 
On the other hand, the dealer is not allowed to make decisions about the cards he/she is holding but must follow the strict rules for the croupier. You will find that you encounter many different expressions in the game. 
Blackjack Slot Machines
As soon as online casinos broke through, blackjack online quickly became popular. The classic became more accessible to everyone through online casinos. By sitting at home and playing, even the beginner dared to play blackjack. In a way, it's a little easier to play, there are a certain number of features to use, and you do not have to feel any stress from other players.
You can easily find blackjack at online casinos. The games are usually under "Table Games" category or sometimes even specifically under the name "Blackjack". After opening the variant, you want to test, proceed as follows:
At the bottom of the game's table, there are different values; choose one to bet.
Then click on "Distribute."
The cards are dealt face-up, and you can choose to take cards or stay.
If you come closest to 21 or get blackjack, you will win over the virtual dealer.
Some tables also have sounds and a voice that tells what is happening. For example, you can hear comments such as "The player wins."

How to Play Live Blackjack
Live blackjack is almost similar to virtual/slot machine blackjack. The difference here is that you have a live dealer at the table who handles the game. This experience becomes real by streaming the live blackjack table from a real studio in real-time. 
These more authentic blackjack games can be found at almost all casino operators today. They are available under the Live Casino section. Blackjack is a must for all casinos and, therefore, a good classic table game to start with. The gameplay is the same as the Blackjack slot machine, but the live game is more exciting and gives you a different gaming experience. 
Blackjack is played with standard card games, also called French card games. Each deck consists of 52 cards, and the joker is not used. Depending on which Blackjack table you choose, different numbers of decks are used. Everything from a deck of cards in the game Single Deck Blackjack up to a full eight decks of cards.
Basic Rules of Blackjack
We earlier mentioned that blackjack is based on value 21 on the hand. And that you play against the dealer. Basically, blackjack is one of the simpler classic card games. It's easy to learn, but the question is, is it easy to become proficient? No, becoming an expert takes much longer, if at all possible. 
Beat the dealer in Blackjack by:
Getting a higher value on the hand than the dealer has, without exceeding 21.
The dealer gets a value that exceeds 21 and "busts".
You get 21 on your first two cards and the dealer gets a lower value in hand.
Why did you lose your hand?
Your hand exceeded the value of 21.
The croupier's hand had better value than your hand in the final round of play.
Remember, the hands of other players do not affect your hand? You only play against the house / croupier in blackjack and not against other players at the same table. It is simply the dealer you are competing against when you play a game of blackjack online.
Do you recognise a Blackjack table?
Whether you play at a land-based casino or online, the tables look like the picture below.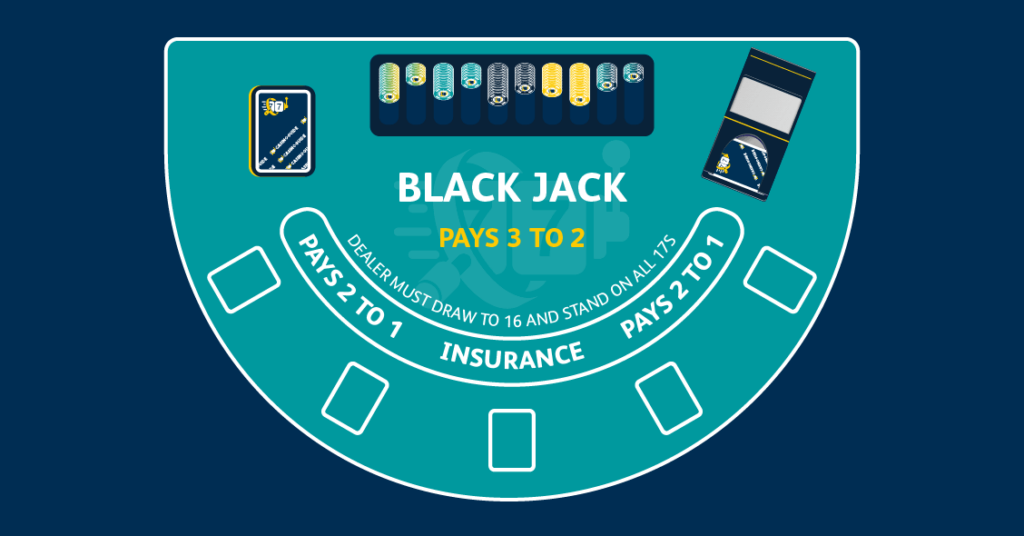 The design of a blackjack table is in the shape of a semicircle or crescent. This means that you have a straight sight to where the dealer has his place and can view the rounded part on which as a player you sit. On the table there is always a "Shoe". This is where the decks of cards are located, which are used during the game. The cards are placed in a kind of machine, where the croupier pulls out the card one at a time. 
You can also see a similar design on online slots for blackjack. At the rounded side of the table where the player is sitting, you will see betting circles. Here you as a player can place your bet, it works the same way online. You pull your bet to your place at the table rather than when you play blackjack online. Alternatively,  click where you would like to place your stake if you are playing on mobile phones.    
Keep track of the value of the cards
You need to be careful about quickly calculating the value of your hand. It's a simple system where you do not have much to keep track of. There are three basic rules you need to know. 
The ace is worth either 1 point or 11 points.
Jack, Queen, and King are all worth 10 points each.
Other cards 2-9 are worth what the card shows (eg clover 5 = 5 points)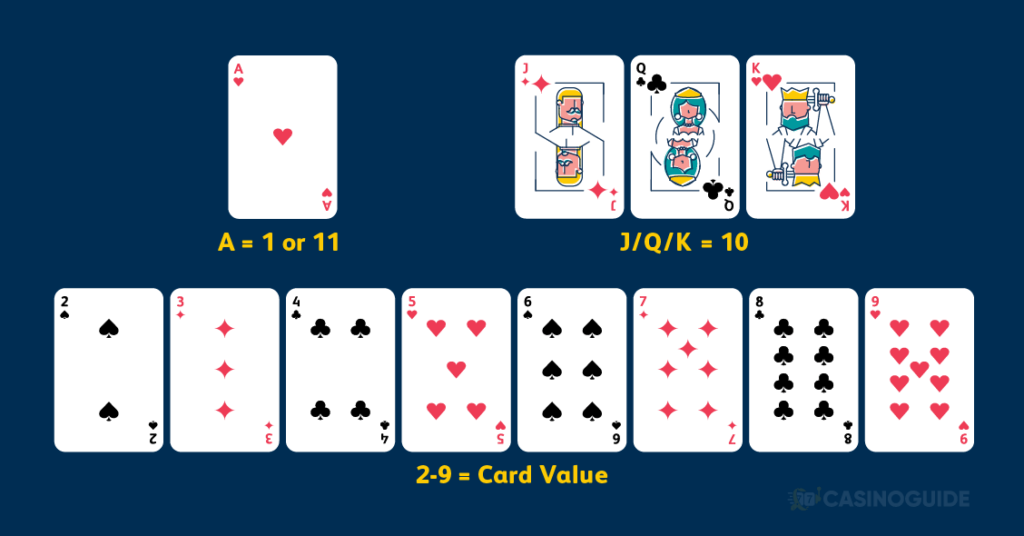 Regarding whether the ace should be counted as 1 or 11 points depends on which hand you have. See the example below:
If you have a hand with high value, for example, Ladies and Aces. Here you count the ace as 1; otherwise, you will bust.
If you have a hand with Jack and Ace, you count the ace as 11 and you have won by getting blackjack with 21 in valuue.
---
How to Play Blackjack
Above, we have gone through what the table looks like, how you win over the dealer, and the cards' value. With this prior knowledge, you are now ready to try playing online blackjack. Through our step-by-step guide below, you will learn how to play classic blackjack. 
Something to keep in mind when playing online is that each casino can set its own rules for the tables. Get in the habit of looking at the rules before you start. Most casinos offer online blackjack playable in free mode. It's a great way to learn, primarily if you want to familiarise yourself with the game.
1. Select the amount you want to play for
When you open the game, you will see that there are chips at the bottom with different color and value. These are the bets you can choose. You always choose a bet before the cards are dealt on the table. Keep in mind that colors and value can vary depending on which Blackjack table you are playing at. When you play at Canada casinos, value 5 means that you bet CAD 5, unless otherwise stated.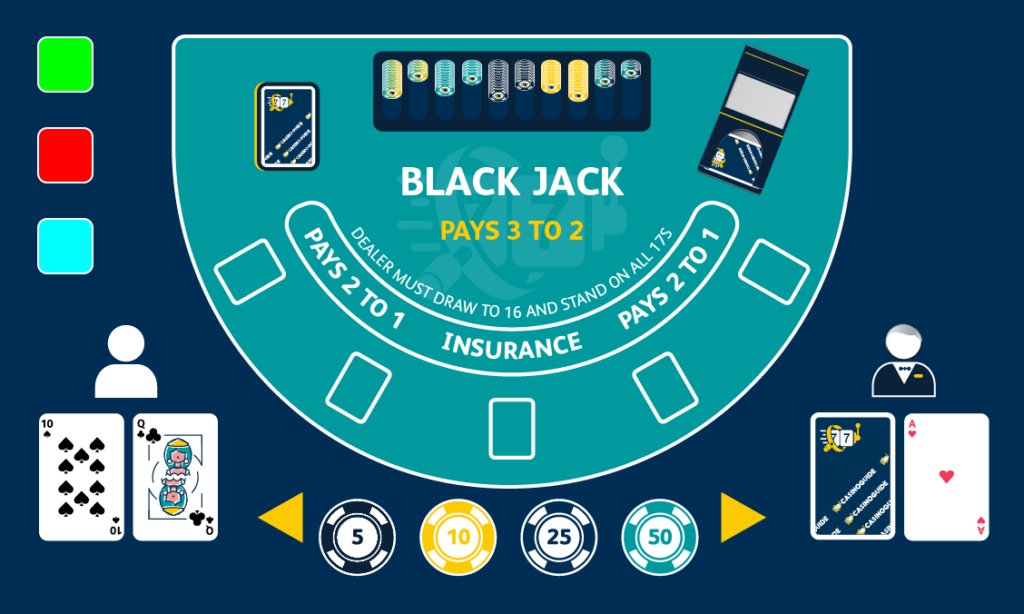 2. The cards are dealt by the dealer
Now it's time to start the game by handing out the cards. The dealer issues an open card (visible) to each player and a hidden card to himself. Then another open card is dealt to each player, and in online games, the dealer also receives an open card.
It is crucial to look at your card's value. If you have a fairly low value, you can consider taking another card. In a real casino, hand signs are used to show the dealer what you want. A slight wave of your hand indicates that you are stopping there. Of course, this works much easier online. You will instead get choices below the table where you can choose to
Take card (green text)
Stay (red text)
Double (blue text)
Click on the option that suits your two cards and their value.
Now it's time for the dealer, who, according to the rules, must draw new cards until the value of his hand is at least 17. If the dealer busts, you have won your hand if it is below 21. If you previously by taking a new card busted, you lose to the dealer.
Once you have played the card you selected and either won or lost against the dealer, you can play a new round. The text on the buttons has then changed slightly:
Bet again
Bet on and share
Bet 2x and split - here you double your bet.
What happens if you get the same value on the hand as the dealer? Simple - no one wins, but you get your stake back.
Look at Your Game Options
We will now go into a little more detail on the possibilities you have when you play. Above, you have the basics and how to play blackjack. In addition to taking a new card or stopping and holding the hand, there are more to playing blackjack. 
When you play, you can also choose additional options such as splitting, doubling, and taking out insurance. Now maybe you think it's starting to get advanced? On the contrary, it's pretty straightforward, but we'll go through each step and the options you can choose.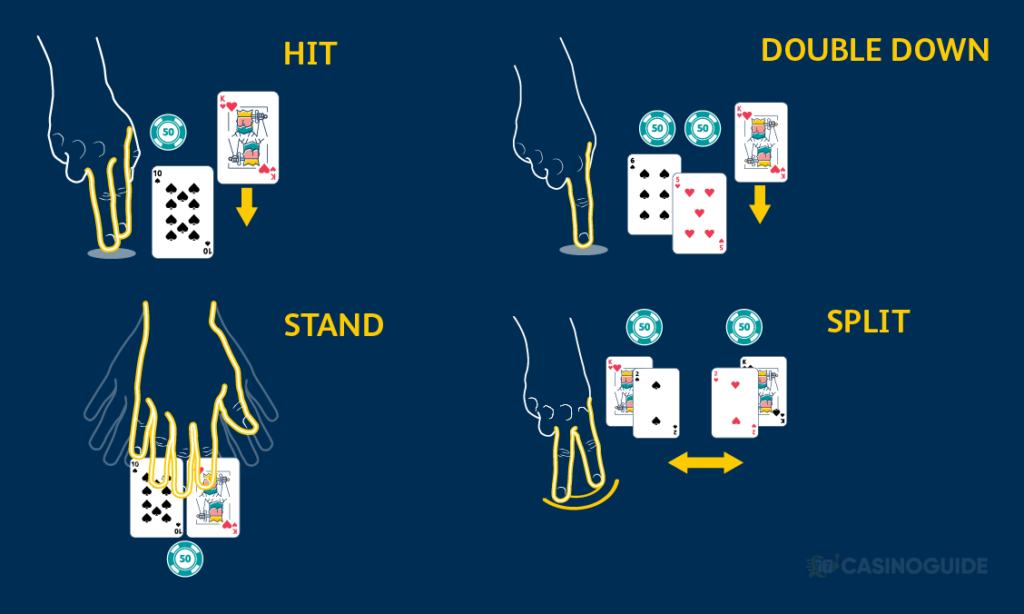 Split
If you have played blackjack before, you may have noticed that you sometimes get the opportunity to split. Split is simply another word to share. Simply put, a split means that you place the two cards you have in your hand into two different hands. 
You can only choose a split when you get a pair on the hand, i.e. two cards of the same value. For example, it can be two cards worth ten or two aces. If you choose split, the cards are split into two different hands. You can now choose a new card for each new hand you have. 
Now the same applies as before. You get as close to 21 as possible without busting. So you now play two hands entirely independently of each other.
There are also some variants of blackjack tables where you have the opportunity to split more than once on the same hand. A common rule when it comes to two aces is that you can only draw one new card per hand. This can, of course, vary depending on the casino, table, and rules. 
When you play with a live dealer, you may hear hitting and splitting. Hit means to take a new card and the split is that you place it into two hands.
Insurance
There are also some variants of blackjack tables where you have the opportunity to split more than once on the same hand. A common rule when it comes to two aces is that you can only draw one new card per hand. This can, of course, vary depending on the casino, table, and rules. 
When you play with a live dealer, you may hear hitting and splitting. Hit means to take a new card and the split is that you place it into two hands.
Double Down
Another option that you will encounter is to double. The opportunity only appears when you have received your cards. You can usually play here by either taking a new card as usual or choosing to double. This means that you double the amount of the bet you chose to play for. 
When you choose to double, you can only get one more card, i.e., not a possible fourth card. If you feel that you have good cards and good chances of winning, it is time to try doubles. At some casinos, you can double any starting hand, while other sites only allow you to double at 9, 10, or 11 points.
Betting tips: if you have a hard hand*, it is wise to double if the value of your cards is ten or eleven. When it comes to doubles, you will also come across the phrase " doubling for less". It simply means that you can increase the bet by a lower amount, it can be less than your first deposit.
* Explanation soft and hard hand, most often used on live blackjack.
-> A hard hand means that it does not contain an ace, or that your ace counts as one in value. 
-> A soft hand contains an ace that counts for its highest value 11. 
-> If you split a soft hand, but decide on another card - your hand often changes to a hard hand. The ace is counted after the new card as value one. 
Surrender
The English term Surrender is not very common, but it can appear in some blackjack games. Sometimes you can get a bad hand that really cannot win. If the Surrender function is available, you simply fold up and put your hand down. 
What then happens regarding your bet is that you usually only lose half the bet. If the option exists, it is activated only when you have received your first two cards and requested a new one or to double. 
Should the scenario be that the dealer has blackjack on hand with two cards, you cannot choose surrender.
More About the Dealers Options
We have primarily reviewed your opportunities as a player at the table above. We now can look a little closer to the dealer's alternatives. The dealer does not have the same opportunities as you have at the blackjack table. 
When it's time for the dealer to play his last card, he must, according to the rules, hold if the hand has a value of 17 or higher. If, on the other hand, the dealer has a value of 16 or less, he must take more cards. The dealer can only take the usual option of cards called Hit. 
The dealer thus does not have the opportunity to choose split, double, or give up his hand. This means that you have an advantage over the dealer, because you have more choices. 
The dealer at the table has to play the cards he has according to the above rules. When you open a Blackjack table, keep in mind that these rules are often written on the table. It then says e.g. soft 17 on the table, it varies depending on the casino and game maker.
Special Situations in Online Blackjack
Above, we have gone through common gaming procedures at Blackjack games. Some other situations can occur at the tables, whether you are playing online, live, or in a land-based facility. We have listed them below so that you can get acquainted with the different expressions.
Even Money
Say you have blackjack on hand and the dealer's visible card is an ace. In such cases, the dealer (live blackjack) can ask if you want " even money ". What this means is that you get 1 to 1 paid out on your game round before the dealer checks his hand for a potential Blackjack. You could say that Even Money works much like an assurance would have done. 
According to the experts, however, only the players who count the cards ( card counter ) have what it takes to take advantage of this side bet. Counting cards may sound complicated, but it is something every player can learn to do. In our How to Count Cards - Ultimate Guide you can learn all the steps for the high-low card counting system as well as other trivia and facts about card counting.
The dealer's hand may also contain blackjack, without giving you the opportunity to take out insurance or even money. This situation can arise if the dealer's first hand is e.g. ten. 
The dealer then checks his holding card before you have the opportunity to play your hand. Should the holding card hide an ace, the dealer has been dealt blackjack, and the winnings go to the house. However, except if a player would also have blackjack on hand.
What are Side Bets and Dead Hand?
Let's start with the slightly strange expression dead hand or dead man's hand. An expression you may be familiar with from poker. In blackjack, this can occur if all players at the table have busted after playing their hands. 
This is often called a "dead hand" and the dealer then shows his holding card to the camera (live casino). The dealer then collects the cards (done automatically online), as the hand is not played because the dealer still won. 
On regular blackjack tables, in most cases only "Declaration" is offered as a Side Bet. At regular land-based casinos, there are a lot of different side bets. Of course, these can also occur when you play online; it depends a bit on the variant of blackjack you have chosen. Below are some examples of Side Bet you may come across.
Bet on getting a pair on your first two cards.
Bet that the dealer's card has the same value as your hand.
Bet that the dealer will bust and lose.
Blackjack Rules for Winning
There are a couple of scenarios when it comes to how remaining hands (hands still in play) should be compared to the dealer's hand:
1) The dealer's hand exceeds 21 points. All players who have one hand still on the table get paid, regardless of the value of your hand. 
2) The dealer's hand is not over 21 points but still in play. If you have a value above the dealer and are closer to 21, you will take home the profit.  
Example: The dealer's hand has a value of 19. All hands worth 18 points or less then automatically lose. All hands worth 20 points or more, on the other hand, get paid. What happens to hands worth 19 points depends on the rules at the table. 
The usual thing is that there is a draw and that the players get their bets back (usually called "push"). However, there are variants of blackjack that worsen for players by having rules that say that a draw can only be considered for hands worth 20 points or more or that the dealer automatically wins if there is a draw. 
A winning hand normally pays 1: 1, unless it is a Blackjack (ace + a card worth 10 points) because it pays 3: 2.
Example: You can stake CAD $10 and win with lady + nine. You can keep your bet and be rewarded with an additional CAD $10. 
Variants of Regular Blackjack
Card games have always been prominent in the U.S., and this is no exception to blackjack. Perhaps most of all at land-based casinos in particular. Why is that so? In blackjack, many play strategically by trying to beat the dealer by card counting. 
From this strategic game, other variants have since been created. They have significantly more rules. We will not go into this in more detail here but only touch the surface lightly.
Blackjack Switch
Blackjack Switch is one of the more well-known variants of blackjack. Here, too, the goal is to get as close to 21 as possible without going over. You play against the dealer, and whoever comes closest to 21 or gets blackjack wins. In Switch, you play with two hands simultaneously, and strangely enough, it is not allowed to get blackjack in this variant of the game. 
The casino here has only a small advantage over the player. The edge can vary between 20% and 58%. Does it sound difficult or just interesting? You can play Blackjack Switch at Betfair, where there is a variant of the game with an astonishing RTP of 99.87 %. Unfortunately, you cannot try this game for free, you have to bet with money. 
Super Fun 21 Blackjack
The Blackjack table Super Fun 21 is a product of Microgaming. This table needs to be seen more as a regular slot machine. It is not at all blackjack in the ordinary sense. We can say that the game has dressed in a Blackjack outfit. The game can be compared to blackjack with a deck of cards where you have the opportunity to fold it countless times. 
Being aware of this is that blackjack only pays even money unless you get blackjack in diamonds. So do not be fooled and think that this is a regular online table blackjack game. For those of you who are interested, you will find the game at the casinos that cooperate with the gaming giant, Microgaming.
Free Bet Blackjack Variants
Free Bet Blackjack is played just like regular online blackjack. However, there is a difference and that is when you want to double or split your hand. In regular blackjack, you pay the fee for these options yourself. 
When you play Free Bet, on the other hand , you do not have to pay extra, but if you win, you will still be paid as if you were responsible for the bet. Here it is important to be careful because it is too good to be completely truthful. Instead of Free Roll, if the dealer exceeds and gets a hand of 22, then all winnings disappear. 
Of course, even if the dealer lost. If you want to play blackjack, you should avoid this variant. If you are still eager to try Free Bet Blackjack, you can find it at some Canadian casinos such as Dreamz. Evolution is behind the live online variant, so you can find the game at the casinos that offer Evolution Live.
Comparison of Different Blackjack Tables
As the comparison site, we need to take a closer look at some popular Blackjack online slots. Are they similar, or are there any differences? What does the current number of decks look like? Even though all games are of the Blackjack type, the rules may differ slightly. 
If you want to test play without a gaming account, then typically, only the simplest variants are available in Demo version. We can warmly recommend you to become a member of a Canadian casino so that you can log in and test a game first.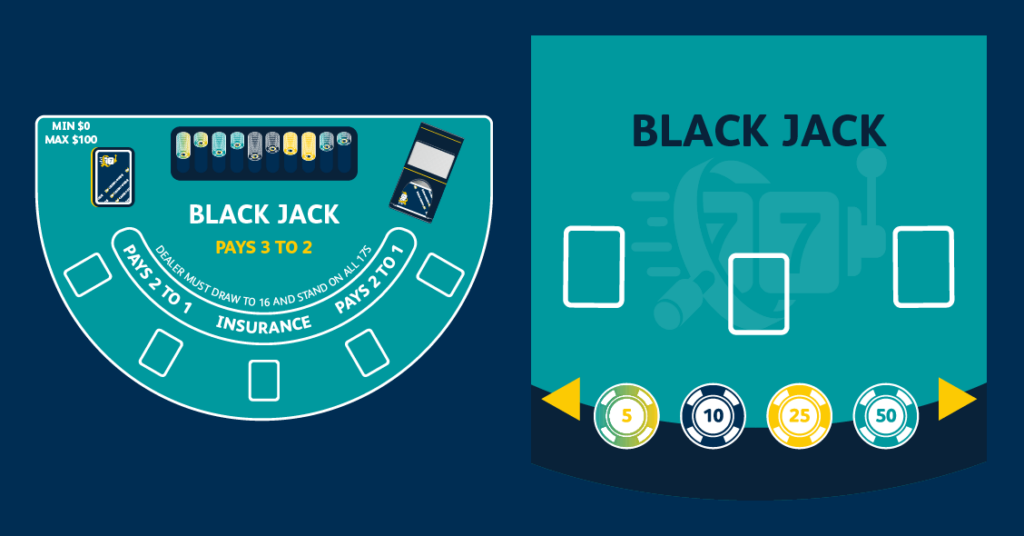 Blackjack Neo from Realistic
This is a slot machine that is good for a beginner. An ordinary classic Blackjack table where the bets are divided into five different denominations. The value starts at CAD 1, CAD 5, up to 500 as a starting bet. This slot machine is also excellent for trial play at some casinos, such as Mr Green. Here you start by first choosing a bet, and then you click on the table to bet. 
Now you immediately get up to three different options, either you can undo and change the bet, split cards or double the bet with 2x from the start. When you then play your hand and either win or lose against the dealer, the buttons look a little different.
Bet on (green text)
Bet on & Share (turquoise text)
Bet on 2x & Share (red text)
If you want to play for the same bet, select the option in the middle Bet again and split. Here your hand is dealt directly and you can then decide how to play the hand. For this Blackjack variant, 4 decks of cards are used, each with 52 cards. The dealer here must take another card with 16 in value or lower and stay at 17 or a higher value. 
Payout Blackjack pays 3 to 2 and sneaks the dealer on his holding card, also called American style. On this live game, you do not have the opportunity to give up - surrender. You will find complete rules and conditions by clicking on the gear and rules.
European Blackjack from Play'n Go
Here we have another variant that comes from the popular Play'n Go . The game of blackjack is a common European variant. With the sound feature on, you can follow the dealers instructions and listen to announcements made by the dealer. Compared to the other two tables, this game has detailed graphics, appearance, and design. 
Blackjack gives 3 to 2, and if you take the insurance, you pay 2 to 1. RTP has a value of 99.34 %. If we talk here about the game feel, it is slightly better than the two previous variants. Here it looks as if the cards are dealt for real and in this way there is better speed in the game. 
European Blackjack is played here with 6 standard cards without wilds. If you were to get an ace and ten on a split hand here, it counts as value 21 and not as blackjack. In this game you can also double after splitting, with the exception of aces. 
At this table, anyone who thinks it is going too slow can instead choose to play fast for a different tempo. This Blackjack table you can e.g. find at NoAccountCasino which also has a large selection of live blackjack.
Blackjack Classic from NetEnt
Here we have another popular Blackjack table that is both exciting and fun to play. Here are played with 6 decks of 52 cards each, without a joker. In this game you have the opportunity to take a new card, double, split or stay depending on your cards. 
Here you can also get another opportunity to split, depending on your and the dealer's hand. In this game, the dealer must have at least 17 in value or draw new cards up to a value of 16. Should there be a draw between you and the dealer, you will get your bet back. 
Just like the game above from Realistic, Blackjack gives a payout of 3: 2 and always beats blackjack other hands with a value of 21. What is then considered to be blackjack? If you get a card with denomination 10 or king, queen or jack and ace, then you have blackjack. 
When playing a game on this NetEnt table, you choose the usual bet. Note that the value may be displayed in euros and not in dollar. To then deal the cards, click on the card icon that flashes above your bet. Here, the icons for your options look a little different. 
If you want to hold on to split cards, click on the small hand the red circle - stop. If you want to take another card, click on the plus sign in the green circle. You can also double here by clicking on the icon that shows x2. 
If we are to compare these two games, they are relatively similar in terms of gameplay. However, we get the best gaming experience from NetEnt and their classic blackjack. 
It is slightly nicer and better illustrated, which makes the game more real, even if it's just a slot machine. 
Multihand BlackJack from Play'n Go
We have also looked at what is called Multihand. This particular table comes from the game manufacturer and is called Blackjack MH with an RTP of 99.54 %. In terms of appearance, the table looks like what we described above. Blackjack odds are 3: 2 and you can double on any 2 cards. 
You can also double here when you split, except on aces. The dealer also uses 6 decks of cards here, which is relatively common both at land-based casinos and online.
The thing with this variant is that you can choose to play with more hands. Select the bet and click on the canvas, then you can choose one to up to three. This means that you can win on more than one hand, but of course, you can also lose your hands to the dealer. 
When you play with multihands, you will see a small arrow next to the cards you have to decide on. Then you take the next hand, etc. Feel free to try - it's quite fun to try, and you learn in the meantime. This version also works well for trial play online.

Bonus on Blackjack - How it Works
Taking advantage of and using bonuses is always nice when you become a member of a new casino. In many cases, the sites only offer a bonus that is intended for slot machines. Is it then possible to use such a bonus on online blackjack? In most cases, you cannot use this type of casino bonus on the table game. 
If you look a little more closely at the rules for the bonus campaign, it often says that turnover is not counted on table games such as Blackjack. This means that the promotion is not suitable if you only intend to play games such as Roulette and online Blackjack.
Is there a special bonus for those who like blackjack? There is an opportunity to get a bonus primarily for a blackjack game. One of the casinos specializes in live casino and has a bonus tailored to that product. 
LeoVegas is a popular online casino that has created a separate bonus for live casino games. It's promotion only applies to table games and live casino games. 
Mr Green Casino is another example of an online casino that offers a dedicated Live Casino welcome bonus for blackjack fans.
For those of you who want to play blackjack with a bonus, visit our Live Casino page, where you will find more detailed information about the special bonus. It is important to check the conditions before you start playing. 
Several of the major popular sites in Canada offer specials when it comes to bonuses for live casinos and blackjack.  
Play at Exclusive Blackjack VIP Tables
Blackjack is a favorite when it comes to many who play frequently. Even the famous Spanish author Cervantes was a player. Here is more about blackjack history. 
Blackjack is a sophisticated table game where there are good opportunities to win big. Where can you find high-stakes blackjack games? It is probably easiest to find Blackjack tables for high rollers in a live casino. There is always a variant here called a VIP table or similar. On these tables, we find players who are willing to bet a penny and who know how blackjack is played in the best way. 
Another way to find these tables is to look at the betting limits. It may be that the starting bet is still relatively low, but that it extends up to a high maximum limit. At most online live casinos, this information is already in the gaming lobby. So you do not have to sit down at the game to keep track of what type of table it is. 
It is also worth mentioning that there are some slot machines for blackjack online with a high RTP. This means that the theoretical repayment is greater. It is not impossible to find Blackjack machines with an RTP of over 99%. 
In our examples of Blackjack above, we mentioned Multihand from Play'n Go with an RTP of high 99.54 %. 
Blackjack Online: In Summary
Is Blackjack is a game for everyone? YES - it is easy to adapt the game to your own level. Start playing on classic tables, without too many cumbersome extra rules. If you play for real money, play with a low stake before you feel comfortable playing with larger bets.  
Table games and blackjack are often referred to as "skills games." It takes knowledge to play in the best way. We agree that it is good to have a little prior knowledge, but practice gives skill. Everyone does not have to be a professional, but the most important thing is having fun and exciting playing time. 
Remember, you do not compete against other players but the dealer. We hope you enjoyed reading this comprehensive guide to betting on Blackjack.
Now find a seat at your chosen table and have fun!
FAQ
🔎 Is it legal to play Blackjack at online casinos in Canada?
🔎 Can I play blackjack online for real money?
🔎 Which are the best online casinos to play Blackjack?
🔎 How to play online blackjack?
🔎 Are Blackjack online games fair?
🔎 What are the best variants of online Blackjack?
🔎 What is the best strategy for winning?