Released in 2020 by Evolution, Crazy Time is a massively entertaining Live Casino game that focuses on the spinning of a vertical money wheel. In that respect, it has a lot in common with the company's 2018 Dream Catcher title. However, the big difference here is that it also has four different bonus games, with the Crazy Time round being the most exciting of them all. Read on and we'll tell you all about it.
Where to Play Crazy Time Live Game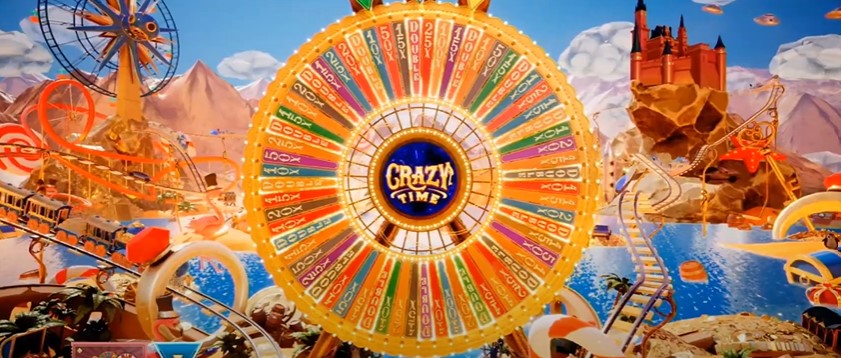 Crazy Time Live Casino Game - Info and Facts
Gaming Provider: Evolution
Launch date: 2020
RTP: 96.10%
Min and max bet: CAD 0.10 - CAD 40.00
Presentation and Format
The action in this game by the innovators of live casino, Evolution Gaming, focuses on a vertical money wheel. This is divided into 54 sectors, each of which is labelled with a number (1, 2, 5 or 10) or the name of a bonus game, as follows:
1 appears on 21 sectors.
2 appears on 13 sectors.
5 appears on 7 sectors.
10 appears on 4 sectors.
Coin Flip appears on 4 sectors.
Cash Hunt appears on 2 sectors.
Pachinko appears on 2 sectors.
Crazy Time appears on 1 sector.
At the top of the wheel is an indicator which highlights the winning sector after each spin. Above that is a Top Slot, which is a two-reel slot machine. The first reel shows sector symbols, and the second reel shows multiplier values.
The betting layout, which allows you to bet on as few or as many sector labels as you like, is located at the foot of your screen.
Both the game and its purpose-built studio setting are bright and colourful, and the live presenters who officiate proceedings are invariably cheerful. All of this, along with the chance of winning up to 20,000 times your bet, gives Crazy Time an atmosphere of fun and excitement that's almost tangible.
How Do You Play Crazy Time?
Your aim in this game is to bet on which sector will be indicated as the winner after the wheel has been spun. You make your bets by placing chips on the area of the betting layout that represents your chosen sector. Of course, if you want a chance to participate in any of the bonus games that can be triggered, you'll need to make sure that you have a bet on them.
When all bets have been placed, both the Top Slot and the wheel will start spinning. If the two reels of the Top Slot line up when they come to rest then the prize for the sector shown will be multiplied by the value shown. The wheel itself will then gradually slow down until it stops spinning completely and the winning sector is the one that ends up in the 12 o'clock position.
If the winning sector is a number, any bets on that sector will win that number multiplied by the stake. Bet $5 on the number 2, for example, and you'll win 2 times your $5 stake if a sector bearing that number wins. If a multiplier has been applied to sector 2, your prize will be enhanced accordingly.
Crazy Time Bonus Games
When the winning sector shows the name of a bonus game, all players who have bet on that sector will proceed to play that game. Here's what to expect:
Coin Flip starts with a large coin being placed into a flipping machine. One side of the coin is blue and the other is red, and a multiplier value will be randomly assigned to each. The machine will then flip the coin, and the multiplier represented by the side that lands face-up will be applied to your bet.
Cash Hunt involves shooting at a gallery of symbols, each of which conceals a random multiplier value. The value of the symbol that you succeed in shooting down will be revealed and applied to your bet.
Pachinko is played on a vertical pegged board that has a variety of multiplier values at the bottom. A puck is dropped into the board and travels through the pegs to randomly land on a multiplier value, which will be applied to your bet. If the puck hits a DOUBLE peg then all values at the bottom of the board will be doubled and the pull will be dropped again.
Crazy Time is the best bonus game of the bunch. This is played on a separate money wheel with three sector indicators. The sectors on the wheel show multiplier values as well as DOUBLE or TRIPLE labels. Choose an indicator and you'll win the value it selects after the wheel has been spun. The maximum multiplier that can be generated here is 20,000 times your bet.
Get Set for a Crazy Time
This is a fast-paced game of luck that never gets old. It's colourful, exciting and offers some great potential for substantial wins if you get really lucky. Take a look at our recommended online casinos to play Crazy Time, or visit our dedicated page of reviewed and approved casinos in Canada to play this exciting interactive game.