Card counting is a craft that can be mastered with practice. Although card counting is generally frowned upon in land-based casinos, it is not entirely illegal - it's just a way to win money by gaining an advantage over the house. Most casino operators dislike the act, but there is no state laws against card counting. Here in this complete guide to counting cards, we'll cover what card counting in blackjack is, how it's done, and answer the question: is it possible to count cards in online casino? Oh, and we'll also tell you about a certain Hollywood celebrity that was kicked out and banned for life from a Las Vegas casino. Read on for all this and more!
Play Blackjack Games at These Top Online Casinos
Counting Cards in Blackjack
Counting cards in blackjack identifies +1, -1, and 0 cards in a deck. By doing so, you know the ratio of high cards to low cards and can adjust bets accordingly. But, this technique is for those who know the ins and outs of the blackjack game. If you don't have blackjack gaming skills, first go through our detailed Online Blackjack Guide. If you are familiar with the game, you can jump right into this guide about the high-low system.
The Hi-Lo Card Counting System
The Hi-Lo card counting system involves keeping track of deck composition. You track low cards (2-7) to high-value cards (aces, 10, J, K, Q). If low cards than high cards have been played, you know there is a proportionately higher number of high cards in the deck. It gives you an advantage as high card numbers increase your chances of getting 20s and blackjacks and increase the likelihood of the dealer busting.
How Card Counting in Blackjack Works
Step 1: The Card Values
The first thing to do this technique is to give every card a value. Cards with numbers 2 through 6 have a value of +1, whether they have a heart suit or any other. Cards with numbers 7 through 9 have 0 value. Aces, J, K, and Q, have a value of -1. Then, every time a dealer deals card, you subtract or add depending on the card dealt.

Step 2: The Running Count
The running count is the number you get about adding or subtracting + or -1 depending on the card dealt. For example, suppose the dealer has a number 4 card with a heart's suit. The dealer's other card is face down, so you don't know its value. So, here the value of the dealer's hand is +1.

The first player has a card with a club's suit and number 5 on it. The other card is a 3 with a heart's suit. The total value of this player's hand is +2.
The second player's hand consists of an ace card with a heart suit. He also has another ace card with a diamond suit. (Remember, the value of the card is the same despite different suits) so, this player's hand value is -2.
The last player has one card with a suit of spades and a number 3 on it. The other card (also with a spade suit) has the number 8 on it. So, the total value of this player's hand is +1±0.
So the running count of this round is the dealer's total count, plus all other players' total count. That is (1)+(2)+(-2)+(1) =+2
Step 3: The True Count
Casinos might be using multiple decks to discourage card counting. But, if you know the number of decks, you can divide the card count by the number of decks to get a true count. For example, let's say the running count is +9. You should then divide the running count by the number of decks left; If there are 4 decks left, it's 9/4 = 2.25. Round that down to 2; you don't need to be exact.

Step 4: The Bet
Increase your bets as the number of true counts continues increasing. Give a value to every unit over 0. For example, if you have a true count of one, give it a value of $25. Increase this bet to $50 when the true count jumps to two.
Step 5: The Practice
After practicing the first four stages, then you're a step closer to be a successful card counter. However, there are several other techniques in counting cards. After familiarizing yourself with the HI-LO system, others will be a walk in the park. This system should help you determine when to hit or stand, or how to bet. Ideally, you may stand on stiff totals of 12 to 16 while the dealer will not. If a shoe is rich with a card value of 10,  hitting stiff hands becomes more dangerous, favoring the more conservative player strategy.
Is Counting Cards Illegal?
Card counting is a strategy players use to gain an advantage over a casino. You mentally keep track of already dealt cards and predict what's remaining in the deck. Based on this, you can then decide to bet with a higher amount or not.
So, it is not illegal to mentally strategize while playing blackjack or any other game to win. However, it would be unlawful to count cards if you are physically altering the results. But, if you are using an electronic device such as a phone app to count cards, you can be arrested because using devices to help you count cards is straight-up cheating.
Yet, card counting is a frowned exercise. Land-based casinos don't want to engage with someone who has an advantage over them. Thus, when they realize you are a counter, the casino, through security, will ask you to leave. It's worth remembering that land-based casinos are private properties - so, if the management want to ask you to leave, they have the right to do so.
A Big Bankroll Means Less Risk
Having a little less bankroll doesn't mean you are safe, and having a big bankroll doesn't mean less risk. If you consider the volatility of a game and know how to manage your bankroll, losing should be a non-issue. As an advantaged player, a card counter must know when to increase a bet or lower it. With whatever size of a bankroll they have, they can make or lose money.
For example, you might be an advantaged player with an underfunded bankroll. In this case, you gain between 1% and 1.5% through counting. The 1% edge is good to make enough profit for a long time, but it's not a big enough advantage to make huge profits every day you play.
Can You Count Cards in Online Blackjack?
Online casinos use Random Number Generators (RNGs) in all cards, and so online card counting can be difficult because decks of cards are shuffled every time. Still, card counting at home is easier since there is no one over your shoulder like in a land-based casino. Counting cards in online blackjack could be seen to aid mastering the strategy, and is likely to use less bankroll, since brick-and-mortar casinos have a higher minimum amount while online casinos are affordable.
So, is it worth your time? If you are playing for real money, then there is no need. But if you are playing as you count cards to familiarize yourself with the concept, then, sure, but players interested in learning the art of card counting should remember that factors such as house rules and deck penetration determine your success with card counting. Card penetration means that the dealer will draw several cards before shuffling. If they shuffle after every round, then there is no way you can win against the house by card counting.
Counting Cards in Las Vegas
Counting cards in Vegas is possible, but Las Vegas is the world's city of casino gaming, so casino operators know about card counting and have put up measures to protect their houses. For example, a casino might have stricter rules, an automatic shuffling machine, ban doubling after a split, and so much more to protect their house edge.
When Vegas casinos suspect a player is card counting, they may keep a close eye on that person and if their suspicions are confirmed, they will either remove that player from the table, or simply ban them outright from the casino.

Counting Cards in Other Games
If you are counting cards using the blackjack technique such as HI-LO, then it won't work with poker or baccarat. You see, card counting in blackjack happens to gain an advantage over the house. Yet, you play poker against other players, which means the blackjack card counting technique won't work.
For poker, you can count out cards. Out, in this case, means the cards that the dealer is yet to deal with from the deck. In this case, you need to wait on a straight or a flush draw whereby a specific out has to be dealt, to improve your hand or even create one.
As for baccarat, it is a bit different. You can use the blackjack's card counting strategy. However, how you bet on whether the Banker or the Player (Bet) is different, ideally, increase your bet if the player's card value is -4 and below and bet for the banker when the value is higher.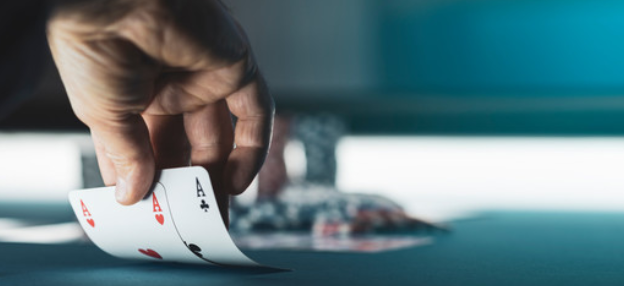 Summary
Counting cards can turn into profitable practice for some people, especially if done in land-based casino, however, most casinos either land-based or online, certainly don't want a card counter on their tables. As this activity is extremely frowned upon, players do need to ask themselves the question: is it really worth it?
Find more detailed casino guides here, and remember: please play responsibly and have fun!
FAQ
🔎 What is counting cards?
🔎 Can you count cards in online blackjack?
🔎 Can you count cards in Poker?
🔎 Can anyone count cards in Blackjack?
🔎 Is counting cards illegal in Canada?
🔎 Are you allowed to count cards in Las Vegas casinos?