BGaming is one of the best-loved developers of online casino games in Canada. This is the company with a self-confessed "player-driven approach" that has given us such hit slots as Elvis Frog in Vegas, Bonanza Billion and Wild Cash x9990. It's also an industry innovator, having been the first major developer in the world to support the use of cryptocurrencies and make its games "provably fair" via cryptography. In this review, we'll tell you all about where BGaming came from and why it's one of the most exciting providers in the business.
Play BGaming Slots at These Casinos in Canada
The Origins of BGaming
To the casual observer, when the BGaming brand first appeared in 2018 it might have seemed that it arrived completely out of the blue. But that wasn't the case at all. The BGaming brand actually emerged out of SOFTSWISS, which was founded in 2008 as an IT outsourcing company and became a brand in its worn right the following year. SOFTSWISS started developing online casino games in 2012 and its proprietary games were used to form the standalone BGaming brand in 2018.

Today, BGaming has over 100 casino games that are offered by more than 700 partners around the world. The company states that its fundamental value is that "player and player choice always comes first" and it is keen to point out that all of its games are tested by real players. The feedback from those test players is then taken on board so that the company can stay true to its commitment to continuous improvement.
BGaming has its headquarters in Malta, with development offices in Georgia and Poland, and is licensed by the Malta Gaming Authority. Its games can be played in over three dozen countries worldwide, including Canada, New Zealand, and the United Kingdom.
A Crypto Gaming Pioneer
Many casinos today allow players to make deposits and withdrawals with cryptocurrencies such as Bitcoin, Litecoin and Ethereum just as easily as they can with credit cards and e-wallets. BGaming played a major role in helping this to become commonplace because it was the first major provider to create games with full support for cryptos.
This company was also one of the first to make it possible for players to verify the fairness of its games via cryptography. All of its games are fair, and a large percentage are "provably" so, which means that you can play its slots, table games, or its specialist crypto games with complete confidence.
BGaming Game Selection
BGaming might not have the largest catalogue of games when compared with some other developers, but it still has more than 100, and that's quite impressive given the relative youth of the brand. Even more impressive is the breadth and variety of titles that are on offer. BGaming naturally offers plenty of slots, but it also has some fantastic table games, not to mention some superb crypto titles. Here we'll pick out some of the most notable releases so that you can take them for a spin yourself at some point.
Elvis Frog in Vegas
Released in 2020, this is a five-reel slot that focuses on the adventures of Elvis Frog, an amphibian Elvis impersonator. The action takes place in Las Vegas, and you'll see the bright neon lights of that location in the background as you play. Symbols in the reels include a guitar, microphone, pink Cadillac, a lady frog, an Elvis star scatter and Elvis himself, who serves as a wild.
This game is packed with features, including Blazing Reels, Coin Respin, and Free Spins. You'll have the chance of winning a Mini, Major or Mega Tutti-Frutti Jackpot and the top payout is 2,500 times your bet.

Bonanza Billion
You can't actually win a billion in this slot, but it does have an impressive maximum payout of 15,000. Bonanza Billion is a vividly colourful five-by-five grid slot with no pay lines. Instead, you simply need to get eight or more matching symbols on the grid at the same time to win the associated prize. Those symbols include cherries, oranges, lemons, plums, watermelons, a variety of gems, and a scatter.
Land 4, 5, or 6 scatters on the grid and you'll receive 10, 20 or 30 free spins. A special multiplier symbol is in play throughout the Free Spins feature, and this will give you a random multiplier of anything from 2x to 100x whenever it appears on the grid. Get another 3 scatters and you'll earn another 5 free spins.
Space XY
This is a game that will shock most people who launch it for the first time because it looks like no online casino game you've ever played before. There are no reels and no pay lines. In fact, all you'll see is a graph with a rocket where the X-axis and the Y-axis intersect.  Your job here is to place a bet and watch the rocket being launched. You should then cash out your bet before the rocket explodes. The longer the rocket continues intact, the more you can win, up to a maximum of 10,000 times your bet if you're particularly brave - and lucky.
Wild Cash x9990
This is a five-reel slot that was released in 2022 and is partly named after its maximum payout of 9,990 times your bet. Designed to look, feel and sound like a classic video slot, Wild Cash x9990 is a superb salute to the past while being very much at the cutting edge of modern gaming technology. The reels are packed with traditional symbols, including various fruits, yellow stars and red 7s, and a Wild Ca$h logo serves as a bonus symbol.
You will trigger the Bonus Game by getting 3, 4, or 5 bonus symbols on the reels at the same time. A special 3-reel row will appear to spin a random multiplier from 1 to 999x, and you will win that figure multiplied by your bet. If you triggered the Bonus Game with 4 or 5 symbols, an additional multiplier of x3 or x10 will be applied, respectively.
Minesweeper
The classic minesweeper puzzle game has been reimagined here and the puzzle element has been removed completely, so you'll have to rely on luck alone to win. You'll start at one end of a field and you must try to get to the other side without hitting a mine. The further you go, the more you can win, but if you hit a mine at any point, you'll lose. Fortunately, you can hit a Collect button at any time to end the game early and lock in your winnings. How far you choose to go before cashing out is up to you and your attitude to risk.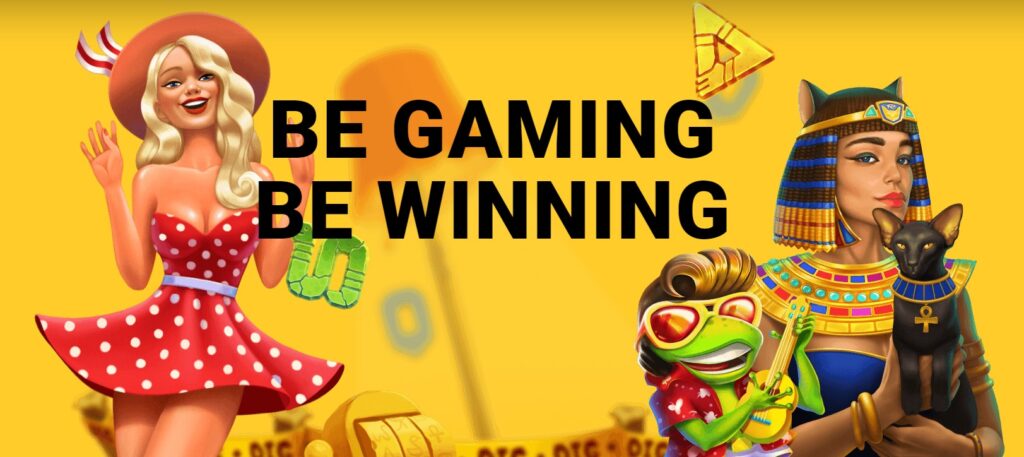 BGaming is a Well-Deserved Players' Favourite
BGaming's commitment to putting players first has earned it countless fans at online casinos globally. Every game it has released has shone in terms of presentation, features and engagement, and whether you are someone who likes to play with regular Canadian dollars or cryptocurrencies, you'll have a great time playing BGaming titles. We are impressed by the speed at which this company has become one of the best-loved developers in Canada, and we have no doubt that we will see even bigger and better things from BGaming in the years to come.