The Reel Kingdom brand has only been around for a few years, but it is already very well known among players in Canada thanks to it giving us massive hits like Big Bass Bonanza and Hot to Burn. Both of those games came out in the very first year of the company being around, and it hasn't looked back since. On the contrary, the company has continued producing games of the highest quality, and it already has a portfolio of over 35 titles. In our review, we'll tell you about the best Reel Kingdom slots, where to play them, and much more.
Reel Kingdom Casinos Canada

Reel Kingdom Overview and Background
If you'd dropped the words "Reel Kingdom" into a conversation as recently as 2019, we wouldn't have had a clue what you were talking about. That's because this company, which is now a brand with wide recognition, was only founded in 2020. So how did it become so successful so quickly?
The answer to that question is twofold. First, the small group of individuals who founded the company had a wealth of industry experience - around 150 years between them. And second, the company released its games in partnership with none other than industry giant Pragmatic Play.
Of course, neither of those things would have mattered one bit if the games created by Reel Kingdom hadn't been any good. Fortunately, every title put forth by this company has been superb, and while there is - in our opinion - quite a lot of similarity between several titles, none of them can be faulted on their own terms.
Today, Reel Kingdom games are being played at online casinos right across Canada and in four dozen other countries around the world.

Best Reel Kingdom Slots Canada
The best way to discover what a developer is all about is to play its games. Here are three that showcase the variety currently available from Reel Kingdom:
Big Bass Bonanza slot
This is the most famous game from Reel Kingdom. Bass fishing is the main theme in Bass Bonanza slot, and it has been so popular that it has spawned several sequels and spin-offs. The original game has five reels, ten pay lines and a special feature that awards re-triggerable free spins with increasing multipliers.
Floating Dragon Hold & Spin slot
Released in 2021, this is a five-reel slot with an atmospheric Asian theme. Flying kites is very popular in many parts of Asia, and that's what you're doing here as you spin the reels. Land three golden coins to trigger a Hold & Spin round, or three scatter symbols to trigger Free Spins.
Hot to Burn slot
This is the very first game that Reel Kindom released in 2020, and it's still a big hit at casinos across Canada thanks to its simplicity. It's a retro-style video slot with five reels, five paylines and large fruit symbols that burst into flames whenever they form part of a win.
A few other games that we can enthusiastically recommend from the Reel Kingdom portfolio are Emerald King, Fish Eye, and Spirit of Adventure.
New Reel Kingdom Slots
Reel Kingdom tends to release an average of one new game per month, so it's prolific enough to keep you entertained all year long. While there's certainly variety in the games that are produced, this company does have a habit of creating multiple titles based on the same concept. We find that to be more than a bit tiresome - after all, how many bass fishing games does the world need? - but your mileage may vary.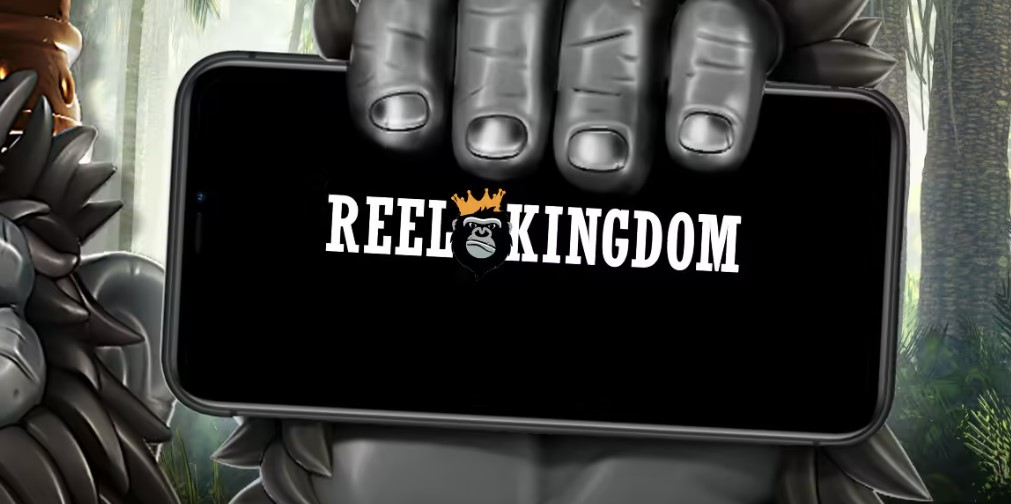 Highest Paying Reel Kingdom Real Money Games
While it doesn't tend to create games with the highest RTPs in the business, Reel Kingdom titles are still quite fair to players, and no title pays less than 95%. The six games with the highest RTPs at the time of writing are:
Hot to Burn (96.71%)
Ultra Hold & Spin (96.65%)
Big Bass Bonanza (95.67%)
Big Bass Splash (95.67%)
Bigger Bass Bonanza (95.67%)
Floating Dragon Hold & Spin (95.67%)
Reel Kingdom Table Games
Reel Kingdom hasn't released any table games so far, and we aren't expecting any to be forthcoming. Of course, it's still fairly early days for the company, so it may well decide to change direction in the future. For now, however, its focus seems to be firmly fixed on slots.
Reel Kingdom Pros and Cons
Quality - highest quality games.
Accessibility - Available at hundreds of online casinos.
Fair RTPs - No game has an RTP of less than 95%.
Some complain that its games aren't varied enough.
Reel Kingdom: Our Verdict
This is an online game developer that has effectively gone from zero to hero in just a few short years. While experience and strategic partnerships have played a large role in that success, there's no doubt that the quality of Reel Kingdom slots has been equally important. We are impressed with what the company has achieved so far, but we are hoping that it will now focus on generating more original ideas instead of extending its existing series ad infinitum.
FAQ
🔎 What does Reel Kingdom do?
🔎 What is Reel Kingdom famous for?
🔎 What Reel Kingdom slots are worth playing?
🔎 What are the best Reel Kingdom casinos in Canada?
🔎 Can I play Reel Kingdom games on my mobile?