Gonzo's Treasure Hunt is a fantastic Live Casino game from Evolution. As the title suggests, it stars the same Spanish explorer who first appeared in the Gonzo's Quest slot from NetEnt (a company now owned by Evolution) in 2011. What makes this game special is that it allows you to join both him and the live game host on a treasure hunt for precious stones, and a single stone can be worth as much as 20,000x your bet. Even better, if you have a virtual reality headset you also have the option of playing the game in VR mode and enjoying an immersive online gaming experience like no other.
Play Gonzo's Treasure Hunt at These Casinos
Award-Winning Mobile Experience
Fully Regulated and Licensed
Gonzo's Treasure Hunt Info and Facts
Gaming provider: Evolution
Launch date: 9th of June 2021
RTP: 96.56%
Min and max bet: CAD 0.10 - CAD 1,000.00
Game features: Bonus Prizes, Multipliers, Re-Drops.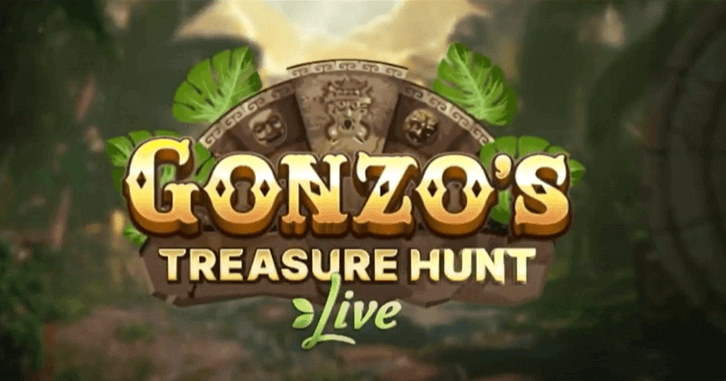 A Feast for the Eyes
Gonzo's Treasure Hunt is simply a gorgeous casino game to play. It takes you deep into an ancient Incan temple and uses state-of-the-art computer graphics and animation to give you an immersive "augmented reality" experience. The game host is a flesh-and-blood human being, and he or she will be dressed for action in full explorer's gear. Gonzo himself is fully animated and interacts with the host and players as the game progresses.
We can't think of a more visually pleasing game than this one, but if you choose to play in VR mode using a 3D headset and controller you will be even more impressed. You'll have a full 360-degree view of the environment, and a user interface specifically designed for VR play.
Whatever mode you play in, the game focuses on a large wall measuring 7 columns wide x 4 rows high. Each block of the wall shows a symbol, so there are 70 symbols in all. As you'll see shortly, each symbol - and there are six different types - appears on the wall a set number of times. The amount that each symbol pays depends primarily on how common it is.
How to Play Gonzo's Treasure Hunt
Playing Gonzo's Treasure Hunt is pleasantly straightforward. The wall shows 70 symbols, as mentioned a few moments ago, and each of the six symbols appears a set number of times. The symbol frequencies and payouts are as follows:
Brown Symbol - Frequency 27 - Pays 1 to 1
Orange - 20 - 2 to 1
Purple - 12 - 4 to 1
Green - 7 - 8 to 1
Blue - 3 - 20 to 1
Red - 1 - 65 to 1
The wall will spin at the start of the round, mixing up all of the symbols as it revolves. At the end of this spin, each cell of the wall will show a blank space. Your task now is to select whatever type of stone you want to look for and bet on where you think they might be found.
You can hunt for anything from 1 to 6  stone types by selecting them at the foot of the wall. Then you can select anything from 1 to 20 of the blank spaces where you think they might be hiding. A handprint sign will appear on each of the blank stones you select so that you don't forget what you picked.
The total cost to play one round of this game will be your stake multiplied by the number of stone types you select, multiplied by the number of blank spaces you choose to look under. For example, if you were to bet C$1 on 3 stone types and pick 5 blank spaces, your total bet would be C$15.
As you would expect, the full rules relating to this game can be found in the game itself. Simply click the information icons at the edge of the screen to view those, along with the paytable of symbols and their respective values.
Having explained what Gonzo's Treasure Hunt is all about and how to place your bets, we will now move on to what happens next, because that's where the special features come into play.
Special Features of the Game
When all bets are in, the game progresses to the most exciting stage. Gonzo, who stands to the left of the symbol wall, gets things going by using a golden key to unlock a special double row at the top of that wall. The lower part of the special row will contain a mixture of bricks and gaps. The upper part will show as many as seven special feature symbols. These symbols can award Bonus Prizes, Multipliers or Re-Drops.
Bonus Prizes - When a Bonus Prize symbol appears above a gap in the section below, it will drop down the column onto the main grid. The symbol will stop at a random position and will add a value of anything from 3 to 100 to the stone hidden there.
The games Multipliers - A Multiplier symbol will similarly drop down into the grid if there is a gap below it. This will multiply all of the Bonus Prize values that have previously dropped onto the wall during the current round. The multiplier can be worth anything from 2x to 10x.
Re-Drops - When a Re-Drop symbol appears on the upper special row above an opening, it will trigger another Prize Drop. This can add more Bonus Prize and Multiplier symbols to the grid, and possibly even to a hidden stone that has already been enhanced. A Re-Drop can also result in another Re-Drop symbol appearing, which will keep the Prize Drop action going for even longer.
When all of the special symbols (if any) have dropped, this part of the game ends and it is time for you to find out whether or not you've managed to find some treasure.
Gonzo's Treasure Hunt Winnings
Winning or losing in this game depends entirely on whether or not you've been able to select one or more positions on the wall that conceal a symbol that you've bet on. All 70 positions on the wall will rotate to reveal what is hidden behind each, and if any of your chosen positions contain a symbol that you've also selected, you'll win accordingly.
If the position hasn't been enhanced by any prize drops then you'll be paid the odds merited by its colour, as we summarised earlier. However, if the position has been enhanced by a Bonus Prize and possibly a Multiplier during the Prize Drop stage, you'll win even more.
It is possible to win as much as 20,000 times your bet in a single round of this game, so there's definitely some real treasure to be won here if you're lucky enough to find it.
Where to Play Gonzo's Treasure Hunt
Gonzo's Treasure Hunt was created by the world's leading developer of Live Casino games, so it isn't at all hard to find. Simply look for online casinos that offer popular Evolution titles, navigate to the Live Casino area and you'll have a good chance of seeing it listed. Alternatively, look at our shortlist of recommended casinos at the top of this page, as you'll find this game at all of them.
Go Treasure Hunting on Mobile
Although everything about Gonzo's Treasure Hunt appears larger than life, the game still looks just as good on mobile devices as it does on desktop displays. You will need to use headphones to get the most out of the audio content, which is also very impressive, but this is certainly a game that you can enjoy on your smartphone or tablet.
Why You Should Play Gonzo's Treasure Hunt
Gonzo's Treasure Hunt is one that everyone should play at least once, and we say that for a number of reasons. The first is that it's a truly groundbreaking title that takes a well-loved gaming character and brings him to life in a visually stunning way even if you don't make use of the spectacular VR mode. It's also a fantastic game in its own right that allows you to bet according to your personal risk threshold. Simply hunt for common symbols if you're low-risk, or on rarer symbols if you'd prefer to take a bigger risk. Whatever your preference and approach, you're sure to have a lot of fun, and you just might win as much as 20,000 times your bet.