MONOPOLY Live is a game-show style Live Casino version of the much-loved property trading board game published in 1933 by Hasbro. It was released by Evolution in 2019, and its innovative gameplay and incredible 3D visuals helped it to win the Game of the Year title at the 2019 EGR Operator Awards. This game, which was created in partnership with Hasbro, gives you all the thrills of the traditional board game and a whole lot more. Not least of which is the chance to win real cash prizes instead of just MONOPOLY money.
Play MONOPOLY Live at these Live Casinos
MONOPOLY Live Info and Facts
Gaming provider: Evolution
Launch date: 2019
RTP: 96.23%
Min and max bet: CAD 0.10 - CAD 2,500.00
Game features: Money Wheel Game, 3D Bonus Round.
Property Trading Made Fun
MONOPOLY Live is a game that makes property trading way more fun than anyone would ever have the right to expect. The main game focuses on a Money Wheel that is similar to the one used in Evolution's Dream Catcher title. This wheel has 54 sections, each of which shows a number (1, 2, 5 or 20) or a special feature (Chance, 2 Rolls or 4 Rolls). You can find the full Evolution review here.
Behind the wheel is a large virtual window that gives you a stunning view of the MONOPOLY world outside. Look closely and you'll see that the ground has the familiar layout of the traditional MONOPOLY board, and you'll get a much better view of all that later in the immersive 3D Bonus Round.
How to Play the Game from Evolution
Your aim in this game is to bet on which section of the wheel will be indicated as the winner when it comes to rest after being spun by the game host. Bets are placed via a simple user interface at the foot of the screen, and each of the six betting options is represented by a different MONOPOLY banknote. Simply add chips to the banknote you want to bet on during the betting period.
When the betting period is over, the host will spin the Money Wheel. It will continue spinning for a while, and then come to rest, with an indicator at the top of the wheel pointing to the winning segment.
Should the Money Wheel come to rest on a Chance segment, which is one that you can't bet on, a Chance card will be drawn. This will give all players a random cash prize or it will increase the value of all number segments with a random multiplier. Either way, your original bet will remain active and the Money Wheel will be spun again. It is perfectly possible for Chance to win again, in which case another cash prize or multiplier will be awarded.
When the Money Wheel selects any segment other than Chance and you have bet on that segment, you will win the corresponding prize, as follows:
1 pays 1:1
2 pays 2:1
5 pays 5:1
10 pays 10:1
2 Rolls will give you 2 rolls of the dice in the 3D Bonus Game
4 Rolls will give you 4 rolls of the dice in the 3D Bonus Game
If a number segment wins, all players who have bet on that number will be paid, and a new game will begin. However, if a 2 Rolls or 4 Rolls segment wins, the 3D Bonus Round will be triggered.
Live 3D Bonus Round
The 3D Bonus Round is something that makes MONOPOLY Live very different from other vertical "wheel of fortune" style games. This part of this amazing casino game takes you into the world outdoors, where you'll accompany MR. MONOPOLY as he travels around the board. The 3D visuals here are absolutely incredible. Colors are vibrant, the buildings around the board are beautifully realistic and there is plenty of subtle animation in the surrounding scenery to bring the MONOPOLY game to life like nothing else we've ever seen.
If you haven't bet on the 2 Rolls or 4 Rolls outcomes then you will simply watch this part of the game as a spectator, otherwise, you'll get to play 2 Rolls or 4 Rolls, accordingly. Roll the dice and MR. MONOPOLY will walk the corresponding number of spaces on the board. Each space with a property will have a cash value, and if you land on one of those you'll win its value multiplied by your stake. Also note that if a Chance card has multiplied wheel values earlier in the round, the property values will also have been multiplied.
Other spaces on the MONOPOLY board might require you to pay some tax, draw a card for a surprise of some kind, or even send you to jail. In other words, the 3D Bonus Round is very similar to playing the traditional board game, where everything hinges on a roll of the dice.
While you will start this round with 2 or 4 rolls, if you roll a double at any point you'll get an extra roll, giving you the chance to win even more prizes.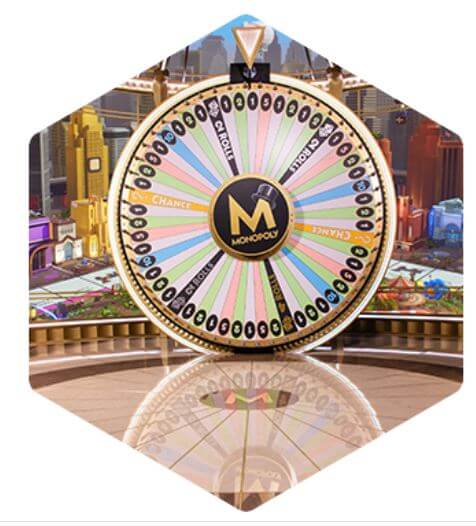 Winnings up to 10,000x Your Stake
We love MONOPOLY Live because it gives players plenty of chances to win. You can bet on as few or as many segment types as you want, so it's entirely possible to place a bet on all six types and enjoy the thrill of winning every time the Money Wheel is spun. Whether or not you'll make a profit by taking that approach is dependent on how lucky you are, but it's possible to win up to 10,000 times your stake in this game, so the potential is certainly there.
Where to Play MONOPOLY Live
You will find MONOPOLY Live at most online casinos that have a Live Casino section which includes titles from Evolution. At the beginning of this review, we presented a list of recommended casinos, and MONOPOLY Live is available to be played at all of them. If those aren't enough for you, visit our online casino reviews area and you'll find information about plenty of other venues that also offer Evolution games.
A Perfect Game on Mobile
Evolution is a company that goes out of its way to make its games just as enjoyable on mobile devices as they are on desktop and laptop computers. MONOPOLY Live is therefore perfectly playable on your smartphone or tablet, and the only difference is that you might find it difficult to notice the subtlest of scenery details in the 3D Bonus Round. Of course, that depends on your eyesight, and those tiny details don't affect the gameplay in any way, so if you want to play MONOPOLY Live when you're out and about, go for it.
Why You Should Play MONOPOLY Live
MONOPOLY Live is a game that excels in every area you can think of. To start with, it's a faithful online casino version of a board game that most of us have enjoyed at one time or another. That means you'll already be familiar with the layout of the 3D Bonus Round even if you haven't yet seen it brought to life as it is here.
This is also a very easy game to play, as all you have to do is bet on one or more of the six available options and keep your fingers crossed that the Money Wheel lands on one of them. The whole game is stunning to look at, as entertaining as you could want, and it has the potential to give you a win of up to 10,000 times your bet. Play today and the chances are high that you'll be a big fan by the time you first pass GO.