MuchBetter is an award-winning payment solution that has been designed especially for online casino players. Fast and secure, it is available in Canada and accepted by a growing number of popular operators. In the following guide, we will provide you with a full overview of this regulated payment method, including applicable fees as well as the pros and cons of MuchBetter.
MuchBetter Casinos in Canada
Award-Winning Mobile Experience
Fully Regulated and Licensed
What Exactly is MuchBetter?
MuchBetter is an eWallet provider that launched in 2017 and is licensed as an electronic money institution by the UK's Financial Conduct Authority (FCA). Downloadable on Android and iOS devices, this payment method is designed to provide a low cost and oftentimes instant option to deposit and withdraw funds from your casino account. It is easy to use, yet offers a high degree of safety to users, and this is one of the main reasons why it is becoming so popular amongst players in Canada and around the world.
Since its launch, MuchBetter has won over 11 international awards, including EGR's Innovation in Payment Solutions award in 2020. In fact, innovation continues to drive the business, and this is why MuchBetter offers unique features, including a dynamic CVV and a user reward system. We will explain these and other features throughout the rest of the guide.
MuchBetter for Casino Deposits and Withdrawals
MuchBetter is a convenient payment method for both casino operators and players. This is why it is accepted by an increasing number of online casinos in Canada. In order to start using MuchBetter for your online casino payments, all you need to do is:
Create a MuchBetter account by visiting the website, downloading the app, and entering your details.
Fund your account using a debit/credit card or any other supported option.
With a MuchBetter account, making and receiving payments from online casinos is as simple as using your smartphone. For security purposes, it is vital that your phone is near you whenever you intend to process a transaction.
Deposit Funds - step by step:
In order to fund your online casino account using this payment method, the operator must be able to accept it. To help you out, we have provided a list of top online casinos in Canada that accept MuchBetter payments. Once you have created a casino account, follow these steps to make your deposit:
Select the MuchBetter payment option from your casino account.
Enter the amount you wish to deposit and your MuchBetter registered mobile number.
You will receive an approval request directly from your app. Accept it in order to complete your deposit.
MuchBetter deposits are normally instantly available in your online casino account.
Withdraw Funds works like this:
The process to withdraw funds to your MuchBetter account is equally simple and straightforward. All you need to do is:
From your online casino account, select the withdrawal option and choose MuchBetter.
Enter the amount you wish to withdraw and ensure that the mobile number matches the same one registered on your MuchBetter account.
Click confirm to complete the withdrawal.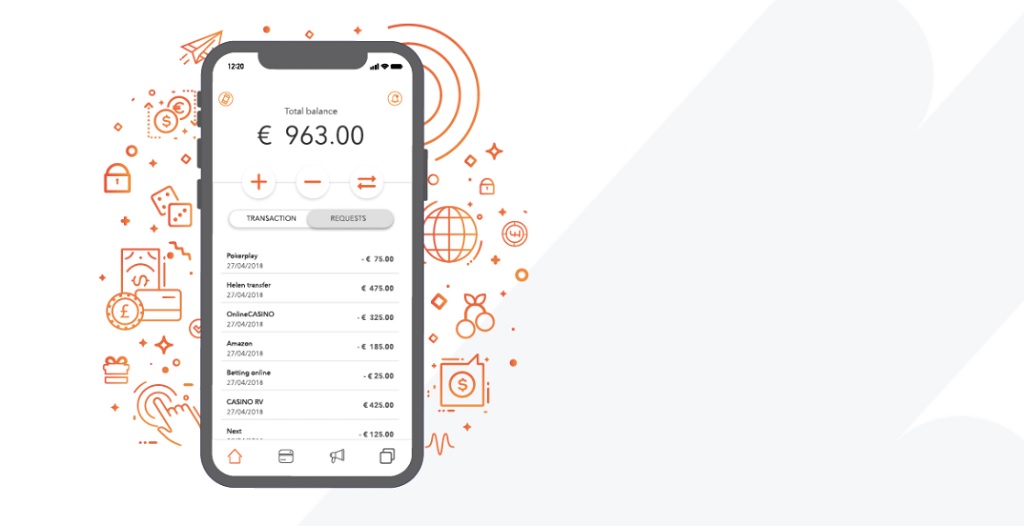 The Main Benefits of using MuchBetter Payments
As you've seen from the previous section, using MuchBetter for payments is very quick and simple. However, this is far from the only benefit of using this option. In fact, whenever you fund your online casino account with MuchBetter you participate in the exclusive rewards program. Similar to casino rewards, MuchBetter provides you with points every time you make a payment. These points are converted to virtual tickets for annual, quarterly, and weekly prize draws whose value can climb up to CAD70,000 and over.
Let's Have a Look at MuchBetter Fees
MuchBetter does not charge fees for payments to and from your online casino account. However, the casino may charge a separate fee itself. In order to fund your MuchBetter account, you can use a variety of options, including cards, Interac, cryptocurrencies, and bank transfers. Most of these options incur a fee of between 0.1% - 5%. The main exception is effecting a bank transfer.
MuchBetter also charges fees to withdraw funds out of your eWallet account. These vary by method, but in the case of bank transfers, the fee is normally CAD4.00. Currency conversion fees, if applicable, are charged separately.
Using the Provider at Canadian Online Casinos
By opting to use MuchBetter when playing at online casinos in Canada you benefit from a dedicated solution that truly makes payments easier and more convenient. In addition to rewarding customers with points, MuchBetter also keeps Canadian players informed of specific casino offers that support this funding option.
In certain cases, online casinos reward players who opt to use MuchBetter payments with exclusive offers. These can include reload bonuses or free spins, although the exact offer may differ. In any case, it is important that you read the associated terms and conditions in order to comply with the rules.
How does MuchBetter keep you Safe?
MuchBetter utilises a number of innovative measures to keep your details and funds protected. In fact, this solution goes further than other eWallets to protect you. It does this by offering a touch ID and a transaction review mechanism that only allows legitimate transactions. Furthermore, the MuchBetter virtual debit card features a unique dynamic CVV code, where the three digits change for each transaction. This ensures that even if scammers get hold of your card details, they would be unable to use them. 
Start using MuchBetter at CA Online Casinos
Players in Canada can choose from a number of safe and convenient payment options. Those who choose MuchBetter have the added advantage of participating in periodic prize draws and accessing enhanced security systems. MuchBetter payments are fast and simple, only requiring your mobile phone to be processed. Given all the benefits of this payment option, it is no surprise that it is quickly becoming a top choice amongst online casino players in Canada.