When video poker machines first started appearing at casinos in the 1970s, they transformed the way we thought about poker in particular and gaming in general. Whereas poker had previously been a game that required several players to get together and sit around a physical table, video poker presented all the action on a video screen and it could be enjoyed by just one player. This made video poker the perfect way for a poker fan to enjoy the game at any time.
Video poker is just as popular in Canada as it is in the United States and other countries, so in this article, we'll tell you all you need to know to start playing. We'll explain the rules of the game, take a look at some of the main video poker variations and even provide you with some pointers on video poker strategy.
Where to Play Video Poker in Canada
How to Play Video Poker Online
Playing video poker online is much the same as playing the game in a land-based casino. A bet is placed and the game will deal five cards to the screen. You then get to decide which of those cards you want to keep and which you want to replace with other cards. When you have made your selection by pressing HOLD or DISCARD buttons below each card, the discarded cards will be removed from your hand and other cards will be dealt in their place.
The five cards that you have on screen after the second deal will be assessed by the game to see whether or not you have made a winning five-card poker handas detailed on the paytable. If a winning hand has been made, your prize will be paid to you automatically.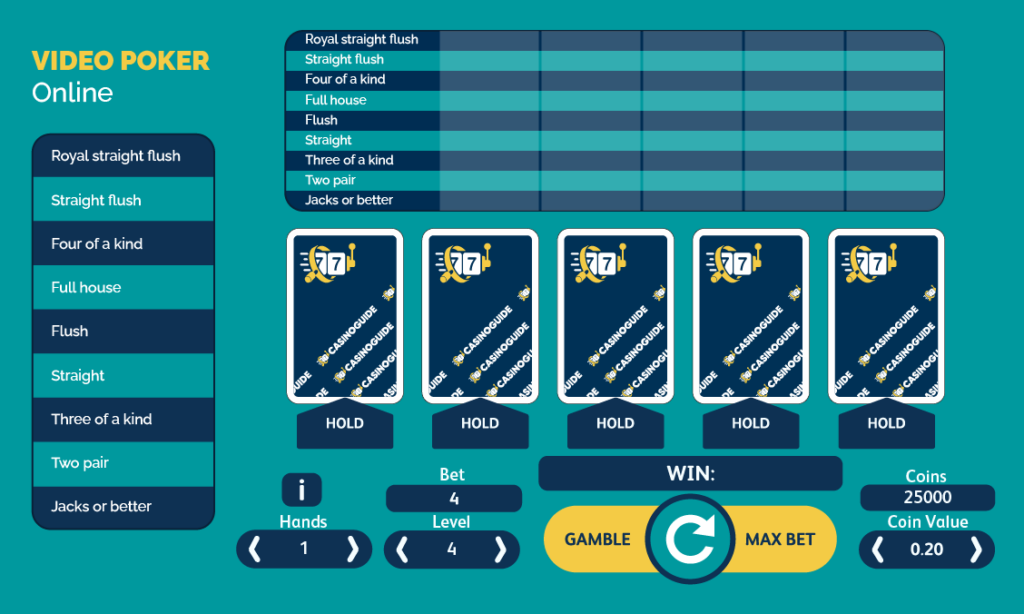 Video Poker Hand Rankings
There are many different varieties of video poker, but most pay prizes for five-card poker hands of Two Pair or better. From best to worst, those hands would include:
Royal Flush
Straight Flush
Four of a Kind
Full House
Flush
Three of a Kind
Two Pair
Some varieties of video poker will also pay for a single pair of 10s or better, or of Jacks or better. There are also variations that have a winning hand that is worth even more than a Royal Flush. We will look at some of those variations a little later in this article.
How to Play Your First Hand of Video Poker
Now that you have a general idea of what video poker is all about, we can explain how to play your first hand of video poker in more detail.
1. Place Your Bets
The first thing that you need to do is place a bet. Most video poker games will allow you to bet 1, 2, 3, 4, or 5 coins on a given hand, and the size of the coin can also be adjusted to suit your budget. Selecting the coin size and the number of coins you want to play is achieved by pressing arrows up or down until the desired value is shown. We should also point out that some video poker games only pay their jackpots to players who bet the maximum number of coins, so do check to see if that's the case before playing.
2. Press the Deal Button
Having placed your bet on the hand to come, the next step is to press the DEAL button. This will start the game and you will see five cards being dealt to you on the screen. A game of video poker uses a virtual deck of 52 standard playing cards (a few variations may also include a joker) and the cards that are dealt to you are determined by a Random Number Generator (RNG).
3. Hold or Discard
At this point, your task is to decide which of your five cards you would like to hold and which you would like to discard and replace. You can hold as many or as few cards as you want. It could be that you have already achieved a winning poker hand, in which case you will probably want to hold the cards involved unless you have a shot at making a much better one. As stated earlier, you can hold or discard each card by pressing the button below it, as appropriate.
4. Press the Deal Button Again
You can now press the DEAL button for a second time, and any cards that you have said you want to discard will be removed. New cards will then be dealt in their place. At this point, the game itself will assess the five cards you have on screen and determine whether or not it is a winning hand. If it is, you will be paid according to the strength of the hand, as detailed on the paytable of the game you are playing.
Types of Video Poker
Video Poker comes in a number of different varieties. The core rules are usually the same in most cases, so the game will be played in much the same way as described previously. What differs between variations are things like whether or not the deck of cards used includes a joker, whether any of the standard cards can be viewed as a wild, or whether a prize is paid for One Pair, as you'll see from the following variations that are particularly popular here in Canada:
Joker Poker
This video poker variation uses a virtual deck of 52 playing cards plus 1 Joker card, making 53 cards in all. The Joker serves as a wild card, which means that it can stand in for any regular playing card to help you complete a winning hand or improve an existing winner. The presence of the Joker in this game makes it easier to win, so the prize amounts paid for different hands will usually reflect that. You may also see a Five of a Kind hand on the paytable, which would be Four of a Kind plus the Joker.

10s or Better & Jacks or Better
These are two different variations, but they are so similar that they are worth discussing together. The variation that they have in common is that they both pay a prize for a hand of One Pair. The difference between them is that in 10s or Better any pair of 10s or higher will win a prize, whereas a pair of Jacks or higher is needed to win a prize in Jacks or Better.
Deuces Wild
Deuces Wild is one of the most popular video poker games around, and that's because the deuces in the deck (that is, the playing cards with a 2 value) can be counted as any other card if doing so will help to give you a better hand. For example, if you get a five-card hand comprising three Kings, a Jack and a deuce, the deuce would be counted as a fourth King. That would give you a prize for Four of a Kind instead of Three of a Kind.
Multi-Hand Video Poker
Another very popular game that you'll see at online casinos in Canada is Multi-Hand Video Poker. This is one that allows you to play multiple hands of video poker at the same time - anything from 3 to 100. The more hands you play, the more it will cost, but also the more chance you will have of winning. Each hand is dealt from a separate virtual deck, so it is possible - although not very likely - for all of the hands played to win you a prize.

Strategy and Tips for Video Poker
Video poker games are software-driven, just like slots, and the cards that are dealt for each hand are randomly determined by a Random Number Generator. If that was all there was to it, video poker would be a game of pure chance, but the player also has the ability to exercise choice when their first five cards have been dealt. That brings an element of skill into the activity, as different decisions can influence the chances of the hand winning or losing.
Countless books have been written on the topic of strategy for video poker and how poker players can approach the game in the most effective way in order to maximize their chances of winning. If you are serious about the game, and you intend to become a regular player, we would strongly advise you to read at least one of two of those books. Our best recommendations are The Basics of Winning Video Poker by Edward Allen and Video Poker for the Intelligent Beginner by Bob Dancer. In the meantime, here are some strategic tips that will get you off to a good start:
Before you start playing video poker for real money, you can consider spending some time playing free video poker instead. This will allow you to get to grips with the game as a whole and also try out multiple variations so that you can see how they work. Most casinos will let you play video poker in demo mode, and while that means you won't be able to win real money when you get a winning hand, it also means you won't lose any money when you don't.
The most successful video poker players don't spend money on the game in a casual manner. Instead, they set aside a bankroll, which is a specific sum of money that they know they can afford to lose in a worst-case scenario. They then discipline themselves so that they risk no more than a fixed % of that sum – perhaps 10% or 5% – in a single session. When you're ready to progress to playing video poker for real money, we suggest that you do something similar. Establish your own bankroll that can fund at least 10 video poker gaming sessions and discipline yourself to stick to your limits.
If you take 10% or 5% of your bankroll into a gaming session, you should divide that sum into as many small stakes as possible. Learning to play video poker effectively takes time and effort, so you can expect to lose at least as often as you win, and probably a whole lot more. The smaller bets you make during this learning period, the cheaper your education will be. Of course, if you have plenty of free video poker experience under your belt, that will also be a big help.
While all video poker games are similar, there are plenty of variations around. It would therefore be a mistake to assume that the rules, winning hands and payouts are all identical. Instead, take time to get to know the game before you start betting on it. Consult the game rules, have a good look at the paytable and only proceed to bet when you're confident that you know what's needed to win.
They say that a bird in the hand is worth two in the bush, and that is certainly the case when starting out with video poker. If you are dealt a hand that is a ready-made winner, it's sensible to hold the cards that give you the win and discard only those cards that don't help it. Later, when you have more experience and knowledge, you'll know when it makes sense to sacrifice a ready-made hand in an effort to try and make a much better one, but in the beginning, it's usually more profitable to hold the winner and be thankful.
At some point, you will probably find that you enjoy playing one type of video poker game more than any other. When you get to that point it can be a very good idea to specialize in that game and study it until you become an expert at it. That will give you the best chance of winning whenever you play, and you will be able to consider increasing your stakes to reflect your expert ability.
Video Poker - Pros and Cons
Play Anytime - Video Poker games are as convenient as online slots.
Good Variety - Different varieties of the game mean you won't get bored.
Easy to Learn - The basics of video poker can be picked up in minutes.
Skill Element - You can use skill to improve your odds of winning.
Study Required - You need to study to make the most of the skill element.
FAQ
🔎 Is video poker a game of luck or skill?
🔎 Can video poker be beaten?
🔎 Are all video poker games the same?
🔎 Can you play free video poker?
🔎 Is video poker better than slots?
🔎 Can you play video poker on mobile?
🔎 Can I play video poker at a live dealer casino?