Casino games don't get any more straightforward than scratch cards online, and that makes them ideal for beginners. Based on the kind of lottery scratch cards you can play offline, online scratch cards are equally good for experienced casino enthusiasts when they want nothing more than a few minutes of carefree excitement. In this article, we'll tell you how to play scratch cards, what types can be played and how they compare with their traditional cousins. But first, here's our hand-picked selection of the best sites for playing online scratch cards.
Play the Best Scratch Cards Online Here

What are Online Scratch Cards?
As we said in our introduction, online scratch cards are much the same as the lottery scratch cards that you might buy from gas stations and convenience stores throughout Canada.
The scratch cards sold offline tend to be of two different types. One type has silver panels that you scratch with the edge of a coin or a thumbnail in order to reveal symbols hidden underneath. The other type has tabs that are pulled away from the card - again, to reveal symbols hidden underneath.
The symbols revealed when you have scratched the panels or pulled the tabs will determine whether or not you have won a prize. Winning combinations of symbols are printed on the cards themselves, so if you reveal a matching combination you win whatever prize is associated with that combination.
History of Scratch Cards
Scratch cards have been played since the 1970s when they were used for a variety of promotional and charitable purposes. Many companies issued scratch cards to raise awareness of their brands, and just as many charitable organizations sold scratch cards to raise much-needed funds. Of course, it was lottery companies that really helped to make scratch cards as popular as they are today, and that was for the simple reason that lottery scratch cards have traditionally been the ones to offer the most generous prizes.
The straightforward format of scratch cards made them an obvious choice when the first online casinos were looking for games to offer in the 1990s. The fact that they are still being offered at online casinos - and that there are now thousands of online scratch cards to choose from - says all you need to know about their continuing popularity.
How to Play Online Scratch Cards
Playing online scratch cards is just as easy as playing the ones that are printed on cardboard. They come in both scratch-panel and pull-tab formats, just as they do offline, and you will find them available to play in the Scratch or Instant Win category of your online casino lobby.
Scratch-Panel Games
Online scratch cards with a scratch-panel format are designed to look like the ones you play offline, so you can expect several panels to be presented on a single card. You can't use an actual coin to scratch those panels, but most games will let you move the edge of a virtual coin across them using your mouse. If you would prefer not to do that, the majority of games will also let you press a button (labelled Scratch All or similar) and that will cause the game to scratch the panels automatically. As with offline games, if the symbols you reveal match a winning combination, as listed in the paytable, you will win the associated prize.
Pull-Tab Games
Again, the presentation of online pull-tab games is designed to replicate the offline gaming experience as far as possible. You can't physically grab any tab and pull it, of course, but you can position your mouse cursor over the end of the tab, click and hold the mouse button to "grab" it, and then move the mouse horizontally to virtually peel it away. If the symbols revealed match a winning combination according to the paytable, you will win the associated prize.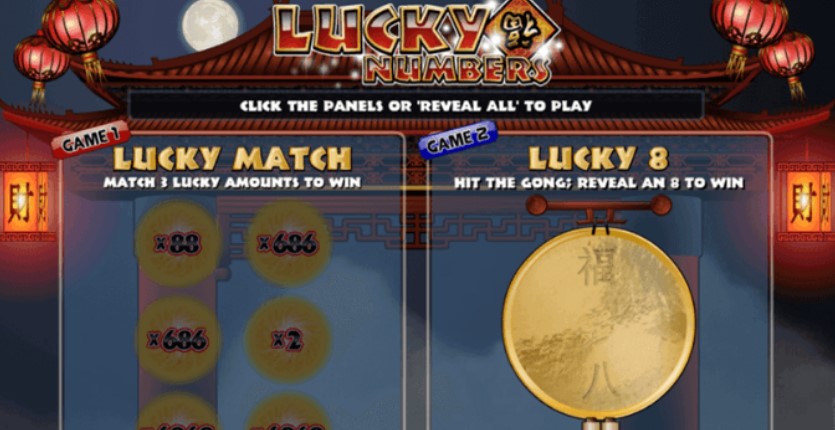 Scratch Cards Odds
When a traditional scratch card is produced, there will be a known number of tickets printed with a known number of prizes, and the initial odds of winning any particular prize will be listed on a specification sheet given to all retailers. As prizes are won, those odds will naturally change, so the specified odds can be out of date within a matter of weeks or even sooner if the top prizes - and especially the jackpot - are won early.
The online scratch cards that you can play at online casinos in Canada tend to be quite different. There isn't a fixed number of these scratch cards, nor is there a fixed number of prizes. Instead, the game is designed to pay out a percentage of all money taken in much the same way as an online slot. For this reason, online scratch cards publish their Return to Player or RTP figures instead of odds for each prize level.
Variations of Scratch Cards
One of our favourite things about online scratch cards is how varied they are. You'll find games based on almost any theme or concept you can imagine, and game providers continue to work hard to keep things fresh and exciting for players. Here are just a few of the themes and variations you will come across:
Seasonal Scratch Cards
Every year brings a wide range of holidays to celebrate, from Valentine's Day to Thanksgiving and Christmas. As you'd expect, there are scratch cards based on all of these and many more.
Table Games Scratch Cards
These are based on popular table games, so if you're a fan of blackjack, roulette and other casino classics, the games in this category should suit you down to the ground.
Sporting Scratch Cards
There are scratch cards based on almost any sport you can think of, from ice hockey, football, and basketball, to baseball, tennis and horse racing.
Slots Scratch Cards
For those who just can't get enough of their favourite slots, there are several that have inspired their own scratch cards. Check out Age of the Gods and Lost Vegas Zombies for two great examples.
Animals Scratch Cards
Whether you're a dog lover, a cat lover, or a big fan of koi, you'll find all of those creatures – and many more – starring in their very own scratch cards.
Bingo Scratch Cards
Bingo scratch off card games are another hugely popular variant. Simple get a vertical, diagonal or horizontal line and you'll win a prize. Bingo scratch cards are instant win and have massive appeal.
We could go on with variants of online scratch cards, but hopefully, we've made our point: there are scratch cards to suit all kinds of players, so no matter what your interests are, there are probably at least several games you'll love.
Hints and Tips for Playing Online Scratch Cards
As you've heard, playing online scratch cards is a simple matter of scratching panels or pulling tabs and hoping to get lucky. That being the case, there is nothing that any player can do to improve their odds of winning with scratch cards. What you can do is play in a way that helps you get the maximum amount of entertainment from your gaming sessions. Here are some hints and tips to help you do just that:
Tip 1: Start With Free Scratch Card Games
Many online casinos will let you play scratch card games in demo mode in much the same way that they will let you play online slots. This lets you enjoy the games without risking any of your own money, which is a great way to try lots of different games until you find one or two that you want to play for real.
Another great way to play scratch card games without risk is by using casino bonus funds. Most casinos reward new players by giving them a bonus when they make their first deposit. If you open a new account and make your first deposit, you could qualify for such a bonus and then use it to play scratch cards.
We suggest starting with free scratch card games because they're a great way to have fun and warm up at the same time. When you've played for free for a while you can progress to the real money games and see how your luck fares.
Tip 2: Be Selective When Playing for Real
When you start playing with real money, don't just storm into the Instant Win category and play games at random. Instead, be selective. While your aim is obviously to have fun, you can still give preference to games that have the highest RTP figures. This won't guarantee that you win, by any means, but it could well help to make your money last longer.
Although online scratch cards tend to have lower RTPs than online slots, there is still no need to play games that pay less than 90% back in prizes. Personally, we would focus on games that pay 95% or more, but that's just us, and your mileage may vary.
Tip 3: Bet Small and Play Longer
Online scratch cards are a lot of fun, but they aren't games to bet big on, no matter how large your bankroll is. Since the aim here is to get as much entertainment for your money as possible, it's a good idea to bet small and play more games than to bet big and play fewer games. A single game at $20 might give you a momentary thrill, but 10 games at $2 each will keep the fun going for considerably longer.
Tip 4: Explore Multiple Casinos
Different online casinos partner with different online game providers, and that means they will often have different scratch cards available in their lobbies. Instead of playing at just one casino, consider joining several so that you can give yourself access to a wider range of scratch cards. Another advantage of exploring multiple casinos is that it could also help you to claim multiple new player bonuses, giving you even more funds to play with.
Online Scratch Cards: Our Verdict
Online scratch cards might not be quite as popular as online slots or classic table games like roulette and blackjack, but they still attract plenty of attention, and rightly so. The simplicity of these games makes them just as suitable for beginners as they are for experienced online players, and their ability to include animations and audio effects makes them even more entertaining than their offline cousins. If you haven't yet played scratch cards online, consider taking one or two for a test drive today. You just might like them!
FAQ
🔎 What are online scratch cards?
🔎 Can I play scratch cards online?
🔎 Can you buy scratch tickets online in Canada?
🔎 Are online scratch cards games of skill or luck?
🔎 Which online scratch card is best?
🔎 Can I play online scratch cards on my mobile?
🔎 What's the difference between a scratch-off and a pull-off?