The 9 Masks of Fire slot from Gameburger Studios is a 2019 release that delivers a superb Vegas-style gaming experience. It has a fiery tribal theme, a percussion-heavy soundtrack, and a refreshingly simple format that will appeal equally to both old-fashioned traditionalists and the latest generation of online-only players. The simplicity of the game makes it ideal for those of you who like to play on mobile devices, and if you get really lucky you can land yourself a top prize of 2,000x your bet. If all of that sounds good then read on and you'll soon be ready to set out on your quest for those all-important masks of fire.
Play 9 Masks Slot Here
9 Masks of Fire Game Info & Facts
Gaming provider: Gameburger Studios
Launch date: 2019
Number of reels, rows, and paylines: 5 reels | 3 rows | 20 paylines
RTP & volatility: 96.24% | Medium volatility
Min and max bet: 0.20 - 240.00
Game features: Masks of Fire, Free Spins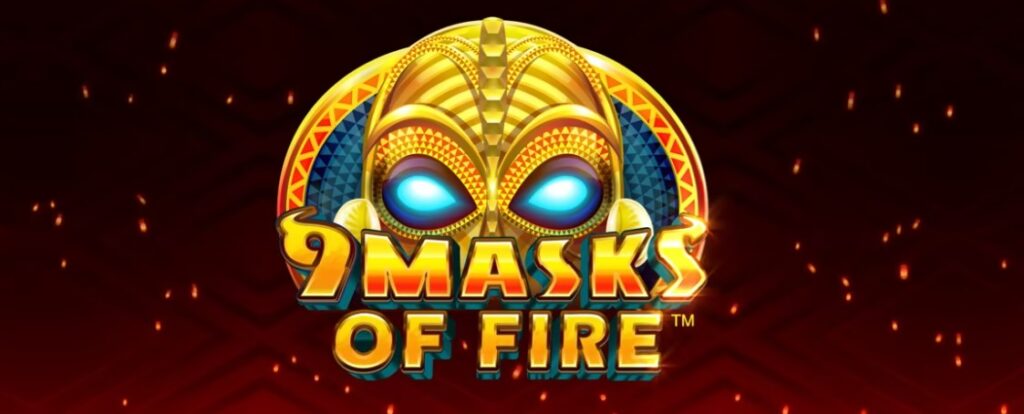 Prepare for a Red-Hot Gaming Session
You'll realize that you're in for a red-hot gaming session just as soon as you've launched this title. The soundtrack kicks into high gear from the outset, with rhythmic drums and a repetitive bass line giving you the feeling that you're getting involved in some kind of tribal ritual. The visuals support that idea, with the five reels of the slot appearing against a glowing hot background where parks of sparks of fire rise up from the blazing flames somewhere below.
To the left of the reels, you'll see a series of steps leading to a 9 Masks of Fire slot logo. That's actually a key feature in this game, but we'll talk more about that later. For now, we should tell you that the symbols used are all fiery versions of traditional slot favorites. Cherries, BARs, golden bells and golden dollar signs can all be found in the lower section of the paytable, while blazing red 7s, double red 7s and triple red 7s are the higher-paying regular symbols.
SPECIAL GAME SYMBOLS:
As far as special symbols are concerned, a blue diamond is a paying wild, and if you manage to get five of them on the same pay line, you'll win 125 times your bet. A blazing tribal shield with crossed spears is a scatter symbol, and a tribal Mask symbol is a paying scatter.
We've already mentioned the soundtrack of this game, but it's also worth pointing out that the audio effects are equally impressive. Spin the reels and when they come to rest you'll hear them click into position. If you have any special symbols on the reels then those reels will halt with an audible slam. Win a prize and you'll hear - and see - the symbols involved burst into flames. All of this helps to give the game an impressively rich sense of atmosphere.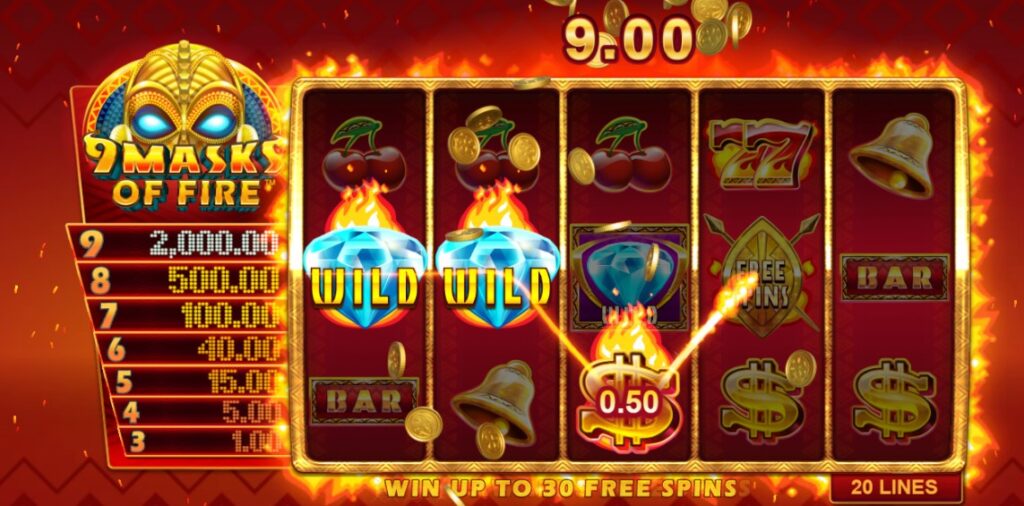 Beware the Variable RTP Range
This game will give you 20 ways to win with every spin of the reels, and its variable RTP range means that the RTP can vary from casino to casino. We don't particularly like RTP ranges, because we don't see why casinos should be able to offer players anything but the best possible deal. Unfortunately, RTP ranges aren't uncommon these days, so all we can do is be aware of them. As far as this game is concerned, the best RTP you'll be able to get is 96.24%, which is pretty good, so shop around until you get something close to it.
9 Masks of Fire Feature
The tribal Mask symbol is a paying scatter. That means it's a symbol that can pay you a prize no matter where it lands on the reels, as long as you manage to land three or more. In other words, you won't have to wait for the masks to line up on any one pay line.
We have also said that there is a series of steps located to the left of the five reels. Starting from the bottom and working your way to the top, those steps are numbered 3, 4, 5, 6, 7, 8, and 9, and each number has a prize value alongside it. Those prize values are what you will win by getting the associated number of mask symbols on the reels at the same time. The more masks you land, the bigger your prize will be, with the biggest prize of all - worth 2,000 times your bet - being awarded for getting nine of them. Hence the title, 9 Masks of Fire.
Free Spins Feature
The shield and spears scatter symbol appears on the second, third, and fourth reels only. Get that symbol on all three reels at the same time and you'll win your bet back and trigger the Free Spins feature.
The Free Spins feature will begin by presenting you with a Free Spins wheel. This is a vertical wheel that is divided into eight segments. Each segment shows a number of spins and a multiplier value. Spin the wheel and when it comes to rest you'll receive the indicated number of free spins. All prizes that you win during this part of the game will be enhanced by the indicated multiplier.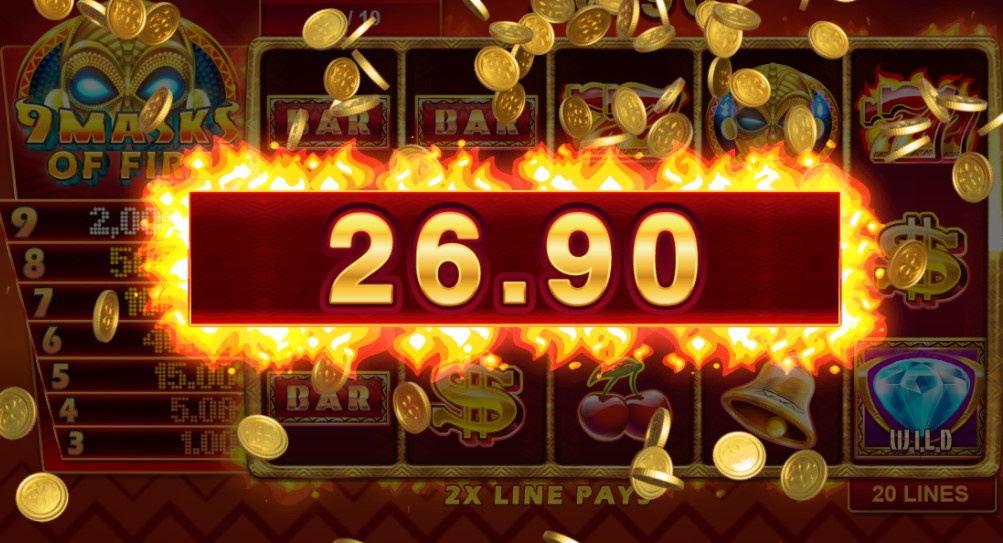 9 Masks of Fire: Our Verdict
This isn't the most complicated or feature-rich online slot by any means, but that is actually its biggest selling point. 9 Masks of Fire isn't aimed at players who want to play for longer to try and unlock multiple feature levels. It's aimed at those of us who like to keep things relatively simple from time to time and enjoy a good old-fashioned slot that looks, sounds, and plays like a dream. In that respect, 9 Masks of Fire is a game that's hard to beat.