Bee Hive Bonanza slot is a five-reel game with five rows that imagines how a bee community might have functioned in medieval times. As you might expect, not a great deal has changed over the centuries, and the main task of the worker bees in this game is to serve their Queen as well as possible by collecting as much honey as they can. If you're in the mood for some historical slotting in the middle of a gorgeous-looking medieval meadow on a fine summer's day then we can't think of a better game to recommend to you.
Bee Hive Bonanza Overview
Released: September 2022
Provider: NetEnt
Reels: 5
Rows: 5
Paylines: Pays Anywhere
Game features: Avalanche; Money Bee; Free Spins; Bonus Buy Feature
RTP: 92.08% to 96.09%
Volatility: High
Min/max bet: $0.10 - $200

About the Bee Hive Bonanza Slot
Bee Hive Bonanza was launched in 2022 by NetEnt, and it's been causing a bit of a buzz at online casinos in Canada ever since. The game takes place against a summery meadow background and a gentle medieval soundtrack sets the scene perfectly for the royal action that lies ahead. Listen closely and you'll also hear some atmospheric sound effects, including birds whistling merrily as they frolic and cavort in the open air.
This is a scatter pays game, so you don't have to worry about getting matching symbols all on the same pay line. Instead, you simply need to get six or more matching symbols on the reels at the same time. The more symbols you match on the screen, the more you will win.
This is also a game that has an Avalanche Feature. When you make a winning combination of symbols, those symbols will be removed from the screen and the spaces they leave behind will be filled by more symbols spilling down from above. This feature makes it possible to win again and again from a single spin.
Bee Hive Bonanza Slot Symbols
Seven unusually shaped coins, each bearing a portrait of Queen Bee, serve as the main symbols in this game. The coins come in a variety of metals, with duller coins being less valuable than shinier ones. An ornate pot of honey - we think it looks a lot like a chalice - serves as a scatter symbol. It is also possible for money bee and bee hive symbols to land on the reels, and we will discuss those shortly.
How to Play
The first thing you'll need to do is adjust your stake per spin to the desired amount. You can do this by clicking the stack of coins symbol below the game grid and choosing whatever denomination you want. When you're done, click the stack of coins again to return to the main screen.
You spin the reels by pressing the circular arrow spin icon. Pressing a fast-forward icon will spin the reels in turbo mode, and pressing the play button within a spin arrow will give you access to automated spin settings.
All symbols on the screen will be scanned automatically to check for wins when a spin has ended. Any prizes due will be paid directly to your casino account.
Money Bee Bonus Feature
We mentioned earlier that money bee and bee hive symbols can also land on the reels. Money bees can be worth 1, 2, 5, or 10 times your bet, but they won't do anything unless there is also a bee hive on the screen.
When you get one or more money bees and one or more bee hives on the reels at the same time, you'll trigger a Money Bee feature. This will see the money bee values being collected so that you can receive them. Different types of hives, such as an Adder Hive or a Multiplier Hive, can increase the value of money bees before collecting them, helping you to win even more.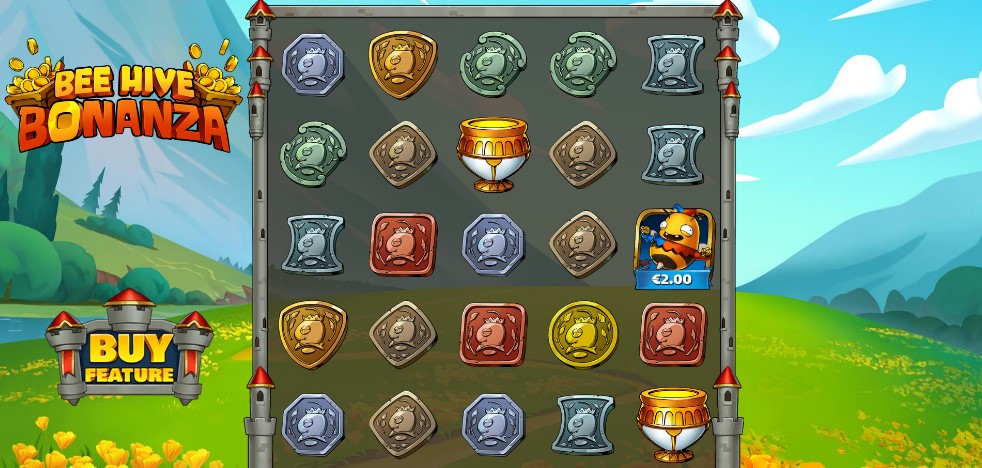 Free Spins Bonus Feature
When you are lucky enough to get 3, 4, or 5 honey pot scatter symbols on the reels at the same time you will trigger a Free Spins bonus game. This will award you 10, 15, or 20 free spins, respectively, and the game takes place at night.
To the left of the reels, you'll see a honey meter trail, which is punctuated with a multiplier figure at every third level. Every time a honey pot symbol appears on the reels, it will illuminate one step on the meter. Get enough honey pots and you will activate multipliers worth 2x, 3x, 4x, and 5x, in turn.
This is a very entertaining bonus feature, and it can go on for quite some time. Incidentally, if you don't wait for it to be triggered by landing scatters, you can press the Buy Feature icon to the left of the reels and pay 100 times your bet for it to trigger on the very next spin.
Bee Hive Bonanza Pros and Cons
Fun and unusual medieval beehive theme.
Looks and plays beautifully on all devices.
Two great features to be triggered.
Win up to 5,000 times your bet.
High volatility won't suit everyone.
Bee Hive Bonanza: Our Verdict
Bee Hive Bonanza is a hugely entertaining game that brings the bee community to life like nothing we've ever seen before. We love the medieval take on things, and the summer meadow setting makes this a great online slot to play whenever you want to wind down at the end of a long day. Play today and you could win as much as 5,000 times your bet.
FAQ
🔎 What is the Bee Hive Bonanza Slot?
🔎 Where can I play the Bee Hive Bonanza slot?
🔎 What is the RTP of Bee Hive Bonanza?
🔎 Can I play Bee Hive Bonanza on mobile?