Online slots players who like their gaming sessions to transport them to completely different worlds will be delighted with Champions of Mithrune from Play'n GO. This is a fantasy-themed game with a rich backstory, and your job is to help the Champions of Mithrune to protect their kingdom by defeating the terrible magic of the Dark Lord Duran. Each Champion has their own special power that they can draw upon, and these will also help you to land wins that could be worth as much as 7,500 times your stake.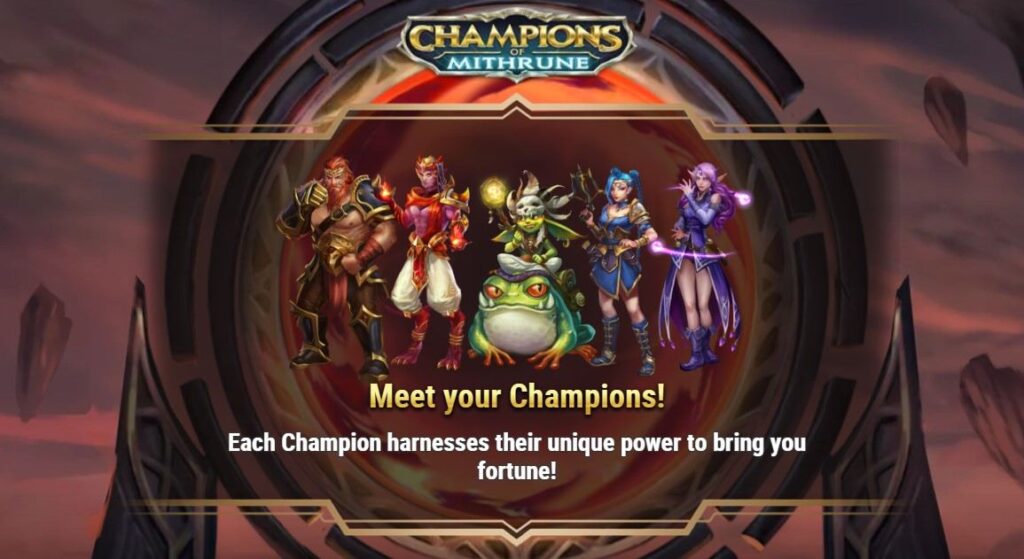 Champions of Mithrune Info and Facts
Gaming Provider: Play'n GO
Launch Date: 2022
Number of reels, rows, and paylines: 5 reels | 5 rows | 20 Pay Lines
RTP & volatility: Up to 96.25% | High volatility
Min and max bet: 0.05 - 100
Game features: Champion Features, Power Up, Free Spins
Welcome to the Kingdom of Mithrune
This is a five-reel slot adventure from game developer Play'n GO that takes place in the Kingdom of Mithrune. It's an idyllic fantasy world, apart from the fact that the Dark Lord Duran wants to use his magic to establish himself as its ruler. That wouldn't be a good thing at all, and so five gifted warriors known as the Champions of Mithrune have come together to stop the Dark Lord in his tracks. The question is: will they succeed?
To find out, you'll need to spin the reels and play the game. This is a five-reel slot and the lower value symbols are the playing card ranks of 10, J, Q, K and A. The higher-value symbols are the five Champions: Anastina the Sorceror, Olc the Goblin, Silvana the Ranger, Gorm the Barbarian and Syn the Shapeshifter. A mysterious eye orb symbol serves as a Scatter, and a sword through the letter W is Wild.
The imagery in this game is superb, and when you launch it you'll be treated to a great animated introduction that reminded us of the popular fantasy cartoon shows of the 80s and 90s. An epic soundtrack enhances the atmosphere even further and should have you feeling like an adventurer in no time.
Champions of Mithrune Game Features
We mentioned earlier that each of the five Champions of Mithrune has a special power that can help you in your quest to land wins and defeat the Dark Lord of Duran. A Champion can appear to the side of the reels at random on any spin to provide assistance, and what happens next will depend on which character turns up, as you'll see from the following summary:
Anastina the Sorceror is a whiz with magical power and will use her gift to add a cluster of matching symbols to the reels. The cluster will be at least 2x2 and could be as large as 5x5.
Olc the Goblin rides on the back of a large frog and will transform one, two, or possibly all of the middle three reels into a Wild reel.
Silvana the Ranger has the power to add extra Wild symbols to the reels. When this formidable lady turns up, she'll add anything from 4 to 7 Wilds to help you out.
Gorm the Barbarian will use his brute strength to upgrade as many as five lower-value symbols into Wilds.
Syn the Shapeshifter is - along with the paying Wild - the highest value symbol on the paytable. When he appears alongside the reels he will transform any other Champion symbols into his own.
Power Up and Free Spins Features
The main feature in this game is the Free Spins round, and this is triggered by getting three Scatter symbols on the reels at the same time. Before the Free Spins round begins, you will play a Power Up mini-game.
Power Up Mini Game
This takes place on a separate reel set that contains Champion Token symbols, Potion symbols and Scatter Symbols, along with empty spaces. To the left of the reel set is a column of five Champion icons - one for each of the Champions of Mithrune. Spin the reels and collect special symbols to determine the parameters of the free spins round, as follows:
Get three tokens for the same Champion and you will unlock him or her to help you throughout the Free Spins round. It is possible to unlock multiple Champions to help you.
For every three Potion symbols that you collect, you'll increase a Multiplier value by 1, up to a maximum Multiplier value of x10.
For every three Scatter symbols that you collect, you'll increase the number of Free Spins you will get, up to a maximum of 10.
You begin the Power Up mini-game with three lives. If you spin five blank reels you will lose a life, but any symbol on the reels will replenish your three lives. You can continue to Power Up until all of your lives have been lost.
Free Spins Feature
Having powered up, you're now ready to enjoy your free spins. Every spin you take will be assisted by all of the Champions that you've unlocked. Similarly, the Multiplier value that you established in the Power Up mini-game will apply to all wins that you manage to land.
This feature is superb, and watching your Champions bring their talents to the reels with each spin is genuinely exciting. Obviously, the more powered-up you are, the more exciting this round is, but you'll always enjoy impressive voice acting, dramatic music and great animations.
Are You Ready to Defeat the Dark Lord Duran?
Champions of Mithrune is one of the best fantasy-themed slots you can play. If you're a fan of the genre, and you love nothing better than playing Dungeons and Dragons or reading The Lord of the Rings, this game is a must-play. Even if you wouldn't describe yourself as a typical fantasy fan, you'll still love this slot for its superb presentation, atmosphere and features.
Play this slot at one of the chosen approved listed casinos above, or check out our full list of reviewed and approved online slots casinos in Canada. We applaud Play'n GO for coming up with this game, and we recommend it highly, so play today and show the Dark Lord Duran what being a Champion is all about.