Chicken Chase is an impressive farmyard slot from Pragmatic Play that somehow manages to combine refreshingly simple gameplay with a couple of very entertaining features. This is a game with low volatility, so it's just as suitable for online casino newbies as it is for more experienced players, and if you also like farmyard animals - and chickens in particular - you're in for a treat.
Play Chicken Chase at these Casinos
Award-Winning Mobile Experience
Fully Regulated and Licensed
The No 1 Casino where you
Play Together
Chicken Chase Info and Facts
Gaming provider: Pragmatic Play
Launch date: 2022
Number of reels, rows, and paylines: 5 reels, 3 rows, 10 paylines
RTP & volatility: 95.48% & low volatility
Min and max bet: CAD 0.10 - CAD 100.00
Game features: Spin and Hold, Wild symbol and Bonus Prizes.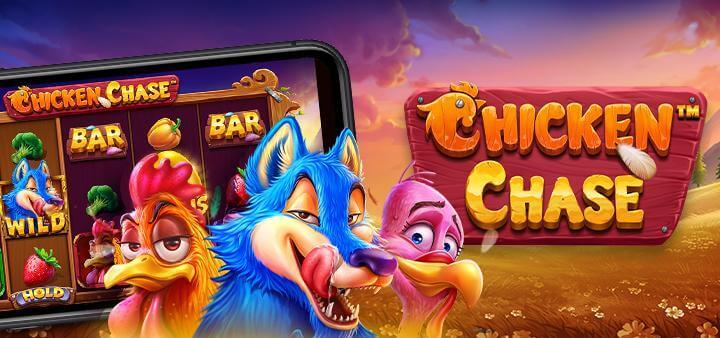 Chicken Chase Presentation and Format
Chicken Chase is a five-reel video slot with three rows and ten pay lines. The game is played within the wooden frame of a chicken coop, and this is set in the middle of idyllic farmland. The sun is just about to set, and that gives the sky a rich pink-purple hue whilst at the same time casting a golden glow over the farm itself. Look closely at the windmill in the distance on the right or at the trees near the farm building on the left and you'll notice some subtle animations that bring the whole scene to life.
The lower-value symbols on the Chicken Chase reels are BARs, strawberries, spears of broccoli, eggplants and bell peppers. The higher-value symbols are three different poultry characters. A golden egg serves as a Bonus symbol and a blue wolf licking his lips in anticipation is, as you'd expect, wild in nature.
Visually, Chicken Chase is gorgeous. The cartoon-style graphics achieve a nice balance between realism and humour, and symbols are nicely animated when they form part of a winning combination. As far as audio is concerned, a stereotypical hoedown-style soundtrack plays throughout, and you'll hear plenty of incidental sound effects, including chicken sounds, at appropriate moments.
Chicken Chasing Made Simple
The simple format of Chicken Chase makes it easy to play and just as suitable for playing on a mobile device as on a desktop or laptop computer. You can't adjust the number of paylines that are active, so there will always be ten ways to win on any given spin, but you can adjust your bet size. The minimum bet is C$0.10 and the maximum is C$100.
When you've adjusted your stake to a suitable level, simply press the spin button to set the reels in motion. You need to get three or more matching symbols on a pay line to win, from left to right. However, in this game, you'll actually get two spins for the price of one in most cases, as you'll learn when we discuss the Spin and Hold feature a little later.
If you find yourself a bit too impatient to wait for the reels to spin at the normal speed, you can press a menu button at the lower left of the game screen. There you'll be able to set the game to play in Quick Spin mode, which will speed things up considerably. Other options here allow you to play the game in battery saver mode and adjust the ambient music and sound effects.
As we said earlier, this is a low volatility slot, so it delivers modest wins fairly regularly. The top prize you can win from Chicken Chase is 210 times your bet, and while that sounds quite modest in itself, the focus here is squarely on entertainment in a low volatility environment. You can view the full paytable, as well as the game rules, by clicking the information icon. This is located next to the menu icon mentioned a few moments ago.
Special Features Worth Clucking About
There is no free spins feature in this game, but there are two special features that are just as entertaining. These are a Hold and Spin feature and a Bonus Prize feature. Here's how each one works:
Hold and Spin Feature
Whenever you spin the reels and fail to land a winning combination of five matching symbols, you'll be awarded a free respin. The game will automatically hold the reels that it thinks will give you the best chance of winning, and those will show a HELD label below them. You can undo those holds and/or hold any other reels if you would prefer to do that. Then press the spin button and your free respin will take place. This feature effectively lets you spin the reels twice for just one bet, unless you land a five-symbol win on the first spin.
Bonus Prize Feature
Land three or more golden egg Bonus symbols on the reels at the same time and you'll be taken to a Bonus Prize feature screen. Here you'll be presented with four chickens in their coop, and you get to choose one of them to lay an egg. The value of the egg that's laid will determine your prize, and the available prizes will depend on the number of Bonus symbols that triggered the feature, as follows:
3 Bonus symbols will give you a chance to win 2x, 4x, 12x or 50x.
4 Bonus symbols will give you the chance to win 4x, 8x, 24x or 100x.
5 Bonus symbols will give you the chance to win 6x, 12x, 36x or 150x.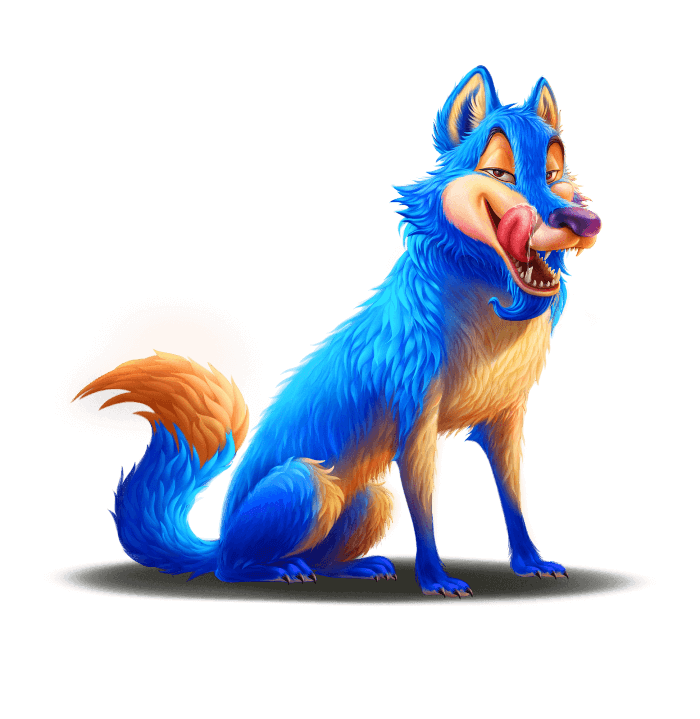 Chicken Chase Winnings
The three lowest-value symbols in Chicken Case will each pay you 5 times your bet for a combination of five. The eggplant and bell paper will both pay 10 times your bet, and the three poultry characters pay 30, 50 and 80 times your bet. If you want to land the biggest prize of all in the main game, you need to land five blue wolf symbols, which will give you 200 times your bet. Given the low volatility status of this slot, that's not bad at all.
Where to Play Chicken Chase
Chicken Chase can be played at most online casinos in Canada that offer titles from Pragmatic Play. You can find suitable casinos by reading through our casino reviews, but to make things even easier we have provided a ready-made list of some of our favourite casinos that offer the game on this page.
Chicken Chase on Mobile
This is a game that plays flawlessly on smartphones and tablets. The simple reel format makes the symbols easy to see even on the smallest of screens, and the game has been fully optimized to run smoothly in all mobile web browsers.
Why You Should Play Chicken Chase
The number one reason why you should play Chicken Chase is that it's a heck of a lot of fun. You'll be very impressed by both the visuals and audio content, and having the chance to hold and spin every time you miss a five-symbol win is an awesome feature. Play today and good cluck.