Guardian of Athens is an online video slot based on the Greek mythology theme. The slot is one of the latest by renowned game creator, Quickspin. It shares many similarities with a successful slot game by the same creator called Eastern Emerald. In fact, when playing Guardian of Athens, you'll have the opportunity to choose your own fate when you trigger a bonus round. Both the base game and bonus game feature special wild symbols that can boost the value of any payout. This makes Guardian of Athens even more entertaining since you don't need to wait for the bonus round to reap the benefits of landing multiple wild symbols.
Try the Game on these Casinos
Guardian of Athens Info and Facts
Gaming provider: Quickspin
Launch date: June 2021
Number of reels, rows and paylines: 5 reels, 3 rows, and 20 paylines
RTP and volatility info: 96.58% & high volatility
Min and max bet in CAD currency: CAD0.20 - CAD100.00 
Game Features: Multiplier wilds and Fate bonus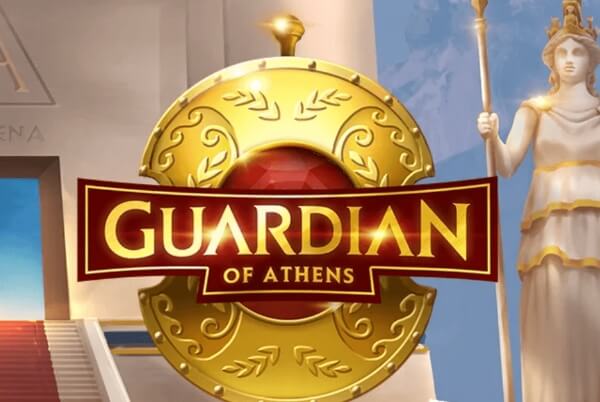 Immerse Yourself in Greek Culture with this Amazing Game
Even if you've never travelled to Greece, you've likely heard stories of the once-mighty empire. This is the nation that gave rise to legends such as Achilles, Prometheus, and Hercules. It's known as the land of gods and the birthplace of democracy.
Guardian of Athens Slot celebrates different elements of this powerful empire. The team at Quickspin has, once again, designed a slot that immerses the play in its theme. From the awe-inspiring and detailed statues on either side of the slot to the imposing temple located just behind it. The online slot's soundtrack compliments the theme seamlessly, providing a calming ambience commonly found at Greek baths.
The slot's ten standard symbols are equally well-thought-out and based upon the main theme. Low-value symbols, including the J and A, are based on the country's language and alphabet. The high-value symbols, meanwhile, represent the wealth and power whose heart was based in Athens.
Guardian of Athens is a mobile-friendly slot that does not require any download to play. If you are connecting via mobile or smartphone you should use the Chrome web browser.
Start Playing Guardian of Athens Slot
Like practically all other online slots by Quickspin, Guardian of Athens is very simple to learn to play. You can enjoy playing this video slot even if you have little or no experience playing similar online games.
Once the game has loaded on your browser, select the value of your wager before spinning the reels. You'll find the arrows to adjust your wager at the bottom centre of your screen. The slot's minimum bet is CAD0.20 and its maximum is CAD100.
The aim of the game is to land three or more identical symbols on an active payline. Guardian of Athens has 20 paylines that all pay from left to right. Payouts are a multiple of the value of your wager, and the maximum you can win in a single spin is 1,680x your bet.
The golden trophy is the online slot's most valuable standard symbol. Landing three of this symbol on an active payline pays out 1.25x your bet, whilst landing five symbols pays out 7.50x. The golden horn and the hoplite's helmet are the next two most valuable standard symbols.
You can find detailed information regarding payout and game rules by clicking on the menu button. This is normally located at the bottom left-hand side of your screen.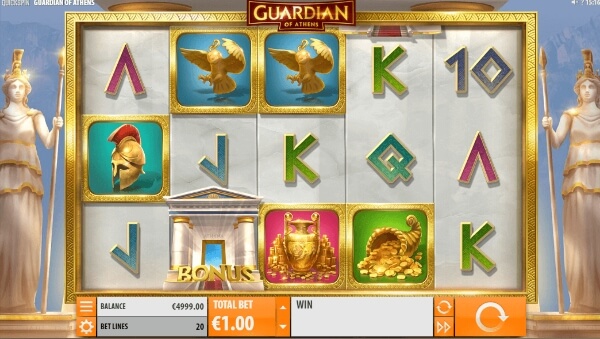 Your Fate is in Your Hands
One of the most significant features in this slot is the Fate Bonus. This option lets you decide whether you wish to play a bonus round with high, medium, or low volatility.
In order to trigger the bonus you first need to land three scatter symbols on the slot. When this happens, you'll be elevated to a more prestigious slot featuring golden statues on either side. You're now playing in ancient Greek heaven.
You will then be able to pick between 6, 9, 12, and 15 free spins. Whilst 15 free spins may sound like a better deal than six, the potential maximum multiplier also varies. In fact, if you choose the six spins bonus, you have the potential of getting up to 1,680x your bet. However, the 15 free spins round can only provide up to 120x your wager.
Understanding the Power of Multiplier Wild Symbols
In both the base game and bonus rounds, Guardian of Athens features a truly powerful wild symbol. As in most other video slots, this wild symbol substitutes for any standard symbol and even provides an additional payout when three or more land on an active payline. However, what makes this symbol even more special is the multiplier that features in almost every symbol.
Whenever you land two or more multiplier wilds on an active payline, the value of your payout is multiplied by the value contained in both wilds. If, for example, your standard payout would have been CAD5.00 and you landed multiplier wilds with values of 2x and 3x, then your actual payout will be CAD30.00.
In the base game, the maximum value of a single multiplier wild is 5x. During a bonus round, this value can reach 8x if you select the six free spins. If you choose a less risky bonus round, the maximum multiplier decreases. The round with nine free spins features a maximum 7x multiplier, whilst maximum multipliers of 6x and 5x are available on the round with 12 and 15 free spins respectively.
Guardian of Athens Slot Payouts
The overall majority of payouts on this slot come from its standard symbols. Whilst multiplier wilds enhance the prize value, the starting number is always based upon the standard symbols. Since this is a high volatility slot, there is quite a difference between the minimum and maximum winnings. Furthermore, payouts are generally further apart, although they tend to be more valuable than ones in lower volatility slots.
The high-value symbols in the game provide a decent payout when you land three identical symbols on an active payline. However, with five symbols, the value of the payout becomes significantly lucrative. Moreover, the slot has the potential of paying out up to 16,000x your wager in a single paid round.
What's the Best Online Casino for this slot?
Quickspin has partnership agreements with a high number of casino operators in Canada for online gambling. The game creator is well-known and trusted to provide a fair and entertaining experience to players. As a result, you shouldn't have any difficulty finding Guardian of Athens online.
To help you play this and other online slots quicker, the team at CasinoGuide has shortlisted some of the best online casinos in Canada. We have researched and tested these operators and concluded that they are safe, legit, and trustworthy. Apart from being licensed to provide their services to Canadians, these online casinos maintain a high degree of security and player safety. As you browse through our recommended casinos, be sure to look out for welcome bonuses reserved exclusively for our players in Canada.
Enjoy the Quickspin Game on Mobile
The number of Canadians who enjoy playing online casinos games on mobile is increasing. This is why Quickspin has released Guardian of Athens to be mobile-friendly and accessible from all modern smartphones and tablets. In order to experience the best gameplay, Chrome is the recommended browser. No software download is required, and this means that you can enjoy this video slot even if your phone has a Windows operating system.
Our Guardian of Athens Verdict
The team at CasinoGuide.ca has been impressed by the attention to detail and the special features available on the Guardian of Athens slot. Given that it is based on another, highly successful slot by Quickspin, it's highly likely that this game will also become a favourite amongst many Canadians. From its exciting Multiplier Wild symbols features to the choice of bonus round, this video slot will keep you wondering what's about to happen next.
Guardian of Athens is available now at the online casinos featured on this page. Be amongst the first players to enjoy the latest game by Quickspin.