Halloween slots tend to fall into two main camps; there are those that do their best to provide a realistic sense of creepiness, and there are others that play things purely for comedic purposes. Spooky Vibes Accumul8 is a rare hybrid that somehow manages to do both things at once. It's a cartoon-style game with plenty of brightly coloured symbols on the reels, but it also has a creepy horror movie soundtrack. In this review, we'll explain to you how it all comes together to give you an entertaining and fun Halloween theme slot.
Where to Play Spooky Vibes Accumul8 Slot
Spooky Vibes Accumul8 Info and Facts
Gaming provider: Light & Wonder (Scientific Games)
Launch date: October 2022
Number of reels, rows, and paylines: 6 reels | 5 rows | Pays Anywhere
RTP & volatility: Up to 96% | High volatility
Min and max bet: 0.20 - 10.00
Game features: Cascading Reels, Free Spins with Multiplier, Buy Feature

A Hauntingly Good Atmosphere
When you launch Light and Wonder's Spooky Vibes slot, you'll immediately be struck by how well it's presented. This is a six-reel slot with five rows, and the game takes place in a haunted graveyard. We know it's haunted because ghosts can be seen rising from the graves to either side of the grid. A pumpkin-headed scarecrow sways eerily in the background and occasional lightning strikes cause the lights of a distant hilltop house to flicker on and off.
A superb soundtrack that would be perfectly suitable for a big-screen horror movie, with Halloween chimes, tense strings, ominous bass notes and rolling drums all working to create a devilishly delightful atmosphere.
Symbols on the reels include five potion bottles, each containing an eyeball in some kind of coloured liquid, a large black spider, a glowing skull, a bat and a black cat. Look closely at the reels themselves, behind the symbols, and you'll see that they are crawling with maggots. Just in case you weren't tense enough.
Spin Reels and Spill Blood
Spooky Vibes Accumul8 pays anywhere, so there are no pay lines for you to concern yourself with. All you have to do to win a prize is spin the reels and land eight or more symbols of the same type on the grid, hence the word Accumul8 in the game title. The more symbols you match on the reels, the more you will win, with the black cat being the most valuable symbol of all.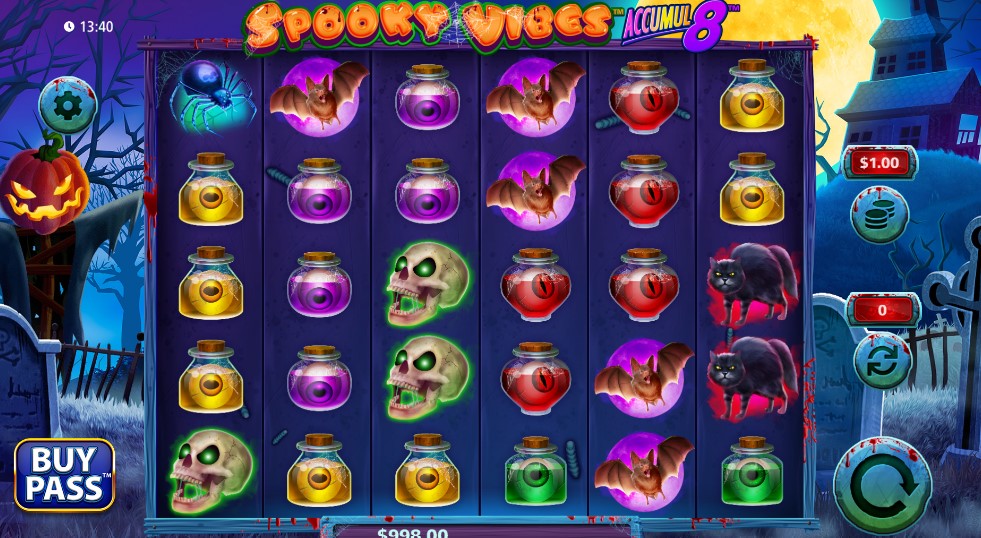 This is a cascading slot, so when you have landed a winning combination of symbols, all of the symbols involved will be removed from the grid. This will make space for other symbols to cascade down, giving you the chance to win again and again.
All of that is quite common to cascading slot games, but what's different in this slot is that the symbols don't just disappear quietly. Instead, they explode with an audible squelch, sending blood spurting in all directions. The moment soon passes, but when you get a cascade of consecutive wins you'll see plenty of the red stuff, just prepare yourself for that.
Free Spins Bonus Feature
An illuminated pumpkin head symbol appears on all reels in this game and serves as a scatter. When you get 3, 4, or 5 pumpkins on the reels at the same time, you'll earn yourself 10, 15, or 20 Free Spins, respectively. Blood will pour down the game screen before clearing to reveal that the graveyard now looks spookier than ever, being cast in an ominous purple glow for the bonus feature.
During this part of the game, the reels will contain gravestone multipliers as well as the usual symbols. These can show a multiplier value of anything from 2x to 250x, and when they show up they will remain on the reels for as long as you continue cascading wins.
It is possible for more than one graveyard multiplier to appear on the screen at the same time. When that happens, their respective values will be added together - not multiplied - before the total is applied to your total win.
Should you be lucky enough to land another 2, 3, 4, or 5 pumpkin head scatter symbols on the reels, you'll receive an additional 3, 5, 10, or 15 free spins, respectively. This can keep the action going for quite some time.
When the Free Spins bonus round ends, be sure to wait for your winning total to be shown before proceeding. There are some fantastic animations awaiting those who win, and the more you win, the more animations you'll be treated to.
Buy Pass Option
Those of you who don't want to wait for the pumpkin heads to trigger the Free Spins feature by chance can pay for it to happen on demand. Simply click the Buy Pass button to the left of the grid and pay the sum shown. The fee for triggering the special feature is 75 times your stake, and you can adjust your stake before pressing the BUY button if you'd like to do that. Note that if you do change the stake via the Buy Pass button, it will remain changed when you eventually return to the main game.
When you have pressed the BUY button, the reels will spin and enough pumpkin heads will show to trigger the Free Spins feature, as described earlier. How many pumpkin heads you actually get will be determined at random, so you won't know how many free spins you're buying until they've appeared.
Play in the Dark for Best Effect
This is a fantastic slot for Halloween, but it's also got plenty of staying power and is likely to be popular all year round. Its unique mix of cartoon-style visuals with more realistic blood-spilling moments and a genuinely haunting soundtrack will delight horror fans and casual gamers alike. If you fancy playing a Halloween slot for as much as 20,000 times your stake and you like to be scared with a smile on your face, check out Spooky Vibes Accumul8 today. Play the slot at one of our approved casinos above, or visit our homepage to view more online casino reviews.