Viking Runecraft Apocalypse is a 7x7 grid slot that was released in June 2023 by Play'n GO. It is the eagerly awaited sequel to the 2017 hit, Viking Runecraft, and this follow-up doesn't disappoint in the least.
As well as giving players the chance to win a larger top prize, Viking Runecraft Apocalypse is packed with special features, impressive animations and an immersive cinematic soundtrack.
If you have any interest at all in the lore of the Vikings, this is a game you're sure to love.
Play the Viking Runecraft Apocalypse Slot Here
Viking Runecraft Apocalypse Overview
| | |
| --- | --- |
| ⭐ Year Released: | 2023 |
| ⭐ Provider: | Play'n Go |
| ⭐ Game Features: | Spirit Wild, Gift of the Gods, Loki's Mischief, Power of the Aesir, Ragnarök Free Spin, Aftershock |
| ⭐ Reels: | 7 |
| ⭐ Rows: | 7 |
| ⭐ Paylines: | N/A |
| ⭐ Volatility: | High |
| ⭐ RTP: | 96.50% |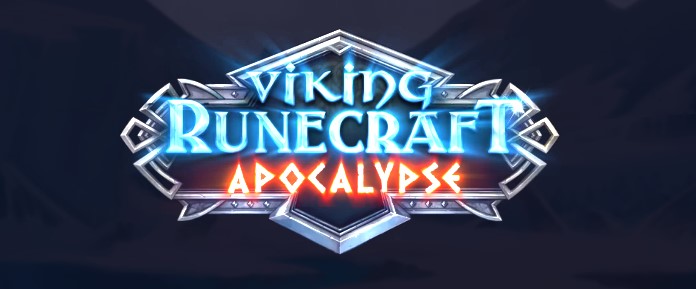 Norse Gods Get Busy
Viking Runecraft Apocalypse is an online slot that focuses on several Norse gods (Heimdall, Freya, Thor, and Odin) as they work hard to defeat bad-guy Loki and his armies. The game has a 7x7 grid format and wins are achieved by landing five or more matching symbols in clusters, which means that the symbols have to be touching horizontally or vertically.
The aesthetics of this game are even more impressive than in the original 2017 title, which makes sense given that this sequel came along six years later. Visuals have a graphic novel or RPG feel about them, and Asgard can be seen in the background - looking very much larger than life - as you play. A cinematic soundtrack, impressive audio effects and plenty of great voice acting make this a slot you can really immerse yourself into.
Viking Runecraft Apocalypse Symbols
The symbols on the grid are a mixture of runic letters and items from Norse mythology, such as Mjölnir, which most people know as Thor's hammer. Each symbol is presented on the side of a stone slab, and their colours stand out boldly against the grey stone surface.
Spirit Wild Feature
When you get a winning cluster, it will create a Spirit Wild symbol that looks like a yellow orb of energy. The winning symbols will then be removed and other symbols will drop down to take their place. The Spirit Wild symbol serves as a wild and can help you to land another win, in which case more Spirit Wild symbols can be created. A Spirit Wild collector on the right of the grid will keep track of how many of these special symbols you get.
Gift of the Gods Feature
When you manage to fill the Spirit Wild meter with four wilds, you will trigger the Gift of the Gods feature. This will randomly trigger one of four possible events, as follows:
Odin's Power: Puts 3 adjacent Wilds on the grid.
Thor's Thunder: Adds 6 to 10 Wilds to the grid.
Freya's Magic: Adds 2 to 4 pairs of Wilds to the grid.
Heimdall's Vision: Puts 2 to 4 pairs of diagonal Wilds on the grid.
Loki's Mischief
This feature can be randomly triggered on any spin that doesn't give you a win. When it is activated, Loki will add 5 to 8 mystery symbols to the grid. Those mystery symbols will then reveal a random symbol of the same type. The random symbol can be any except a Wild.
Power of the Aesir
A Runic Charge meter to the left of the grid is powered up by collecting winning symbols in a single spin and any resulting cascades. When it is charged with 35 symbols it will trigger one of four random features, as follows:
Heaven's Spear: All weapon symbols transform into the same symbol.
Mjölnir's Strike: Destroys 6 to 10 symbols and transforms them.
Folkvang's Force: Selects 1 type of symbol and upgrades it.
Trumpet's Screech: Destroys or transforms symbols around 3 points.
Ragnarök Free Spin
Charge the Runice Charge meter with 65 symbols and you'll get a Ragnarök Free Spin. This is a single free spin that will award each of the four Power of the Aesir features, one after the other.
Aftershock
If you are within 5 symbols of triggering the Ragnarök Free Spin, Aftershock can be triggered. This will select a random type of symbol and transform all other symbols between them to match.
Viking Runecraft Apocalypse
Viking Runecraft Apocalypse has an RTP of 96.50%.
Viking Runecraft Apocalypse Pros and Cons
Great Viking Runecraft sequel
Impressive visuals & audio content
Packed with special features
Win up to 10,000x your bet
High volatility won't suit everyone
Viking Runecraft Apocalypse: Our Verdict
Viking Runecraft Apocalypse slot is an excellent game that has more features than you might find in three or four lesser slots put together.
Its visual and audio content is of the highest quality, and if you get lucky you could win a top prize of up to 10,000 times your bet. That's twice as much as in the original Viking Runecraft game, so play today and may the Norse gods smile upon you.
FAQ
🔎 What is the Viking Runecraft Apocalypse slot about?
🔎 Where can I play the slot?
🔎 Why is Viking Runecraft Apocalypse so popular?
🔎 Are there any other Viking Runecraft sequels?
🔎 What special features are in the game?