Evolution Gaming is no stranger to innovation, but its latest release has raised plenty of eyebrows in online casinos everywhere. The game that's causing such a welcome stir is called Bac Bo, and it plays much like the traditional game of Baccarat. However, instead of using playing cards, Bac Bo uses dice to determine the hands of both the Banker and Player. This makes the game easier to understand than Baccarat, and arguably even more fun to play.
Where to Find Bac Bo Online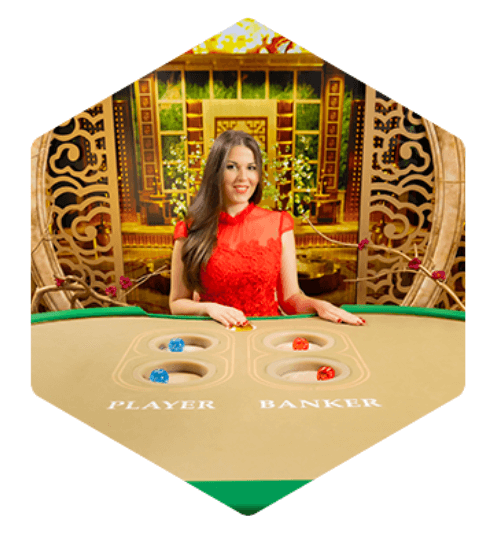 How Bac Bo is Played
Like the game of Baccarat on which it is based, Bac Bo from Evolution is all about betting on which of two hands will win a given round. There is a Banker hand and a Player hand, and the outcome of each hand is determined by the shake of two dice. This means there are four dice used in total.
The casino table game is broadcast live from a purpose-built studio, where a dealer sits behind a Bac Bo table. The table has four holes that serve as automatic dice shakers. As you view the table, the two shakers on the left are for the Player hand and the two on the right are for the Banker hand.
You can bet on the Player hand winning, on the Banker hand winning or on the Tie. When all bets have been placed, the four dice are shaken in their respective shaker holes. One dice for the Player hand will come to rest first, followed by one dice for the Banker hand. The second Player and Banker dice will then come to rest, in that order.
In this game, the total of the two dice determines the value of each hand, and the hand with the highest value wins.
Odds Paid for Winning Bets
Bac Bo has a simple payout structure that only gets slightly more complicated for the Tie bet. The main rules are as follows:
If the Banker hand wins, bets on the Banker pay 1:1.
If the Player hand wins, bets on the Player pay 1:1.
If the two hands are tied, bets on the Banker and Player are refunded, minus a deduction of 10%.
If the two hands are tied, bets on the Tie are settled according to the total shown by each hand. The payouts are:
4:1 for 6, 7 or 8
6:1 for 5 or 9
10:1 for 4 or 10
25:1 for 3 or 11
88:1 for 2 or 12
Bac Bo Will Appeal to Many
Bac Bo is a game that will appeal to many. If you like the idea of playing Baccarat, Sic Bo or Craps but you'd prefer something with simpler rules, Bac Bo fits the bill perfectly. Be sure to give it a try the next time you feel like playing a live casino game and see what you think.