A new online slot from Pragmatic Play is proving so popular in Canada that it's giving classic titles like Books of Dead, Sweet Bonanza and Big Bass Splash some serious competition.
The game we're talking about is called Fat Panda, and it's jam-packed with special features. So much so that every spin of the reels feels like an event waiting to happen.
Throw in the fact that it could also give you a top prize of 20,000 times your stake and it's no wonder that it's so popular.
Where to Play Fat Panda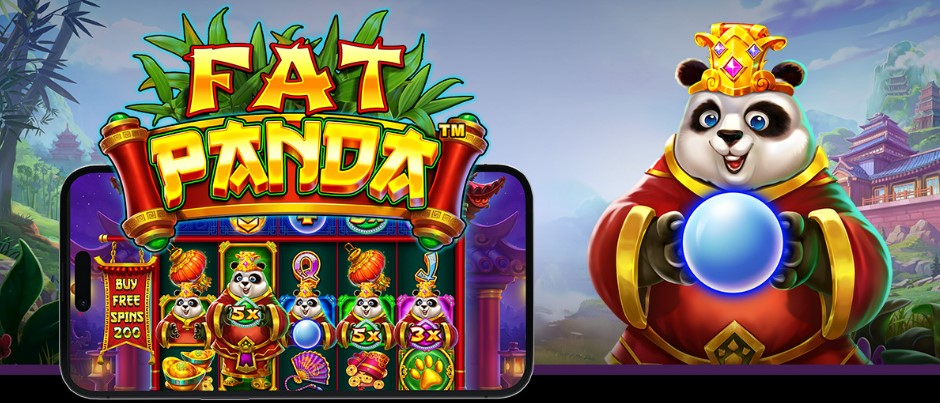 Meet the Fat Panda
As you'll know if you've read our Fat Panda slot review, the main character in this game looks a lot like a certain Kung Fu Panda. We suppose that's because all pandas tend to look alike, but this game also has a similarly fun cartoon style. The game has a five-reel layout with three main rows, plus a horizontal modifier reel that runs across the main grid.
It's the modifier reel that really makes this game special in our eyes. This spins horizontally when you spin the main reels vertically, and when it comes to rest it can bring any of four special modifier symbols into play.
These can add wild symbols to the grid, cause already present wild symbols to fill their reels, add multipliers to their own reels, or add multipliers to all visible wilds. It's also perfectly possible to have several modifier symbols active at the same time.
Thanks to these modifiers, playing the main game is an absolute joy. There's no sense of merely passing time while waiting for the Free Spins round to trigger. Instead, every spin could bring modifiers that create winning opportunities from nowhere, or that enhance existing wins so that they pay even more.
Sticky Wilds in Free Spins
When you do eventually trigger the Free Spins round, you'll be given as many as 15 free spins to start with. All of the usual modifier symbols will be active, but there will also be an extra one in play that can award additional free spins.
Another great thing about the Free Spins feature in this game is that any wild symbols that land will stick in place for all remaining free spins. The more sticky wilds you land, the easier it will be to win.
Should you want to experience this Free Spins round as quickly as possible without waiting for the three or more scatters needed to trigger it, you can buy the feature for 70 times your bet.
Could This Be a New Classic?
As we said in our introduction, Fat Panda is currently flying high with the likes of Sweet Bonanza, Book of Dead, and other classic titles. So can we expect Fat Panda to join their ranks by becoming a new classic game in its own right?
It's certainly engaging enough to do that, and its top prize of 20,000 times the bet won't hurt its chances in the least. We guess we'll just have to wait and see.
In the meantime, play Fat Panda for yourself at one of our highly rated casinos in the toplist above offering Pragmatic Play slots. Or you can visit our dedicated Casino Reviews page for many more options.
Please see terms and conditions for Neon54 Casino on the providers website, before signing up. Each provider has different rules and conditions as well as bonus offers. The above offer is only valid for people over 19 years of age.

This page contains advertising links.