There are plenty of online slots that are set in the prehistoric world of dinosaurs, but few have quite as much bite as Raptor Doublemax. This is one of those deceptively simple games that are far more fun than you would imagine at first glance and one of the things that keeps you playing is its fantastic Doubling Multiplier feature. If you're an adrenaline junkie with a fondness for dinosaurs, read on and we'll explain why this game has all that you could want.
Where to Play Raptor Doublemax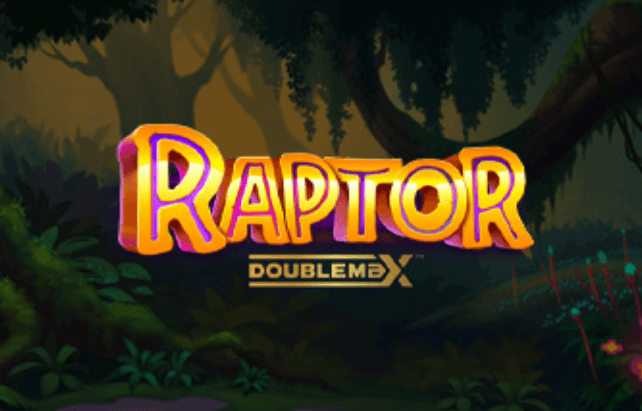 A Brutally Enjoyable Slot
Raptor Doublemax is a five-reel slot from the Swedish provider of games Yggdrasil Gaming. The game is set against the natural habitat of the dinosaurs that it focuses on, and there are some nice animated touches to be seen here if you look out for them. All visuals in this game have a colourful 'graphic novel' style which works very well.
Four dinosaurs serve as the higher-value symbols, with a Tyrannosaurus Rex being the most valuable. A golden ammonoid is a wild symbol and a large dinosaur egg is a scatter symbol. There are 25 pay lines and prizes are paid for three or more adjacent symbols, from left to right, on any one of them.
Doubling Multiplier Feature
This is a cascading slot, and so every time you land a winning combination of symbols those symbols will be removed to make room for new ones. That will give you another opportunity to win from the same spin.
What's particularly exciting here is that every winning cascade will double an active multiplier that will be applied to the next win. If you get a long enough sequence of winners the multiplier can soar far beyond x2 and x4 right up to x1,024 and x2,048. Of course, when the winning series comes to an end, the active multiplier will revert back to x1.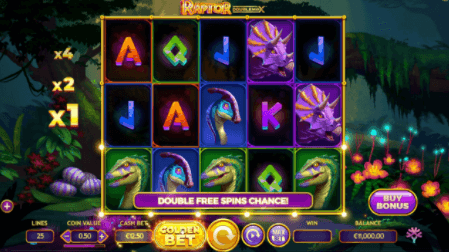 Free Spins Feature
You can trigger a Free Spins feature in this game by landing three or more dinosaur egg scatters at the same time. If you want to double your chances of doing this, you can press a Golden Bet button in the main game. This will cost 25% extra per spin. Alternatively, you can take advantage of a Buy Bonus option and pay to guarantee the triggering of Free Spins on the next spin.
During the free spins feature, the active multiplier is never reset between spins, so every win you achieve will double its value. This gives you an even better chance of taking the multiplier to three figures and beyond, and possibly landing a top payout of 20,000 times your stake.
A Game to Get Your Teeth Into
As we said earlier, Raptor Doublemax is a slotmachine that satisfies a lot more than its fairly simple format might lead you to expect. It looks great on both desktop and mobile, it has the 'just one more go' quality that we all love, and the payout potential is almost as big as the dinosaurs themselves. If you want a dinosaur-themed game to get your teeth into, this is it.