Club Tropicana slot is a 2023 release from Reel Kingdom, and if we're honest, just the name alone is enough to make everyone here at TheCasinoGuide HQ dream of being somewhere tropical with a fruity drink in hand and the sun shining down on our faces. The title of the slot is inspired by the 80s Wham! song of the same name, and you'll be pleased to hear it serves up plenty of party-atmosphere and rewarding bonus features.
If you've played any of the Big Bass fishing games from the same company, you'll notice that the bearded barman here looks incredibly familiar. The gameplay itself could also give you a strong sense of déjà vu, but fortunately, there's enough fun and sunshine in this title to make it an appealing slot in its own right.
Play the Slot Club Tropicana Here
Club Tropicana Slot Overview
⭐ Year Launched: 2023
⭐ Provider: Reel Kingdom (with Pragmatic Play)
⭐ Features: Money Symbols, Free Spins, Ante Bet, Buy Feature
⭐ Reels: 5
⭐ Rows: 4
⭐ Paylines: 12
⭐ Volatility: High
⭐ RTP: Up to 96.08%
⭐ Min and max bet: $0.12 - 240.00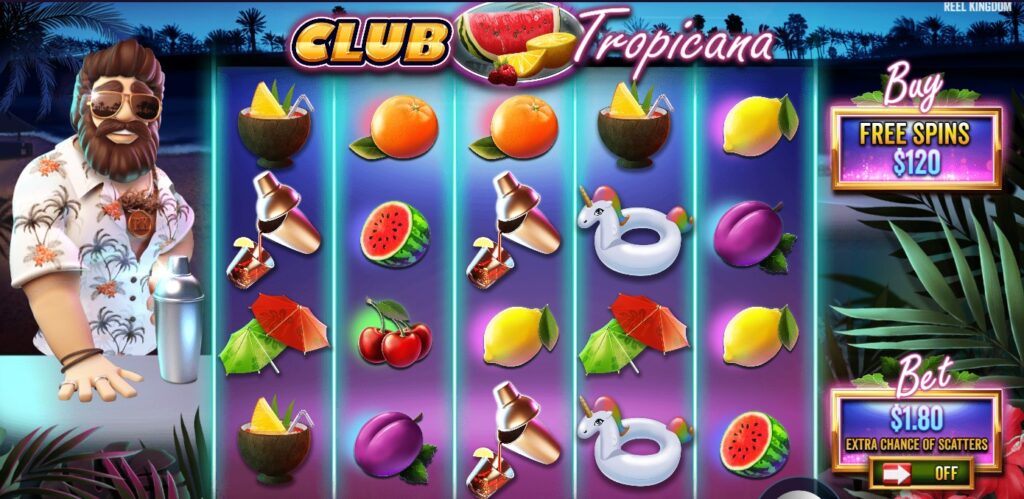 Familiar, But Cosmetically Different
Club Tropicana is set on a luscious tropical island, and the format of the game is much the same as that of Bigger Bass Bonanza from the same developer, Reel Kingdom. It has five reels, four rows, and twelve pay lines. The reels are presented in front of the Club Tropicana bar, behind which you'll see a bearded barman who is wearing sunglasses, a medallion and a tropical shirt. If this isn't the fisherman from the Big Bass series then it must be his twin brother.
Symbols on the reels include cherries, lemons, oranges, plums, watermelons, a pool inflatable, a coconut cocktail, cocktail umbrellas and a cocktail shaker, as well as a money symbol. The money symbol will have a random value attached to it whenever it appears, and that value can be 2x, 5x, 10x, 15, 20x, 25x, 50x or 4000x. A thirst-inducing selection of cocktails serves as a scatter symbol and appears on all reels.
An 80s-style soundtrack plays in the background as you spin the reels, but we found it to be a tad too repetitive for our taste and so we turned down the volume after just a few minutes. Your mileage, as always, may vary.
Land any win on the reels and the bearded barman will spring into action and mix you a cocktail, which is a nice touch.
Free Spins Feature
The main feature of this game is the Free Spins round. You can trigger this by landing, 3, 4, or 5 scatter symbols on the reels at the same time, and that will give you 10, 15, or 20 free spins, respectively. If you want to improve your chances of landing enough scatter symbols to trigger this feature, you can make an Ante Bet by paying a little extra per spin. To do this, flick the switch to the right of the bottom row of the game. Another way of triggering the feature, and one that's guaranteed to work, is to buy it by clicking the banner to the right of the top row of the game.
However you find your way into the Free Spins feature, you'll see that three empty glasses appear to the right of the reels. You should also know that a special bearded barman symbol will appear on all reels for its duration. If you manage to get the barman on the reels at the same time as you land money symbols, the barman will collect all of the money in view, shake it in his cocktail mixer and start filling the glasses.
Each glass will reward you when filled. Fill the first glass and you'll get 10 more free spins with all prizes being multiplied by x2. Fill the second glass and you'll get another 10 free spins with all prizes being multiplied by x3. Filling the third glass will get you a final stack of 10 more free spins and all prizes will be multiplied by x10.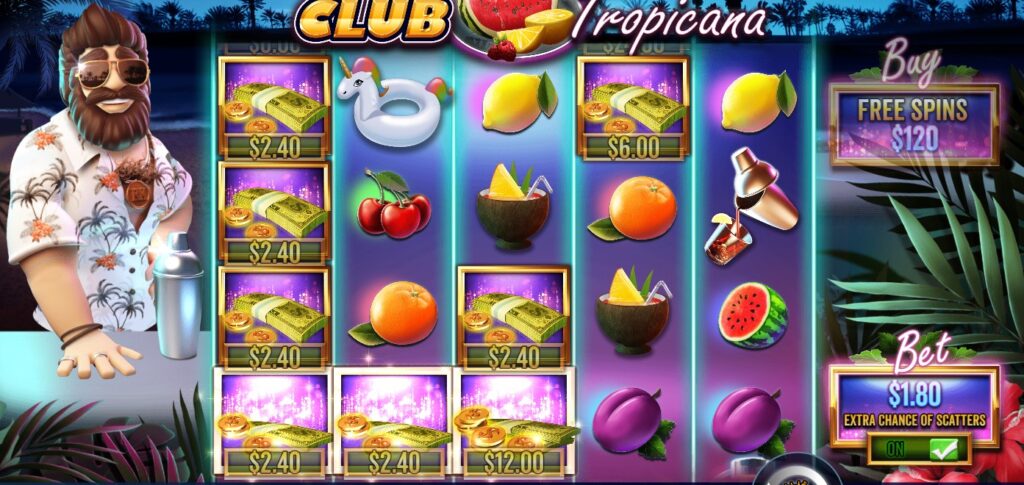 Did You Say Déjà Vu?
Those of you who have played Big Bass Bonanza slot will realize by now that this Free Spins feature is exactly the same. The only difference is that, instead of a fisherman collecting fish, you have a barman collecting money symbols. We won't deny that this title is pretty much the same in terms of gameplay and features, but the Club Tropicana setting makes it a lot more appealing to those who aren't particularly interested in the fishing theme.
Fun theme and party atmosphere.
High-quality, colourful graphics.
Similar gameplay to Big Bass Bonanza.
Club Tropicana: Our Verdict
If you were to judge Club Tropicana on the basis of how unique it is then you wouldn't be very impressed. The format of the game is much the same as that in Bigger Bass Bonanza, and the Free Spins feature is also close to identical. That said, not everyone enjoys fishing, so taking a proven format and features and bringing them to a life in a whole new setting - one inspired by a classic Wham! song, no less - makes a lot of sense.
Our personal opinion is that Club Tropicana is a great game when judged on its own terms. No, it doesn't offer much that is new apart from the obvious cosmetic makeover, but it's an enjoyable slot that will appeal to many. If you want fun and sunshine, there's enough for everyone, so play today and see what you think.
FAQ
🔎 When was Club Tropicana released?
🔎 What is the win potential from Club Tropicana slot?
🔎 What are some similar slots to Club Tropicana?
🔎 Where should I play the slot?