MONOPOLY Big Baller is what you get when you cross the world-famous board game from Hasbro with the traditional game of bingo and the very latest in gaming technology. Released in 2022 by Evolution, this is a live casino game that takes place on board a virtual riverboat. It plays a lot like a regular game of bingo, but it also gives you the chance to participate in an exciting 3D Bonus Game too. Get lucky and you could win as much as $500,000!
MONOPOLY Big Baller Casinos Canada
MONOPOLY Big Baller Overview
Those of you who have played the Mega Ball and MONOPOLY Live games from Evolution won't be surprised to learn that this is essentially a heavily tweaked cross between the two.
First, you have the main bingo element of the game, and this is played with a MONOPOLY Big Baller machine that contains 60 numbered balls. Four bingo cards are presented across the lower portion of your screen, along with two bonus cards.
The bingo cards have a five-by-five grid format and will be labelled Free Space, with the center space already marked, or Chance, with the center space being reserved for a multiplier.
The bonus cards will be labelled 3 Roll, and have three random numbers, and 5 Roll, with four random numbers. We'll explain why very shortly.
When the bingo part of the game has concluded, players who have marked all of the numbers on either of their bonus cards will proceed to participate in the 3D Bonus Game.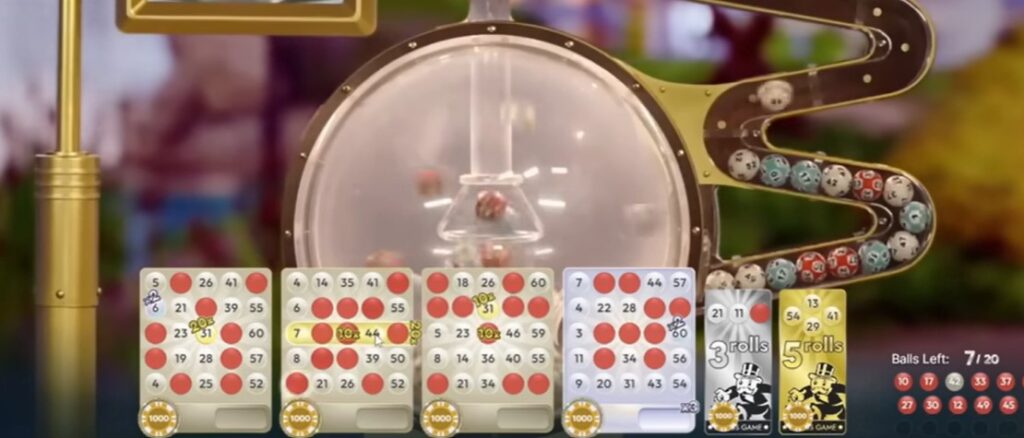 How to Play MONOPOLY Big Baller Live Casino Game
You can bet on as few or as many of the four bingo cards and two bonus cards as you want. The most common approach is for players to bet on all six cards in order to give themselves the best chance of both winning a bingo prize and participating in the 3D Bonus Game.
When you have bought your cards, Mr. Monopoly will come along and generate free spaces, multipliers or a combination of the two and add them to your cards. Any Chance card that you have bet on will get a multiplier in the centre space, and other multipliers can also be added.
At this point, the MONOPOLY Big Baller machine will draw 20 numbers at random. Any of your active cards that bear any of those numbers will be marked automatically. You need to make one or more horizontal, diagonal, or vertical lines on an active card to win a bingo prize. The more winning lines you have, the more you will win, and any multipliers that have been assigned to a winning card could make your prizes even more valuable.
3D Bonus Game
Any player who has bet on a Bonus card and succeeded in marking all three or four numbers will now participate in the 3D Bonus Game. You will get three or five rolls of the dice, depending on whether you access the game via a 3 Roll or 5 Roll card, and you win whatever board space you happen to land on. This could be a property, a Community Chest reward or a Chance event.
If you roll a double at any point, you'll get another roll for free. However, just as in the MONOPOLY board game, you can also go to jail, in which case you'll need to roll a double to be released.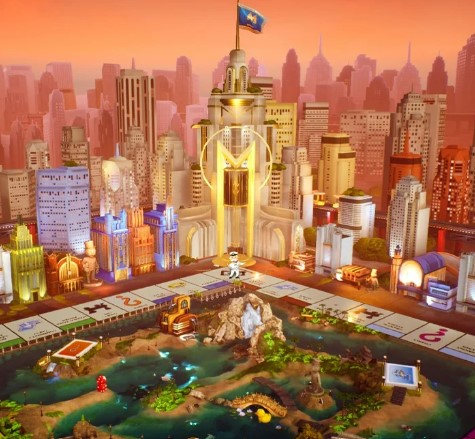 MONOPOLY Big Baller Pros and Cons
Based on the world-famous board game.
A cross between MONOPOLY and bingo.
Easy to play even for beginners.
Superbly immersive 3D Bonus Game.
Maximum win is capped at $500,000.
MONOPOLY Big Baller: Our Verdict
MONOPOLY Big Baller is a great live casino game for anyone who loves bingo, the MONOPOLY board game, or ideally both! The presentation of the game is wonderfully immersive, and the visuals during the computer-generated 3D Bonus Game are outstanding. If you're looking to play a game of chance that will keep you engaged for even the lengthiest of gaming sessions, this title is definitely one that you should check out sooner rather than later.
FAQ
🔎 What is MONOPOLY Big Baller?
🔎 When was MONOPOLY Big Baller released?
🔎 Can I play the MONOPOLY Big Baller live casino game in Canada?
🔎 What is the best MONOPOLY Big Baller strategy for winning?