Fan Tan is a traditional game of chance that has been played in China for centuries. Despite that ancient pedigree, it isn't a game that we've noted as being particularly common at NZ land-based casinos, so we were quite surprised when Evolution released it as one of their Live Casino games in 2021. Now, having played it multiple times and enjoying the heck out of every session, we can't thank Evolution enough for bringing Fan Tan to our attention because it's a great game that's as entertaining and engaging as it is easy to play.
Where to Play Fan Tan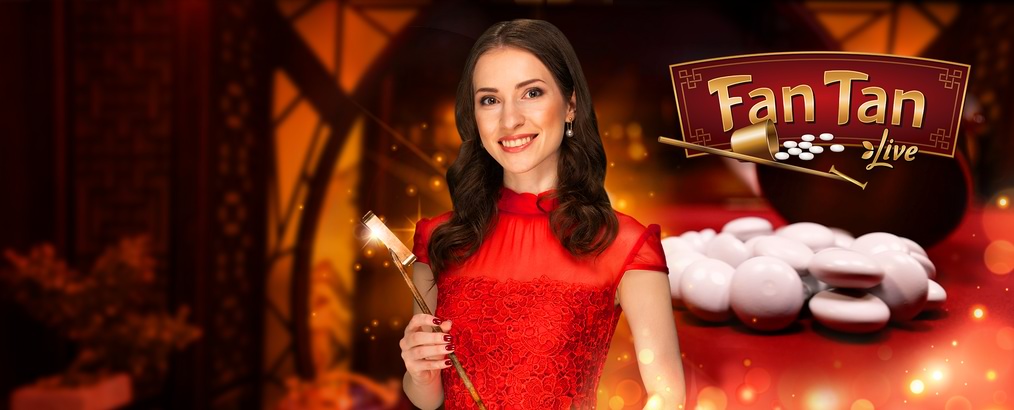 Game Setup and Presentation
Given the fact that this game came from China, you won't be at all surprised to see that Evolution has worked hard to dress the Fan Tan studio in a suitably Asian style. The large rectangular gaming table has pride of place, and in the background, you'll see ornate screens, a dragon sculpture, and a bonsai sculpture, all of which help to create an elegant and traditional atmosphere.
The Fan Tan game is played with a pile of beads, and you'll see those sitting under a glass dome in the upper left-hand corner of the table. Also on the table is a metal cup that is used to separate a random quantity of beads from the main pile, as well as a special stick that is used to drag beads across the table in groups of four. As you'll see shortly, the aim of the game is to bet on how many beads will remain in a final line of beads from the random quantity selected.
As with most Live Casino games, bets are placed via a graphical interface that occupies the lower part of the screen. There are actually two different game views that you can choose from. The default game view gives you access to a simplified range of bets, making it ideal for beginners. The advanced view gives you many more betting options, as available in the traditional game.
How to Play Live Fan Tan
Assuming that you play with the default game view, you begin by placing a bet on how many beans will be in the final line (1, 2, 3, or 4) or on whether the total will be Odd (1 or 3), Even (2 or 4), Big (3 or 4), or Small (1 or 2).
When you have placed your bet, the croupier will drag the glass dome to the middle of the table and remove it. They will then use the metal cup to separate a random quantity of beans from the main pile. At that point, the remainder of the main pile is returned to the corner of the table and covered with the dome.
Bets and Payouts
The full range of bets that can be made in Fan Tan is detailed below, along with the payouts that will be made for success in each case. Note that a 5% commission is charged on all winnings.
1, 2, 3, 4 – Pays 2.85:1
This bet requires you to bet on whether there will be 1, 2, 3, or 4 beans remaining at the end of the game.
Big or Small – Pays 0.95:1
Here you bet on whether the number of beans remaining will be Big (which means there will be 3 or 4) or Small (meaning 1 or 2).
Odd or Even – Pays 0.95:1
This bet involves predicting whether the total number of beans remaining will be Odd (meaning 1 or 3) or Even (2 or 4).en – Pays 0.95:1
Nim – Pays 1.90:1 or Push
Here your bet covers two numbers of beads remaining, such as 1 or 2. If the first number is correct, the bet pays at odds of 1.90:1. If the second number is correct, the bet is a Push and you get your money back.
Kwok – Pays 0.95:1
This is another bet that covers two numbers of beads remaining, such as 1 or 2. Here, however, your bet is a winner no matter which of the two numbers is correct.
Ssh – Pays 0.316667:1
This is a bet that covers three numbers of beads remaining, such as 1, 3, or 4. If any of those numbers are correct, the bet wins.
We're Big Fans of Fan Tan
We might have come to this game late, but thanks to Evolution putting it in the spotlight, we've become big fans of Fan Tan. Whether you play with the default view or the advanced view, you'll find this game to be both engaging and enjoyable. Try your hand at Fan Tan today at one of our reviewed and approved casinos and you could soon be a big fan, too.