Taking risks seems to be hard-wired into human DNA, and that's probably why gambling has been around in one form or another since the dawn of civilisation. Centuries ago, gamblers most often used to cast lots and roll rudimentary dice, but today we have a much wider range of games to enjoy. Some of the most popular among New Zealand gambling fans are lotteries, bingo games, pokies and casino table games.
In this article, we will look at the gambling scene in New Zealand and explain how Kiwis can gamble in a safe and responsible way. We'll explore a little of the history of gambling in New Zealand, discuss how offline gambling is regulated and provide advice on how anyone who gambles online can help to protect themselves from rogue operators. We'll even tell you how gambling winnings are treated for tax purposes so that you don't get any nasty surprises.

A Brief History of Gambling in NZ
Gambling has always been popular in New Zealand, but it hasn't always been legal, and there are still forms of gambling which are unregulated. Here we'll look at the main forms of gambling that have been enjoyed by Kiwis over the years, and how things stand today.
Horse Racing
Betting on horse racing is probably one of the most traditional forms of gambling here, with the first race meeting having taken place in 1835. Back then it was possible to place bets on the horses via bookmakers, but that was made illegal in 1911, at which point you needed to be physically present at the track to make bets. Another revision of the law took place decades later, which made betting possible away from the track via the Totaliser Agency Board (TAB). The TAB remains the only legal sports betting operator in the country.
Bingo Games
Bingo has been played at land-based venues, such as church halls, community centres, and dedicated bingo halls for decades. Online bingo sites aren't allowed to operate domestically, but bingo fans who live in New Zealand aren't breaking any laws by playing at sites based in other countries.
Lottery Games
Lottery games are hugely popular in NZ. The earliest lottery games in New Zealand were referred to as Art Unions because they were originally designed to help raise funds for the Otago Art Society. A national lottery didn't come along until 1961 when the Golden Kiwi game was launched, and it was another 26 years before the New Zealand Lotteries Commission (NZ Lotteries) was born. The Commission is now referred to as simply Lotto NZ, and it offers a wide range of games including Lotto, Powerball and Keno. Tickets for all of those games can be purchased online from the official MyLotto website.
Casino Games
Casino gaming has been around since the 17th century, but not in New Zealand. Kiwis had to wait until the late 20th century until they had access to their own casino venues, and even today there are just half a dozen of them. Of course, casinos that offer pokie games and live casino are up and running all over the world, but at the time of writing this, it isn't legal for an online casino to be based in New Zealand.
While online casino gaming is unregulated in the country, it is legal for players in New Zealand to play at online casinos that are based outside the territory.
Regulators and Gaming Authorities in NZ
As we've just seen, there isn't a great deal of regulated gaming in New Zealand. However, there are three main regulators in the country which govern betting, lotteries and casinos, respectively. These are:
1.    Totaliser Agency Board
The Totaliser Agency Board (TAB) was originally introduced in 1950 as a state agency but it was then privatised in 1994. It regulates all forms of sports betting in the country, including horse racing, and operates its own website and mobile app for those who want to bet online.
2.    New Zealand Lotteries Commission
Now widely known as Lotto NZ, the New Zealand Lotteries Commission was founded in 1987 to operate all lottery games in the country. Tickets for its games have been available for purchase online since 2008, but only through its own official website and mobile app.
3.    New Zealand Gambling Commission
The Gambling Commission NZ was set up under the Gambling Act 2003 to oversee the licensing of casinos in the country. The Commission considers licensing requests and issues licenses to those applicants that it subsequently approves. The Commission can also revoke licenses.

How to Stay Safe When Gambling in New Zealand
Kiwis who like to bet on sports and horse racing, play lottery and bingo games or visit land-based casinos should find it easy to stay safe. All you need to do in these areas is restrict yourself to only betting and gaming with organisations that are properly licensed and regulated. When it comes to playing casino games like pokies at online casinos, however, the task is a grey area. Online gaming is unregulated in New Zealand, so while it is legal for Kiwis to play at offshore sites, it is up to each individual player to take care of their own business as far as safety is concerned.
Ultimately, you are responsible for your own decisions if you choose to play at online casinos based elsewhere, so here are some key things to consider when choosing a venue to play at:
Licensing and Regulation
New Zealand might not regulate online casinos, but plenty of other countries do. Our first suggestion is that you should therefore restrict yourself to playing only at online casinos that are properly licensed and regulated by a respected governing body. Two of the best are the Malta Gaming Authority (MGA) and the UK Gambling Commission (UKGC), because those organisations have some of the most stringent regulations in the world. If an online casino has been awarded a licence by the MGA or the UKGC, you can be confident that it is as legitimate as they get.
Quality of the Casino
Next, take a good look at how the casino presents itself. Does it look like a user-friendly, well-designed site, or one that has been hastily cobbled together on a Friday afternoon? If it's the latter, stay away. If you notice any discrepancies, or the pages are littered with spelling errors or grammatical mistakes, go elsewhere. If a casino can't be bothered to proofread its own pages, why would you trust it to take care of your money? Similarly, read through the About Us, Terms & Conditions, Responsible Gaming and Privacy Policy pages. If an online casino provides helpful Safer Gambling advice and resources such as Self-Exclusion tools you can generally assume that they care about your welfare and take their player protection duties seriously.
Quality of Game Providers
There are hundreds, perhaps thousands of companies that are in the business of developing games for online casinos. As in all industries, some companies are better than others, and the best are the ones that enjoy the greatest amount of brand recognition. Companies like NetEnt, Play'n GO, Microgaming, Evolution, Pragmatic Play, and Red Tiger have superb reputations for producing quality games that are perfectly fair to those who play them. Needless to say, those same companies are very careful about who they partner with, as they are keen to protect the reputation of their brands at all costs. Bear this in mind, and only play at venues that offer games from trusted brands.
Bonus Terms
Legal online casinos offer bonuses to new players, but some offers aren't quite as good as they might first appear. The best and most trusted sites will offer bonuses with terms and conditions that are as fair and transparent as they are generous. Similarly, the most dubious casinos will often set things up so that their seemingly impressive bonuses are as difficult as possible to take advantage of.
Always read the bonus terms and conditions at any online casino that you are considering playing at. If those bonus terms sound at all unreasonable (perhaps because you only get a couple of days to achieve a significant wagering requirement), or they are so vague that you don't understand them, choose a different venue to play at. If a casino isn't willing to be completely fair, transparent and straightforward with its bonuses, it probably isn't worth your trust or custom.
Payment Methods
Head to the payment methods area of the casino and see which payment methods it accepts for deposits and withdrawals. If major banking cards like VISA and Mastercard, as well as e-wallet options like PayPal aren't among them, give the venue a hard pass. There is nothing at all wrong with a casino accepting cryptocurrencies in addition to traditional currencies, but if crypto is all that it accepts, proceed with caution. Payment providers like VISA and MasterCard are always selective about who they work with, so if those options aren't available, you might want to ask yourself - "why are they not?".
Independent Casino Reviews
Any online casino can call itself the 'Best in the World' but making such a statement doesn't mean that it's at all accurate. A far better way of finding out whether or not a venue is any good is by checking out independent reviews. Here at the CasinoGuide, we have an entire library of casino reviews written by a team of writers who not only enjoy pokie games and other casino games, they also take pride in being as objective and honest as possible, so do explore those before signing up anywhere.
Do I Need to Pay Taxes on My Online Winnings?
One of the great things about New Zealand is that it doesn't generally tax any winnings from gambling if you are doing it as a hobby. However, if you were gambling for a living - as a professional online poker player might - then your profits would be taxable. The rule of thumb here is simple - if you gamble purely for fun, your winnings are not taxed, even if you land a jackpot, but if gambling is your main source of income, your profits will be taxed.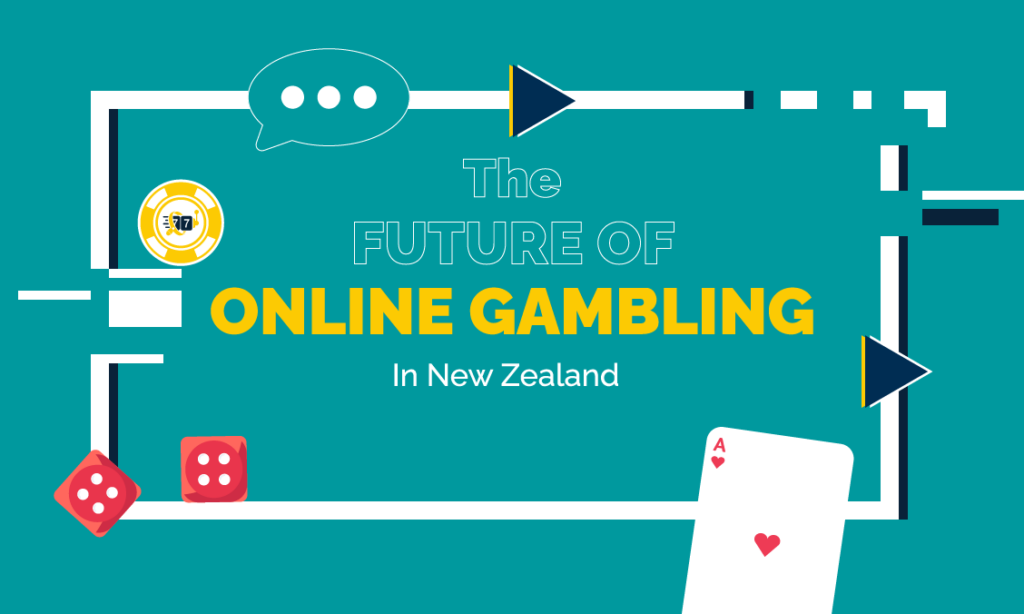 The Future of Online Gambling in NZ
Right now, online gambling in New Zealand is far more popular than it is regulated. While sports betting and lottery gaming are both regulated and can be enjoyed online through official websites, playing at pokie sites and online casino gaming is completely unregulated. We are hopeful that this might be addressed in the future, and that one day soon players in New Zealand will be able to enjoy dedicated sites that are licensed and regulated to operate in New Zealand. Until that happens, it seems inevitable that gaming at offshore online casinos will become even more widespread.
Play Safe and Have Fun!
New Zealanders are fortunate that it is legal to play at online casinos offshore, even though online casinos themselves aren't allowed to be based in the country. However, you can't risk playing just anywhere. Be sure to look carefully at any site you are considering joining, as described earlier, and if any casino gives you cause for concern, avoid playing there. Check out our casino reviews for our own recommendations, stay safe and have fun.
FAQ
Is it legal to play at online gambling sites in NZ?
Are land-based casinos legal in NZ?
Who regulates online gambling in NZ?
Do NZ gambling laws allow all types of online gambling?