MONOPOLY Live, an Evolution exclusive game show, was developed in collaboration with Hasbro Inc. Based on one of the world's most popular board games, this game offers a unique format of a live game show. MONOPOLY Live shares similarities with Evolution's Live Dream Catcher, as it includes a massive money wheel and an augmented reality 3D extra game. It features a live presenter who spins the money wheel and engages with players. The goal is to predict the segment the wheel will stop at after a spin.
In this review, we'll take a closer look at MONOPOLY Live, including its theme, game features, how to play, and bonus round, as well as advice you on the best NZ online casinos where you can enjoy MONOPOLY Live.
Try MONOPOLY Live at these Casinos
MONOPOLY Live Overview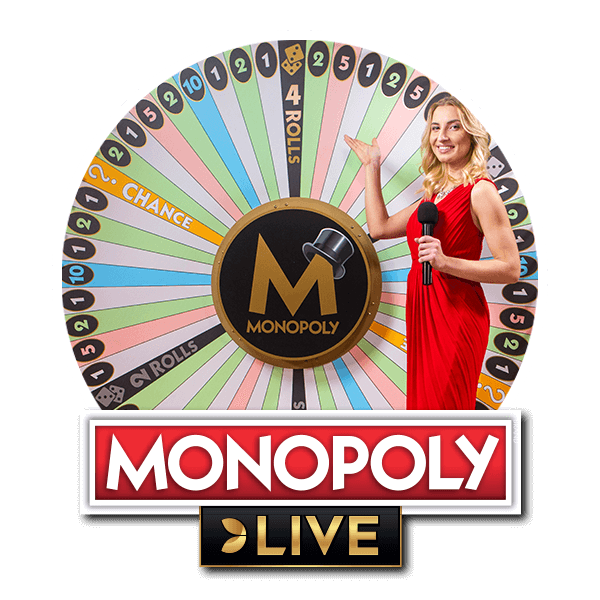 MONOPOLY Live Background 
MONOPOLY Live is set against a colorful and vibrant background that looks like the classic MONOPOLY board game. The game features a money wheel that is divided into different segments, each with a different prize value. 
The game has an elaborate MONOPOLY-branded studio. It also features a virtual Mr. MONOPOLY sitting on the side, reading the newspaper or sipping some tea, while monitoring what's happening on the wheel. But occasionally, he will leap into action and embark on one of his famous escapades.
MONOPOLY Live Game Features
The interface for MONOPOLY Live is divided into various elements. The controls area is centered at the bottom of your screen. This is where bets are made. Depending on your view settings, traffic lights or a timer will show you when you can place a bet and when you can't. MONOPOLY Live features more exciting game features, including:
How To Play MONOPOLY Live
MONOPOLY Live is an easy game to play. To get started, you must place your bets on one or more of the money wheel segments. The large money wheel with 54 segments serves as MONOPOLY'S focal point. Each segment has a different prize value, ranging from 1x to 10,000x your bet. 
Regular wagers include those on numbers 1, 2, 5, and 10. These segments payout in multipliers of 1, 2, 5, and 10 times your bet amount. There are also special sections on the wheel, such as Chance, 2 Rolls, and 4 Rolls. If the pointer indicates the Chance section, you will receive a card with a cash prize or a multiplier bonus. 
MONOPOLY Live Bonus Round
We enjoyed the bonus round in MONOPOLY Live which is triggered when the money wheel lands on the 2 or 4 roll bonus segment. In the bonus round, you will be taken to a virtual MONOPOLY board, where you must roll the dice and move your game piece around the board. Each time you land on a property, you will collect a multiplier, which will be added to your overall winnings.
Similar Evolution Live Casino Games
If you enjoy playing MONOPOLY Live, you may also want to check out these other popular live casino games from Evolution:
MONOPOLY Live: Our Verdict
MONOPOLY Live offers players all the thrill and tension of a top-rated money wheel game plus exclusive MONOPOLY gaming features. We really love this popular product from Evolution since it reimagines live casino entertainment by fusing the action of live games with augmented reality. MONOPOLY Live was named EGR's Game of the Year 2019 and Gaming Intelligence's Game of the Year 2020 and continues to be a favourite among NZ live casino fans. 
FAQ
🔎 Is MONOPOLY Live available on mobile devices?
🔎 Is there a MONOPOLY Live casino strategy?
🔎 Does MONOPOLY Live have a bonus buy feature?
🔎 Can I chat with other players while playing MONOPOLY Live?
🔎 What is the maximum payout in MONOPOLY Live?
🔎 What is the best bet in Monopoly Live?