Sports betting in New Zealand is hugely popular, and many gambling sites now offer sports betting facilities to their players via associated online sportsbooks. This makes it possible for you to bet on the outcome of almost any professional sporting event and win cash if your prediction proves accurate.
In this article, we will tell you all you need to know about how to get started in NZ sports betting. We'll discuss the basics of betting and odds, the range of sports and markets that are commonly available, where to bet safely, and a whole lot more. We'll even provide you with tips on how to maximise your chances of betting successfully, so make yourself comfortable and you'll soon be sports betting with ease in no time.
Best NZ Sites for Sports Odds and Betting
Odds & Betting at NZ Bookmakers
There is just one legal sportsbook operating in the country, and that is TAB New Zealand. It is currently illegal for any other operator to provide online sports betting services within New Zealand, but it is legal for Kiwis to bet on online casinos and sportsbooks based in other countries. This means that it's perfectly fine to place bets with casinos and sportsbooks that are based anywhere else around the world, such as Malta, the UK, the USA, and other gambling-friendly nations. That's good news for all sports fans because it gives us a massive range of venues to choose from when we want to bet online.

How Does Sports Betting Work?
Sports betting can seem quite complicated at first glance, but actually, the basic concept is very straightforward. All you have to do is find a sporting event that you have an interest in, make a prediction about that event, and then place a bet that your prediction will prove true. If your prediction turns out to be correct, your bet will win and you will make a profit. Of course, if your prediction turns out to be incorrect, your bet will lose and the sportsbook or casino will keep your stake money.
Actually placing your bet is an equally simple matter. All you have to do is:
When you have done this, you can then relax and enjoy the event. If your bet wins it will be settled automatically, with your winnings going straight into your betting account. The amount that you win will depend on how much money you bet and the odds at which your bet was struck. And what exactly are betting odds, we hear you say? We're glad you asked that question because the next section of this guide provides the answer.
How Do Sports Betting Odds Work?
Betting odds are numbers that represent how much money you will win if your bet succeeds. They can be presented in several different formats, and most sports betting sites will let you view odds in whatever format you prefer. The three main formats are decimal, fractional and moneyline, so let's take a quick look at each of those odds in turn:
Decimal Odds
Decimal odds tell you – in decimal format – how much you will get back from the sportsbook for every $1 you bet, assuming that your bet wins.

This is the most popular odds format in current use. Consider the following examples:

2.50 would pay you $2.50 for every $1 you bet.
5.00 would pay you $5.00 for every $1 you bet.
10.00 would pay you $10.00 for every $1 you bet.

N.B. It's important to note that decimal odds already include your stake. Landing a winning $10 bet at decimal odds of 10.00 would give you a return of $100, which means you would make a profit of $90.
Fractional Odds
Common in the UK, fractional odds tell you how much profit your bet will earn as a fraction. The left side of the fraction tells you how much profit you'll get when you bet the value shown on the right side of the fraction. For example:

1/2 means you would win $1 for every $2 bet.
2/1 means you would win $2 for every $1 bet.
7/2 means you would win $7 for every $2 bet.
10/3 means you would win $10 for every $3 bet.

N.B. Fractional odds do not include your returned stake, so a $10 winning bet at 1/2 would give you $5 in profit, and your $10 stake would also be returned.
Moneyline Odds
Moneyline odds are very popular in the USA. They are shown with either a plus or minus sign in front of them, as you can see in the following example:

HOU Texans          +185

NY Giants              -215

When a figure is quoted with a plus (+) sign, it tells you how much profit you will make when you bet $100 and win.

When a figure is quoted with a minus (-) sign, it tells how much you need to stake in order to to make a profit of $100.

N.B. A bet that is quoted at moneyline odds of -200 would therefore be equal to fractional odds of 1/2 and to decimal odds of 1.50.
Types of Bets
So far, we've talked about bets as if there were just one type, but there are in fact many different types of bets that can be placed online. Let's look at three of the most common - the single bet, the accumulator bet and in-play bets:
What is a Single Bet?
This is the simplest type of bet available, and the one that most people think of when the subject of sports betting is raised. It involves making a single prediction about an event (for example, which tennis player will win a particular match) and betting on that predicted outcome before the event gets started. If your prediction proves to be accurate, your bet will win. Whether you're new to sports betting, or a betting pro, the single bet is often the best option. That's because single bets are the easiest type of bet to understand, and less risky than, say for example, an accumulator bet, because with a single bet you're only betting one outcome, not multiple outcomes.
What is an Accumulator bet? (Also known as an "Acca" bet)
The accumulator (also known as an Acca or parlay) is a bet on two or more unrelated events (called legs), and every leg must result as predicted for the bet to win. If that happens, the odds for each leg will be multiplied together, giving you a much bigger payout than would be possible with singles. For example, a winning accumulator bet on three events, each paying decimal odds of 3.0, would pay 3.0 x 3.0 x 3.0 = 27.0. This is what makes accumulators attractive to bettors, but it is important to bear in mind that, if one or more legs fail to result as predicted, the whole accumulator bet loses.
What is an In-Play Bet / Live Betting?
A standard single bet must be made before the sporting event gets started, but an In-play bet can be made when the event is already running or in play. This can be useful if you want to see how a certain athlete or sports team fares in the opening few minutes before betting any money. In-play bets can also be used to hedge against existing betting positions, but that is a more advanced technique and not one that is usually suitable for beginners.

A Word About the Odds Boost
You won't have to spend long at online sportsbooks before you encounter something called an Odds Boost. This is something that sportsbooks offer in an effort to promote betting on a particular event or to make a particular type of bet, such as a parlay. It works by enhancing the odds that will be paid if your bet succeeds. For example, a 30% odds boost on a parlay of four or more legs will pay you 30% more than normal if you successfully land a bet of that type.
Betting Bonuses
Online sportsbooks offer bonuses to new and existing bettors in much the same way that casinos reward their players. Of course, the type of bonuses offered by sports betting sites vary, but the following types are the ones that you are most likely to encounter:
No Deposit Free Bets
These offers are quite rare, but they are always worth taking advantage of when you get the chance. Here the sportsbook will give you one or more free bets just for signing up for an account, and you won't need to make any kind of deposit. If the bet wins, you get to keep the profit but not the value of the free bet itself.
First Deposit Free Bets
This is a much more common offer, and awards you one or more free bets for signing up and depositing your own cash. The value of the free bets is usually related to the size of your first deposit, and some sportsbooks are more generous than others. Again, if one of your free bets wins, you'll get to keep the profit but not the stake.
Risk-Free Bets
Risk-free bets are bonuses where you need to sign up for a new account, deposit some cash of your own, and then make your first bet. The big difference is that your first bet would be risk-free, so if it loses you would receive free bets of the same value to compensate for the loss. Of course, if your first bet wins, no bonus would be received.

Wagering Requirements Explained
Online sportsbooks and casinos are businesses like any other, and so they need to protect themselves from people who might seek to abuse their bonus offers. They do this by putting rules in place relating to what you, the customer, must do to receive the bonus in question. These rules are often referred to as wagering requirements, and every sportsbook or casino will state them fully in their terms and conditions. Typically, the wagering conditions relating to a sportsbook bonus will tell you what you can bet on, what type of bet can be made and what range of odds is acceptable. Be sure to read and comply with such requirements or you will risk missing out on the corresponding bonus.
Betting Tips for Beginners
Sports betting involves skill as well as luck, and the better you are at predicting sporting results, the more successful you are likely to be. Of course, it takes a lot of time and effort to get consistently good at sports betting, so here are a few betting tips for beginners that will help you get off to the best possible start.
1. Bet on What You Enjoy
Sports betting should be fun, so our first tip is to bet only on the sports and sporting events that you find particularly enjoyable. If you love a sport that is played all year round then that should give you plenty of betting options. If you prefer seasonal sports then consider picking one or two that will, between them, give you a consistent stream of betting opportunities throughout the year as a whole.
2. Bet on What You Know About
One of the quickest ways to lose money when sports betting is to bet on sports or events that you know nothing about. Our first tip was given on the basis that you are likely to know most about the sports that you love, but we would also encourage you to increase your knowledge at every opportunity. Only bet on what you know about and your bankroll will thank you for it.
3. Beware Hunches and Gut Instinct
There are many more people who have lost money by betting according to their hunches or gut instincts than there are people who have won money. Bear that in mind the next time you have a "feeling" that a particular team or player is going to win. Look at the form of the team or player in question at the very least, and only bet if you also have a logical reason for doing so based on the team's ability and past performance.
4. Budget Wisely
Sports betting should be fun, and the only way you'll genuinely enjoy this hobby is by only betting money that you can afford to lose. While some sports bettors are able to win consistently, they are in the minority, and most bettors lose. Know this from the outset, and set a budget so that you can have fun without the inevitable losses having a negative impact on the rest of your life.
4. Have Fun and Keep Things Light
Sports betting can be a hugely entertaining hobby that makes the events you bet on even more exciting than they might normally be. Be sure to keep things light by betting within your means and not taking the hobby too seriously. Have fun, and if you stop having fun, stop betting. A reputable operator will player protection tools such as deposit limit settings and self-exclusion options to help keep you safe. For more information read our responsible gaming guide.

5 Top Sports Betting Sites
There are plenty of online sportsbooks for NZ bettors to choose from, and some venues offer both casino gaming and sports betting under the same virtual roof. Here are 5 of the best hybrid venues according to our Team of reviewers.
Betway
Betway is a one-stop shop for all things gambling. The sportsbook side of its operation gives you access to more than 30,000 different betting markets, which should be enough for even the greediest of bettors. The wide range of international sports covered offered at Betway includes soccer, American football, horse racing, golf, tennis and more, as well as multiple esports.
LeoVegas
LeoVegas is well-known for its mascot and is widely viewed as the king of casinos, with over 2,000 super games. However, it also holds its own as an impressive sportsbook and provides all the markets you could want. Bet on traditional sports, such as hockey, basketball and football, esports such as Dota 2 and CS:GO, or even non-sporting events in the world of politics and entertainment.
Mr Green
Established in 2008, Mr Green is an online casino and sportsbook that has a trophy cabinet full of industry awards. Licensed by the Malta Gaming Authority and the UK Gambling Commission, this venue is as safe and secure as you could want. It's also as fully featured as you would expect from a big-name venue, with a diverse range of betting markets to suit all sports betting fans.
Royal Panda
Royal Panda made its name as a superb casino site and has over 3,000 games for you to enjoy. However, it also gives you access to an excellent range of betting markets for more than 25 of the most popular sports in the world. These include live betting markets, where you can bet in-play and even cash out early if you want to lock in profits or limit losses.
Highbet
Our final recommendation is Highbet. This is the youngest sportsbook on our list of NZ betting sites, having been launched in 2021, but it is already very popular and has everything you need. Enjoy more than 1,000 casino games, then visit the sportsbook at any time to bet on hockey, soccer, basketball and more. You can even place bets on your mobile device if you want to.
How Do We Rate Sports Betting Sites?
Having just provided you with a shortlist of the best sports betting sites around, you might be wondering how we came up with our selections. Well, the simple answer is that we rate NZ sports betting sites according to a number of essential points, and the sites that get the highest overall ratings are the ones we recommend. The key areas we consider are as follows:
✔️ Bonuses and Promotions: How does the venue reward those who sign up for a new account? The better the reward for new players, the higher the rating.
✔️ Terms and Conditions: How fair are the wagering requirements relating to the bonuses being offered? We want offers to be fair and transparent.
✔️ Safety and Security: Does the venue work hard to keep your personal and financial information safe and secure? We only sportsbooks those that do.
✔️ Customer Service: Is it easy to get help or assistance when you need it? Friendly customer support is always a ratings-winner.
✔️ Payment Methods: Does the venue offer a range of payment methods? Are the most popular options included? Making deposits should be as easy as possible.
✔️ Ease of Use: Is the sportsbook well designed so that you can find the sports and betting markets you want without fuss? Our top sites are all easy to use.
✔️ Mobile Friendliness: Can you use the sportsbook on your tablet or smartphone, and is the experience a positive one? Mobile-friendly sites get higher ratings.
How to Maximise Your Sports Betting Potential
Earlier we provided you with some sports betting tips for beginners, and now we can give you some additional advice on how to maximise your sports betting potential. Consider the following ideas and adopt those that make sense to you.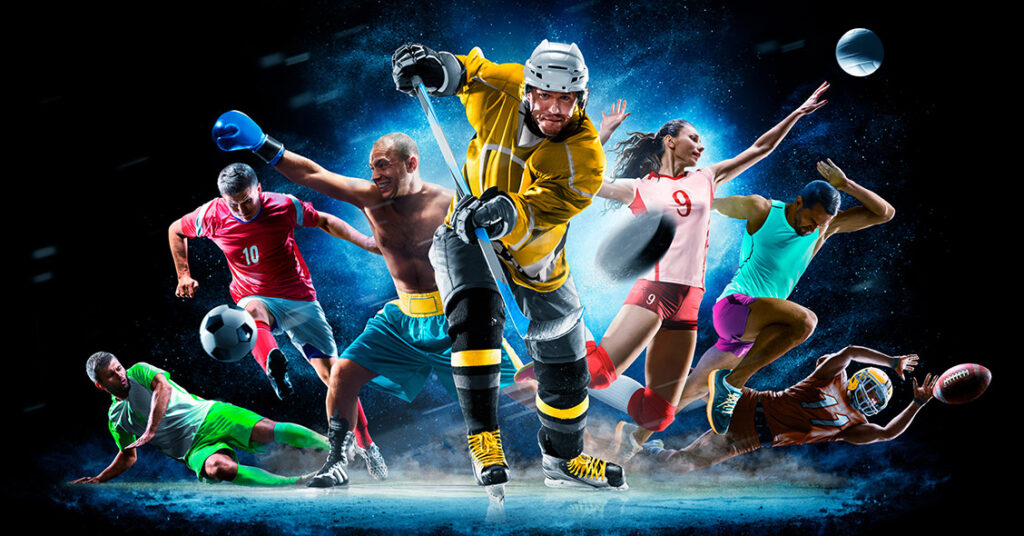 The Most Popular NZ Sports to Bet On
Sportsbooks offer betting markets on all sports, from soccer and basketball right through to pool and curling. While you might have to shop around to find markets for less common events, the majority of recommended sportsbooks will cater to all of the most popular sports, including:
Sports Betting Conclusion
Sports play a huge role in the culture of New Zealand, and sports betting is a hobby that can make watching sporting events even more thrilling than usual. There are plenty of online bookmakers available to NZ bettors, but be sure to stay safe by only betting with venues that are licensed and regulated. Budget wisely, choose your bets carefully based on past performance and, most of all, have fun!
FAQ
🔎 Is sports betting legal in NZ?
🔎 What are the best sports to bet on?
🔎 What are the best betting sites for NZ players?
🔎 How do sports bonuses work?
🔎 What are the advantages of betting with international online sites?