Virtual Reality Casinos are digital online gaming environments that you can explore and interact with using real-world peripherals, such as headsets and handheld controllers. In many respects, they are a natural evolution in the online gaming world. Just as online casinos brought the gaming experience into the convenience of our homes, and Live Casinos then brought human dealers along for the ride, VR Casinos will eventually give us a gaming experience that is almost identical to the real thing at a land-based venue.
In this Ultimate Guide to Virtual Reality in Online Gaming, we will look at what VR is and how it works in relation to playing online casino games for real money. We'll explain what games and facilities are currently available and what you need to start enjoying them. Then, to round things off, we'll take a considered guess at what the future could hold for VR casinos and the direction they are likely to take.
Where to Play Virtual Reality Casino Games in New Zealand
Holds two reputable licenses
Exclusive Games Available

What is a VR Casino & How Does it Work?
When you play at a regular online casino in New Zealand, you see the game presented on the screen of your computer or mobile device. The game is usually shown from a single perspective throughout so that when you're playing a slot, for example, you'll always be looking at the game from the perspective of someone standing in front of the reels. You interact with this game by using your computer mouse or touchpad and keyboard to select your stake, spin the reels and perform any other actions that are necessary.
A VR Casino is quite different. Here, an entire casino floor is digitized so that you can explore it in much the same way as you'd explore the environment in a video game. More importantly, the scene isn't experienced via a computer monitor or smartphone screen, but via a special Virtual Reality headset. This fits over the head and eyes so that you can view the scene via small displays inside the headset itself. Turning your head allows you to look around the scene, giving you a 360-degree view of the environment. At the same time, a special glove is often worn which allows you to interact with the environment via "touch". A handheld joystick can also serve the same purpose.
What is Augmented Reality?
At this point, it's also worth pausing to define something called Augmented Reality (AR). This is something that imposes digital commodities onto the real world via a display of some kind, thereby "augmenting" your reality. For example, you could use your smartphone as a viewer and see digital items on the screen as you view your immediate environment through it.
This application has been welcomed by online shopping companies so that you can "see" items as they would look in your own home before deciding whether or not you want to place an order. AR apps also exist that allow you to "try on" different hairstyles, clothes and spectacles via the convenience of your mobile device. Augmented Reality is also being employed by architects, designers, construction companies and other professionals that need to effectively visualize the end results of their intended projects before committing too much time and money to them.

Augmented Reality vs Virtual Reality
There are benefits to both Augmented Reality and Virtual Reality, and what works best in one area of life mightn't be so useful in another. While there are probably some ways in which AR can be used to entertain online gaming fans, VR Technology has a lot more to offer. Consider the following:
Because it replaces rather than enhances reality, VR allows you to experience yourself in a purpose-built digital gaming environment that's completely different from your physical environment.
Virtual Reality casino games give you a much more complete sense of immersion than Augmented Reality games can.
Playing casino games in a Virtual Reality environment makes it possible for multiple players to share in the same experience simultaneously.
How Do Virtual Reality (VR) Games Work?
Virtual Reality casino games work in much the same way as regular casino games. The big difference in VR is that the environment of the game is digitized, and not just the game itself. You can therefore play an online pokie in a VR casino just as easily as you would at your usual casino, and the game itself would be identical. However, you'd use your gloved hand to press the Spin button rather than your mouse, and you'd be able to glance around at the rest of the lobby, just as you would if you were standing in a gambling venue in Las Vegas. You'd even be able to walk around the virtual lobby to explore the other games available before settling down at the next one you'd like to play.
From a technical perspective, the math models of VR casino games themselves work in exactly the same way as they do in non-VR games. The outcomes of the games available are determined by Random Number Generators and are checked to ensure that they're fair to all.
What are the Pros and Cons of Playing VR Casino Games?:
While the concept is very exciting, it would a mistake to think that Virtual Reality is intrinsically better than regular casino gaming. Playing VR casino games has both advantages and disadvantages, and it's good to be aware of both. Here, then, are the pros and cons of playing VR casino games:
Pros
VR casino games are far more immersive than any type of casino game that can be played remotely. The only games that are more realistic are those played at land-based casinos.
Virtual Reality games can be played by anyone who has the required equipment (which we will discuss later) and a suitable online casino account. This makes them ideal for those who are unable to visit a physical gaming venue.
When you play VR casino games you can interact with other players. All players in a Virtual Reality environment have their own avatars to make this possible.
Cons
Virtual reality is a decades-old concept, but technology is only just beginning to make it possible for recreational applications. This means that there are currently far fewer VR games available than in regular casino sites.
VR gaming demands that you have the right equipment. While the costs of such equipment are falling all the time, you will still need to make an investment in the necessary technology before you can participate.

Virtual Reality Casino Games
Virtual Reality games are fewer than regular casino games, but there are several games in different genres and new titles are being developed and released all the time.
VR Table Games
Some table games are better suited to the current capabilities of Virtual Reality technology than others, so while you can play Blackjack or Roulette, you probably won't see Craps for a while. That's because Blackjack and Roulette only require you to make gaming decisions, but Craps would need the player to roll the dice, and that's a little too demanding for VR casinos right now.
VR Pokies
Playing pokies in a Virtual Reality casino isn't a great deal different than playing in a regular casino site. The main difference is that you'll get to experience the game with a greater sense of depth and realism as you turn your head and see it from different angles, just as you would in real life.
VR Live Casino Games
Playing games with a live dealer in a Virtual Reality casino is the closest thing possible to being in a land-based casino. Not only will you be able to experience and interact with the game in three dimensions, but you will also be able to interact with the dealer who is running things.
Playing VR Poker
If there is one table game that is ideally suited for playing in a Virtual Reality environment, it's poker. This is a game that involves multiple players, often for an extended period of time, and VR allows participants to play and interact with each other in a way that is normally possible only in a land-based poker room.
When you play VR poker right now, you are just as anonymous as when playing at a regular online poker room. This means that any physical "tells" that you have won't be able to be picked up by your opponents. Instead, you can deliberately select responses for them to see when you check, call, fold or raise. In the future, it may well be the case that your physical responses will be replicated in the virtual world for all to see, so it might be worth practising your poker face in the meantime.
What is required to play VR Poker?
The requirements for playing VR poker are much the same as for playing other VR casino games. You'll need a computer that is capable of handling the processing demands of your chosen VR system, along with the headset and controllers belonging to that system.
Gonzo's Treasure Hunt – The First Live Casino VR Game
The game that brought Virtual Reality to the awareness of many online casino players was Gonzo's Treasure Hunt. This is a Live Casino game that was released in 2021 by Evolution, and it was based on the 2011 slot Gonzo's Quest. As the title suggests, it focuses on hunting for treasure - in this case, gems - in an effort to win as much as 20,000 times your bet. However, what made it particularly special is that this game can be played in regular Live Casino mode or in full VR mode.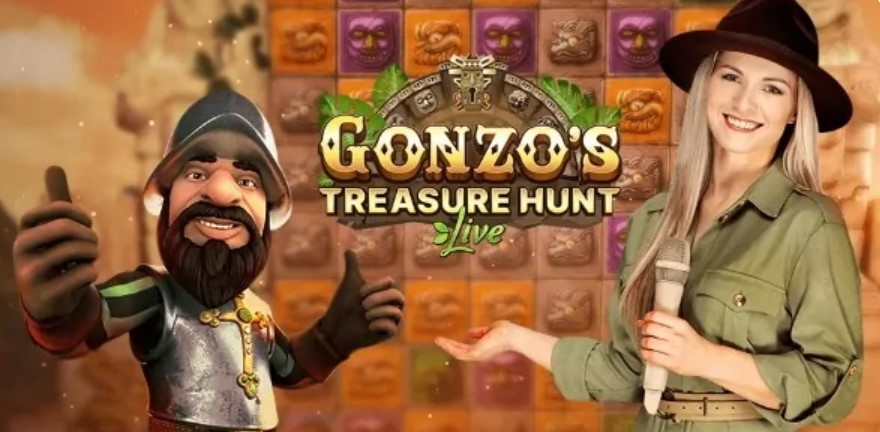 Players who choose to play Gonzo's Treasure Hunt in VR mode get to enjoy the exact same gaming experience as regular Live Casino players, but with a few additional perks. The first is the ability to have a full 360-degree view of the gorgeous rendered environment. This gives you the fantastic sensation of standing in an ancient Incan temple with a giant wall of stones in front of you. The other perk is that the VR version of the game has a special interface just for Virtual Reality players, making it easy to interact with, place bets and so on.
About Gonzo's Treasure Hunt VR Game:
Developer: Evolution
Launched: 19/05/2021
RTP: 96.56%
Do I need VR Equipment to Play Gonzo's Treasure Hunt?
This game can be played in the standard Live Casino mode or VR mode. If you want to play in VR mode to enjoy the best possible Gonzo's Treasure Hunt experience in all its fully immersive glory, you will need a VR headset, a VR controller and a VR-capable computer, as discussed in the next section of this guide. However, if you simply want to play the game in standard mode, no special equipment will be required.
What Equipment Do I Need to Play Virtual Reality Casino Games?
Most hobbies require some kind of equipment to participate in them, and Virtual Reality casino gaming is no exception. The cost of this equipment is falling year on year thanks to the rapid and continuing development of technology, but at least some outlay will be needed if you are starting from scratch. The three key pieces of equipment you will need to play VR casino games are a computer, headset and handheld controller. Let's take a quick look at each in turn.
The Computer
When you play at a regular casino site, almost any modern computer will be perfectly sufficient to give you a good experience. However, Virtual Reality games invariably require greater processing power than non-VR games. For this reason, before you can play Virtual Reality casino games you will need to ensure that your computer is powerful enough to run the VR software required.
Because technology in this field is advancing so quickly, providing you with a detailed list of specifications here would be self-defeating. Instead, we would simply advise you to obtain a computer meeting the specifications required by whatever headset and VR software you intend to use.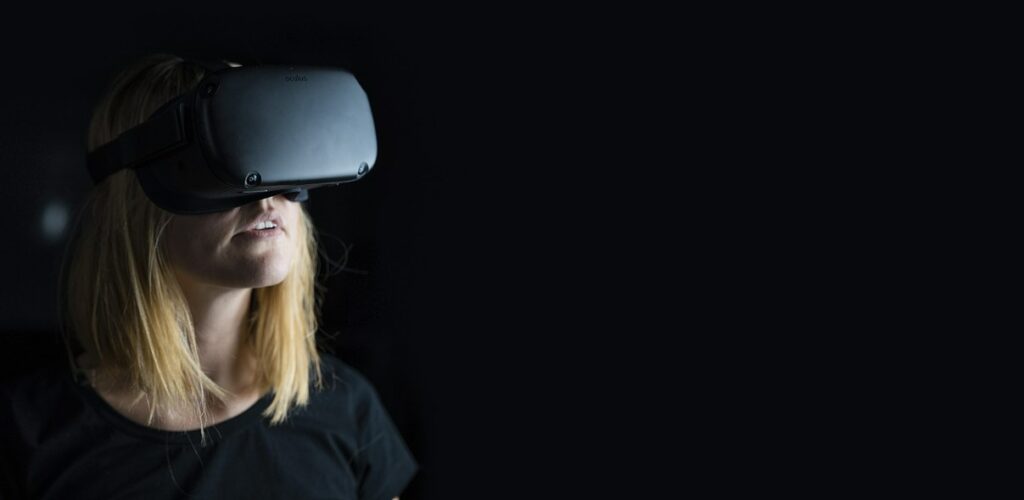 VR Headset
There are already quite a few different VR headsets that can be purchased, with models from the META and HTC ranges being the most famous. Again, instead of providing specific recommendations, we would advise you to purchase a headset that is most appropriate for the purpose you intend to use it. If you only want to play VR casino games then consider which games you want to play and heed the advice given by the casinos you want to visit. However, if you know that you will also want to use the headset with META or a video game console, you will need to make sure that it is suitable for those uses too.
VR Controllers
Most VR headsets come packaged with their own handheld controllers that you can use to interact with Virtual Reality environments. VR casino titles are designed to be compatible with the widest possible range of devices, so whether you have a glove, joystick or some other type of controller, you should have no problem playing your desired games.
Tech Developments in Online Gambling – Why Virtual Reality is the Future of Casinos
The gambling industry has always been quick to put the latest technological advancements to good use. Traditional table games once had to make room for mechanical slot machines, which then had to make room for video slots, and so on. Similarly, when the internet came along, casinos and other gambling sites weren't far behind, and these have evolved just as fast as internet speeds and web technology have allowed.
It's clear that Virtual Reality looks set to be the next big thing in online gaming. It is fairly certain that VR will have a massive impact in many different areas of life, from how we consume movies and music, right through to how we receive education and medical care. It's therefore just as certain that the gaming industry will also put VR to good use, allowing us to play our favourite games in a way that is more realistic than anything we have yet experienced.
The Future of Virtual Reality
The future of Virtual Reality itself looks to be incredibly bright. As the cost of producing VR devices falls, the technology will naturally start benefiting the lives of more people. Those end users will start coming up with new and novel ways of using the technology that we probably haven't even considered yet, and that will push the boundaries of VR even further.
We can imagine the day when a VR headset actually scans the face of the wearer so that his or her virtual avatar not only looks realistic but can express him or herself realistically too. Virtual reality suits will provide physical sensory feedback reflecting the experience taking place in the virtual world, and perhaps in a few decades, it will be possible to get implants that can record our biological markers, such as heart rate and excitement levels, so that the virtual experience can be tailored to suit.
In a very real sense, the potential applications of Virtual Reality are as unlimited as the human imagination.
In Conclusion
The concept of the Metaverse, which has become something of a 21st-century buzzword, was born in the world of science fiction -  specifically in the 1992 novel Snow Crash by Neal Stephenson. Today, just three decades later, Virtual Reality is a fact, and while it is still in its infancy, it looks set to have as much of an impact on life as television did in the 20th century. We're fortunate to be alive at such an exciting time, and we look forward to seeing how VR casino gaming develops in the coming years.
FAQ
🔎 What is a Virtual Reality casino?
🔎 What are the benefits of playing at VR casinos?
🔎 How do you play at virtual casinos?
🔎 What VR casino games can I play?
🔎 How does VR equipment work?
🔎 Are VR games bad for you?
🔎 Are VR online casino games legal in New Zealand?