Roulette is one of the most popular table games at both online and land-based casinos. It has been played since the 18th century, and possibly even earlier, so this is a game that has definitely stood the test of time. It is also a game that is likely to continue attracting players, with software developers constantly coming up with new variations to keep online gambling fans entertained.
In this Complete Roulette Guide, we'll tell you all you need to know about this classic casino game. You'll learn how the traditional game is set up, how to play, and what your betting options are, along with what you can expect to win from them. We'll tell you about the most popular roulette variations, and we'll explore the increasing appeal of playing Live Roulette.
Best Casinos for Online Roulette
Online Roulette: Setup and Presentation
The standard game of online Roulette has the same setup and presentation as the traditional land-based versions. At the heart of the game is a horizontal Roulette wheel. This has 37 or 38 numbered recesses, known as pockets, depending on whether you are playing European Roulette or American Roulette. 36 of those pockets are numbered 1 to 36, and these are coloured red or black in equal measure. A European Roulette wheel has one green pocket that is numbered 0, and an American Roulette wheel has two green pockets that are numbered 0 and 00.
When this game is played, the wheel is spun in one direction and a small metal ball is rolled into it in the opposite direction. The aim of the game is for players to predict the number or colour of the pocket that the ball will occupy when the wheel comes to rest. A wide variety of outcomes are available to bet on, and bets are made by placing casino chips on a table layout. We'll present the full explanation of the betting opportunities you can choose from, along with their respective payouts, a little later in this guide.
The big difference between online Roulette and the offline version is that the online game is driven by computer software rather than a human croupier. Each spin of the wheel will deliver an outcome that is determined by a Random Number Generator, and the odds of winning are exactly the same as they are when visiting a land-based casino.
Live Roulette
A fairly recent development in the world of online gaming is Live Roulette. This is something that gives you all the convenience of playing online but with a much higher level of realism. The greater realism is thanks to the fact that a Live Roulette game is played in a casino studio with a physical wheel and is operated by a live dealer.
The action is streamed live to your computer or mobile via video feed, and this allows you to place bets remotely and see things unfold in real time. You can even use a Chat feature to interact with the croupier to add some fun and banter to the game. You can read more about live roulette on our page about Live Casino games.
How to Play Roulette: Betting Options
Although a Roulette wheel and table layout might look quite complicated at first glance, the game is actually very easy to play. This makes it just as suitable for complete beginners as it is for aficionados, which is probably why its popularity is as strong today as it was in the golden age of land-based casino gaming. A typical table layout is illustrated below: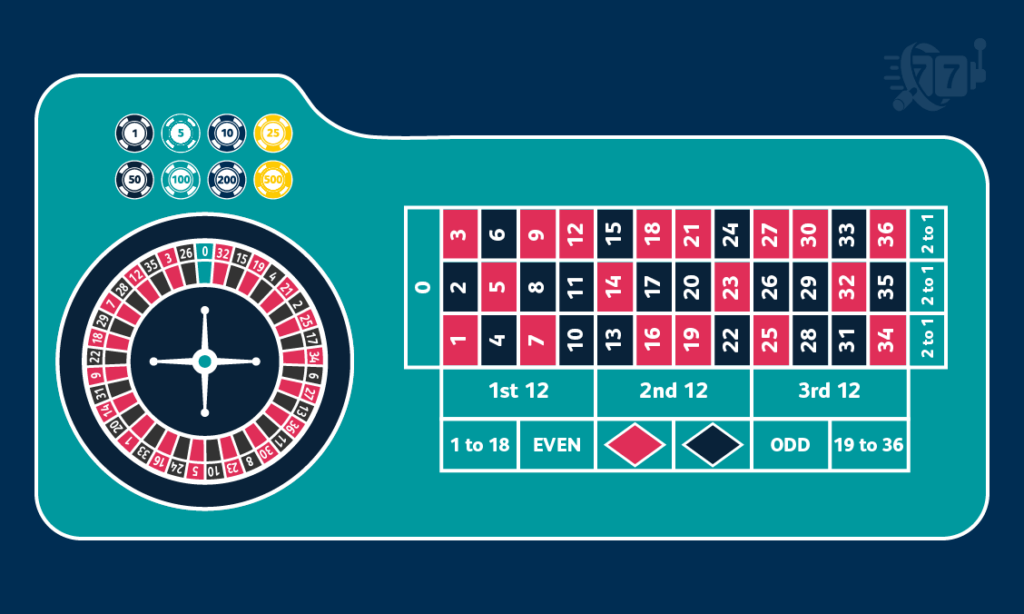 Game Options You Can Bet On
As mentioned earlier, to win at Roulette you have to predict which pocket the ball will land in. There are many different betting options that you can choose from, and the most popular ones are as follows:
When you are playing a software-driven game of online Roulette, allow your mouse cursor to hover over the numbers on the table and you'll see more betting options become available. These allow you to bet on a Split of two numbers, a Corner of four numbers, and so on, as illustrated below.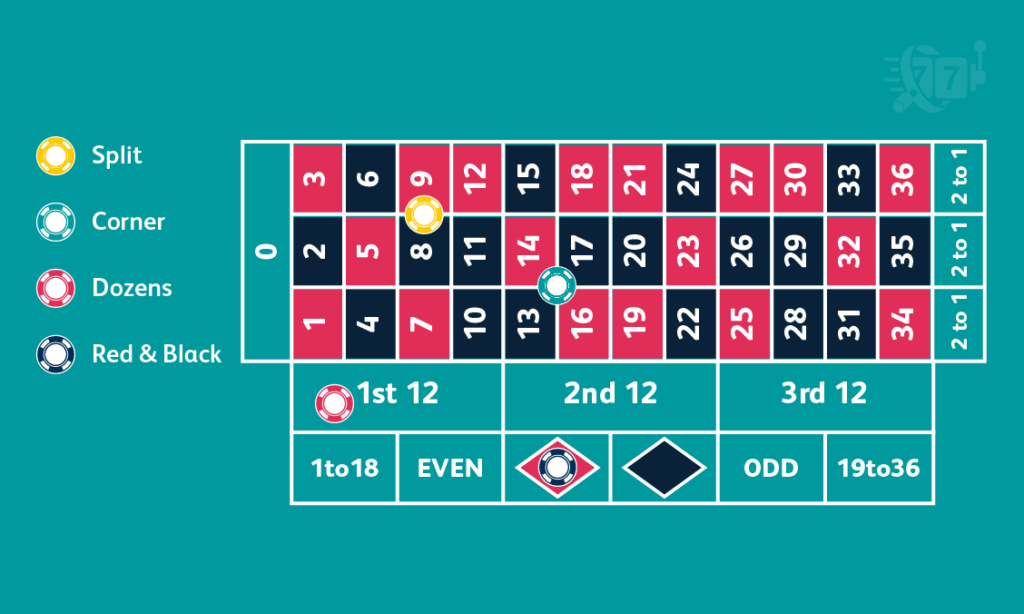 You will also notice that the Roulette table layout is also divided into two sets of three divisions. These first set of divisions allow you to bet on any of three Dozen, as follows:
The other set of divisions allows you to bet on any of three Columns of 12 numbers.
Inside and Outside Bets
All of the bets that we have just defined can be classified as Inside or Outside bets. That classification refers to where the bet can be found on the table layout, as shown in the image below: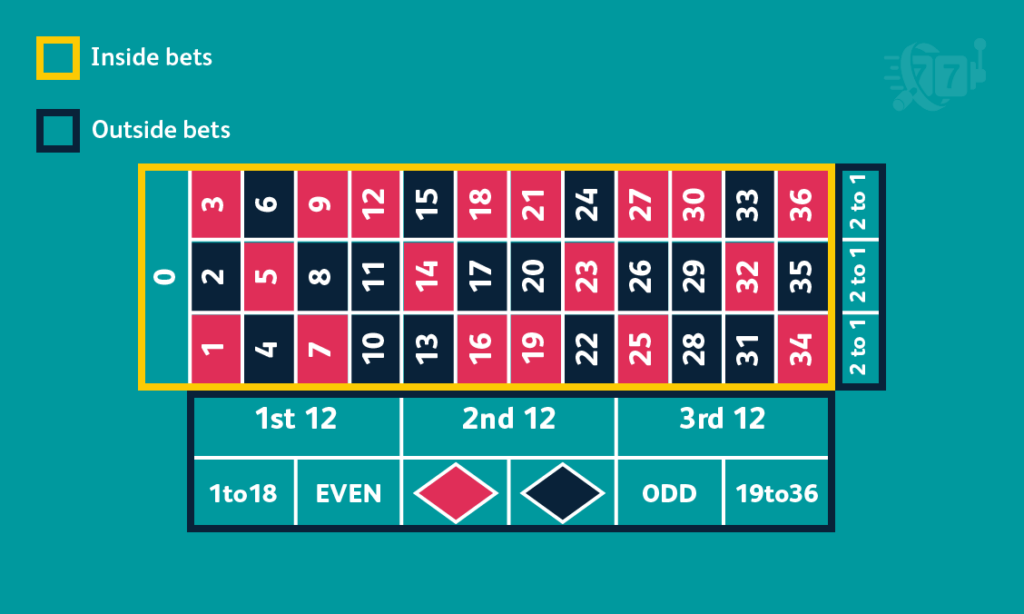 Inside bets pay more than Outside bets for the simple reason that they are more difficult to win with. For example, let's assume that you're playing a game of European Roulette with just one green 0 on the wheel. If you place a Straight-Up bet that the next number will be 16, you will only have a 1 in 37 or 2.70% chance of winning. However, if you bet that the next number will be ODD you will have an 18 in 37 or 48.64% chance of winning.
Here are all of the Inside and Outside bets that can be made, along with the Roulette payouts that are made for a winner in each case:
Inside Bets
Outside Bets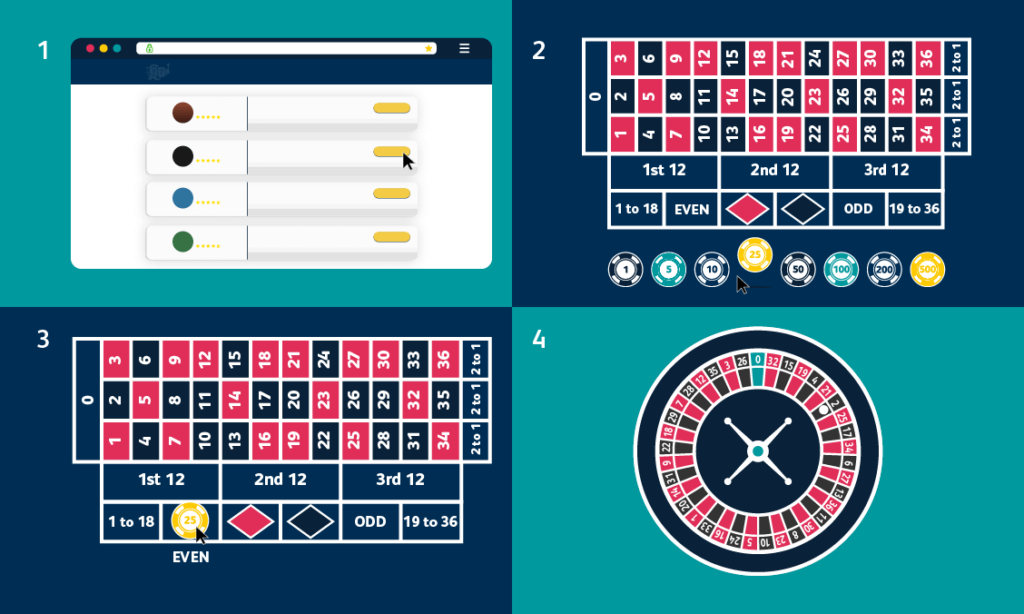 How to Play Roulette: Procedure
Now that we've gone through the basics of Roulette you should have a fairly good understanding of the game and the types of bets that can be placed via the table layout. You've learned that different bets pay different sums, depending on the likelihood of them succeeding and that you can play online Roulette as a software-driven game or as a Live Casino game. With all of that covered, we will now explain how to play the game, step-by-step.
1. Choose Your Casino and Roulette Game
The first thing you need to do before you can start, is to choose a good venue to play at. Check out some of our top rated casinos listed above, or read through a few of our online casino reviews and find one that appeals to you. Signing up for a new account takes no more than a minute or two, and when you have done that you can navigate to the table games section and explore the available Roulette games.
As you'll see shortly, there are many different versions of Roulette that can be played at modern casinos. To begin with, we recommend choosing a standard traditional format, such as European Roulette. Feel free to test more than one game to see which one you like best, especially if your chosen casino allows you to play games in "demo mode" without taking any financial risk.
2. Place Your Bet
When you've launched your chosen Roulette game you will be presented with the wheel, the table layout and some kind of chip rack that lets you select casino chips of varying denominations. First, click the chip that represents how much you want to bet and then click the area of the table layout that represents the bet you want to make.
For example, if you want to bet NZ$25 on the next number being EVEN, you would click the chip marked 25 and then place it on the EVEN area of the layout, as illustrated below.
When you have placed your bet, click the SPIN button to start the roulette wheel. If the winning number matches the outcome you have bet on, you will win at the appropriate odds and your prize will be added to your account automatically.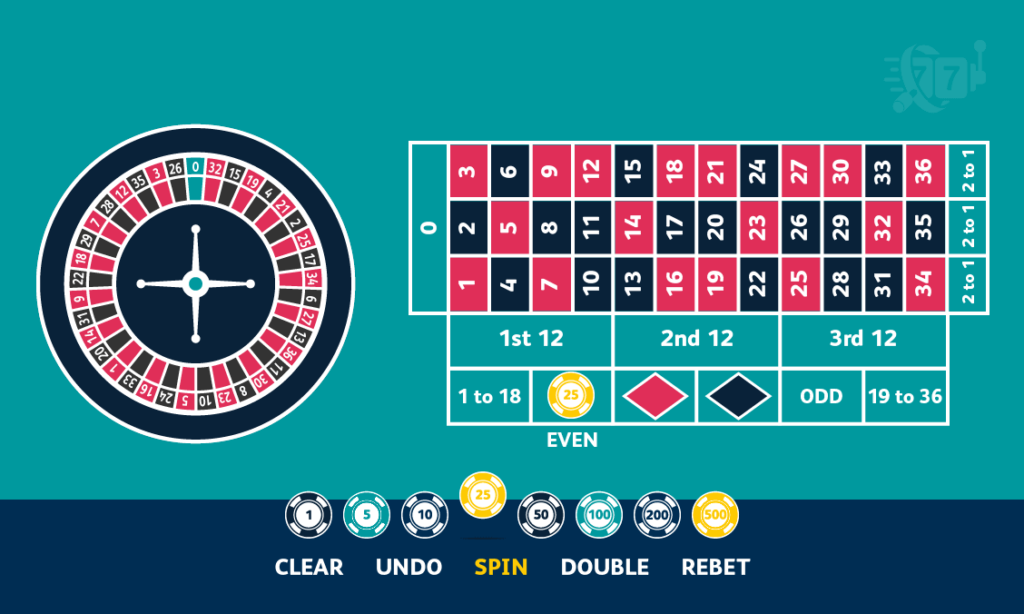 3. Exercise Your Game Options
Many online Roulette games give you the option to take several other actions at the click of a mouse button. The actions available will tend to vary from game to game, but the most common options that you are likely to encounter are outlined in the list below.
4. Consult the Rules At Any Time
Every Roulette game is governed by a set of rules. These can differ according to what type of Roulette game you're playing and which developer created it. This being the case, it's always good to consult the rules before playing a game for the first time, or at any other time should you ever need to refresh your memory.
The rules can usually be accessed by clicking on a small icon that looks like a question mark or a settings cog. They can be particularly useful when playing a game with added features that you haven't seen before, such as side bets. The rules may also give you information about the background of the game and the payouts for different bet types, should those differ from the norm.
Special Rules: En Prison and La Partage
As with all classic table games, it's easy to learn the basics of roulette and get started, but there are also some advanced rules that are worth knowing for the long term. In the world of Roulette, two fairly common terms that you might come across in certain games are En Prison and La Partage. Both are French terms, and we'll now take a few moments to explain what they mean.
En Prison
En Prison (literally meaning "in prison" in French), is a rule that occurs at some tables when you bet on an even money outcome, meaning one that pays 1:1 for success, such as RED, BLACK, ODD, EVEN and so on. If you place such a bet and the ball lands in a green pocket, your bet will normally lose. However, when you play a game with the En Prison rule in place, your stake will not be lost automatically. Instead, the croupier will offer to place your bet "en prison".
If you agree to this, your chips will remain on the table for the next spin of the wheel, and a special marker will be placed on them to signify that they are En Prison. If your bet wins on that next spin, it will be returned to you, but no additional profit will be paid. However, if the bet loses on the next spin, the En Prison bet will be lost.
La Partage
The term "La Partage" can be loosely translated from the French as "the division". This rule is often found in French versions of the game, as well as in some other European versions. When you play online Roulette, you'll discover that several leading game developers, including NetEnt, Microgaming, and Playtech, have variations that include the La Partage rule.
Like the En Prison rule, La Partage only comes into play when you bet on an even money outcome (RED, BLACK, ODD, EVEN and so on) and the ball lands in a green pocket. In this case, instead of losing the whole of your bet, the La Partage rule will divide it so that you only lose half, with the other half being returned to you.
Popular Roulette Variations
There are many different versions of Roulette that can be played. The basic rules that we have previously discussed are for the standard European Roulette game, but they tend to be much the same for all versions. Having said that, the rules in some games can deviate from the norm to a greater or lesser extent. In this section of our guide, we will take a brief look at some of the most popular Roulette variations you are likely to come across so that you know what to expect from them.
European Roulette
This is widely considered to be the standard form of Roulette, and its key identifier is the fact that it has just one green 0 on the wheel. Because all bets tend to lose when the ball lands in a green pocket (unless you have actually placed a Straight-Up bet on 0), having just one of them in play is good for players. The house edge in European Roulette is 2.70%, which means that, over the long term, the casino can be expected to retain 2.70% of all of the money it takes in bets. If the En Prison rule is also in play, as it is in some versions of European Roulette, the house edge will be even lower.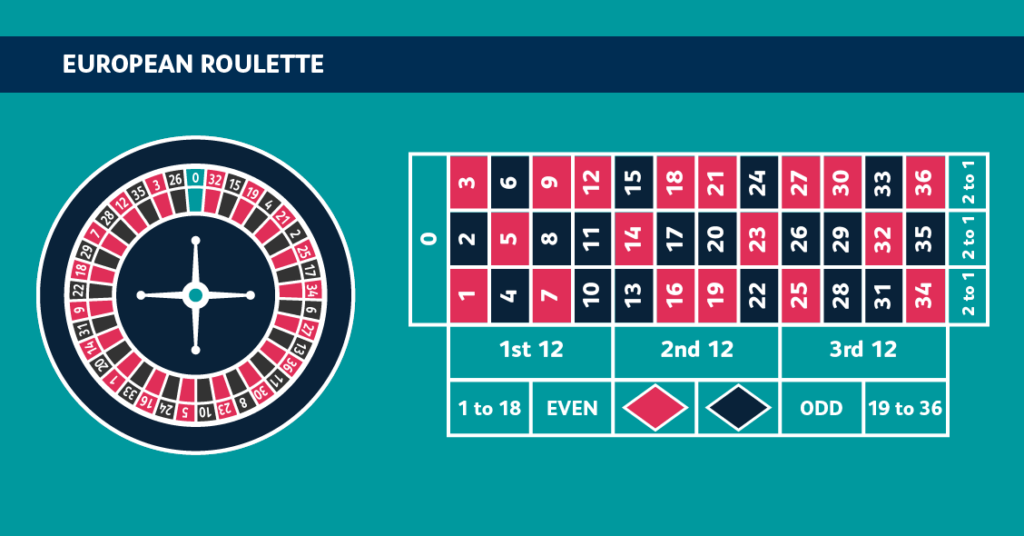 American Roulette
An American Roulette wheel can easily be identified from the fact that it has two green pockets - 0 and 00. The rules of the game are exactly the same as when playing European Roulette, but the presence of a second green pocket gives the casino a house edge of 5.26%. This is almost twice as big as the house edge in European Roulette, so unless you specifically enjoy betting on 00 for some strange reason, the European version is probably the wiser choice.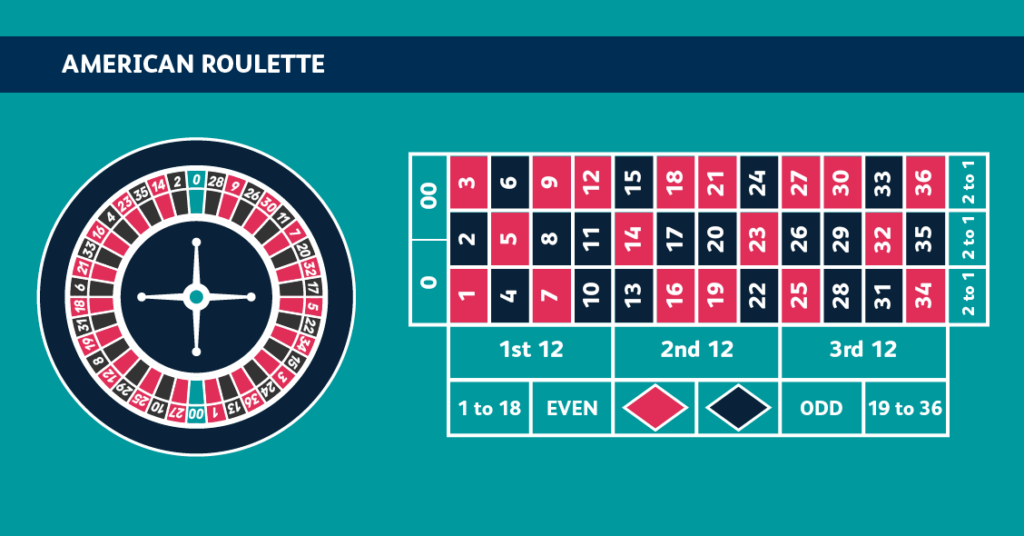 French Roulette
A French Roulette wheel is much the same as a European Roulette wheel, having just one green 0. The big difference in this game is that the En Prison and La Partage rules are usually in play. If the ball lands on 0 when you have made an even money bet you will be able to choose which one you want to take advantage of.
Another difference that you'll notice concerns the table layout. The areas for betting on even money outcomes will be on opposite sides of the Inside bets area. They are also likely to be labelled in French, although many tables also have their English equivalents, as can be seen in the illustration below.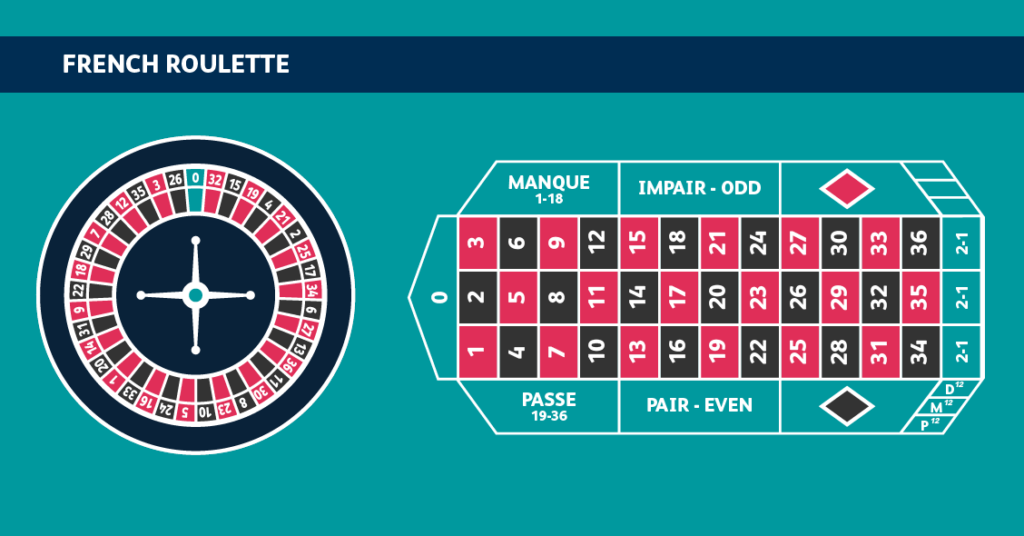 Lightning Roulette
Lightning Roulette was released by Evolution in 2018, and it basically reinvented the game for modern online casino fans. You'll find the original version in the Live Casino section of casinos, but a software-driven First Person Lightning Roulette version is also available.
In both cases, every spin of the wheel will see anything from 1 to 5 numbers being randomly selected to be enhanced by a multiplier of 50x to 500x. If you are lucky enough to bet on one of the randomly selected numbers and it wins, you will be paid at the enhanced odds.
Assuming that you land a win on a number that hasn't been enhanced, you'll win the same as in a standard game of Roulette. The only exception is if you have placed a Strait-Up bet on a single number, which will pay 30:1 instead of 35:1.
Immersive Roulette
This is another Live Roulette variation from Evolution, and what makes Immersive Roulette special is the way in which it gets you even closer to the wheel than you could be even in a land-based casino. The game itself is European Roulette, but here the video feed will be focused on the wheel as it spins, giving you a close-up view of what's happening in high definition. A variety of angles are provided so that nothing is missed. Even better, when the ball has landed in its final resting pocket, you will get to enjoy a superb slow-motion replay.
Other Variations
There are hundreds of other variations of online Roulette, but by the time you've played the ones described above, you'll have no trouble adapting to alternatives. Some games might give you the opportunity to place side bets in addition to your main bets, others will be presented in a specific cultural style (from an Italian-style casino studio in the Italian language, for example) and some will have specific themes.
Playing Online Roulette On Your Mobile
Modern mobile devices such as smartphones and tablets often have just as much or even more computing power as desktop machines did a decade ago. This means that they are perfectly capable of running almost all types of Roulette games, including Live Roulette titles. That makes online Roulette a game that you can enjoy at any time and in any place where you have a reliable WiFi or mobile internet connection.
Most online venues make it very easy to play casino games on mobile devices. Some offer free mobile apps that you can download to your device, while others allow you to visit the casino and log in via your usual mobile browser. In both cases, you'll find that online Roulette games are perfectly enjoyable despite the smaller screens of smartphones and tablets. However, we advise wearing headphones if you want to get the most out of the audio content.
Pros and Cons of Online Roulette
As with any other classic casino game, there are plenty of advantages to playing Roulette online. However, no format is completely perfect, and there are a couple of things that the online game lacks when compared with its offline predecessor. Here is our in-a-nutshell summary of the pros and cons:
Pros
Cons
Roulette Hints and Tips
You now have all the knowledge you need to begin playing with confidence. But wait! Before you rush off, here are some useful hints and tips to help you to avoid common mistakes and get your online Roulette gaming hobby off to the best possible start.
Start with Classic Games
We've highlighted various Roulette game types, but if you're new to the game, focus on the classics, rather than those that offer side bets or non-standard payout schedules. Our advice would be to start with European Roulette which has just one green pocket, as this will give you more chance of winning than American Roulette, which has two.
Understand Risk and Reward
As you've seen, different bets offer different Roulette payouts, depending on how likely you are to succeed with them. It's important for you to understand that the bigger the potential payoff, the more chance there is that your bet will lose. It can therefore make sense, especially in the early days, to focus on bets paying Roulette odds of 1:1 or 2:1, and to leave the bigger risk bets (such as Straight-Up bets on single numbers) for when you have had plenty of experience at the tables.
Remember that Roulette is a Game of Luck
Whether you win or lose at Roulette is completely dependent on luck. There is no staking pattern or Roulette strategy you can follow that will improve your chances of success in any way, shape or form. It is important to remember this, as there are some advocates of so-called "systems" and "strategies" who try to convince players that the game can somehow be beaten. It can't. The casino will always win over the long term, and if that weren't the case they wouldn't still be operating after all this time.
Manage Your Bankroll
Your bankroll is the amount of money that you set aside to play with. It should be a sum that you can afford to play with and potentially lose, and you should try to get as much bang for your buck as you can. Be sure to explore all available casino promotional campaigns that can help you to enhance your bankroll with bonus funds. In addition, you should consider dividing your bankroll into chunks and only risking one chunk in any given Roulette session. This will leave you with more chunks for future sessions if you happen to have a run of bad luck.
Conclusion
Roulette is an elegant and traditional game with a long history, and the many different variations found in online casinos make it easy to find one to suit your style and preferences. Roulette is easy to play, and because it's a game of pure chance, skill doesn't come into it at any stage.
Whether you come to prefer software-driven Roulette games or Live Roulette games with real-life dealers, you'll have scores of titles to choose from, and you can look forward to many more new varieties being released in the years ahead. In short, Roulette is a game that has been around for centuries for one reason and one reason only - it's an enjoyable and entertaining game for new and experienced players alike.
FAQ
🔎 Is it easy to learn how to play online roulette?
🔎 Is it easy to win at online Roulette?
🔎 Is there a correct online roulette strategy?
🔎 Advantages of playing roulette online?
🔎 Can I play online roulette for free?