When Live Caribbean Stud Poker was first released by Evolution at the end of 2015, it was the first Live Casino version of the modern table game available anywhere online. Several other versions have appeared since, but Evolution's original offering remains the most popular. It offers all the thrills of the classic game as it is played at land-based casinos around the world, but Live Caribbean Stud Poker also offers optional side bets that give you the chance to win as much as 1000 times your stake or an even larger progressive jackpot.
Best NZ Casinos Sites to Play Live Caribbean Stud Poker
Live Caribbean Stud Poker Facts & Info

Game Setup and Presentation
Caribbean Stud Poker is a fairly modern casino table game that has been around since the 1980s. This Live Casino version from Evolution is streamed from a studio that has an abstract background of vertical gold bars, and the gaming table takes centre stage.
The table in this game has areas for the Dealer's hand, for your hand as the Player and for betting. The betting area shows several circles, and these are labelled Ante, Call, 5+1 Bonus and Jackpot. It should be noted that the 5+1 Bonus and Jackpot circles represent optional side bets and that the main game can be played without them. It should also be noted that the Jackpot side bet option is only available at participating casinos.
How to Play Live Caribbean Stud Poker
The aim of Caribbean Stud Poker is for you, the Player, to beat the Dealer with a five-card poker hand. The game begins when you make an Ante bet (plus either of the optional 5+1 Bonus or Jackpot side bets) and this will result in you being dealt five cards, all of which will be face-up on the table. The Dealer will also receive five cards, but only the first of those cards will be dealt face-up.
At this stage, you must decide whether you want to continue to play the hand you have been dealt, or fold the hand and start over. Folding the hand will cause you to lose the Ante bet that has already been placed, but any optional side bets will stand. If you want to continue, you need to make a Call bet of equal value to the original Ante bet.
Assuming that the Dealer has qualified, the best hand - according to standard poker hand rankings - wins. The possible hands and the payout for each - in order from strongest to weakest - are detailed below: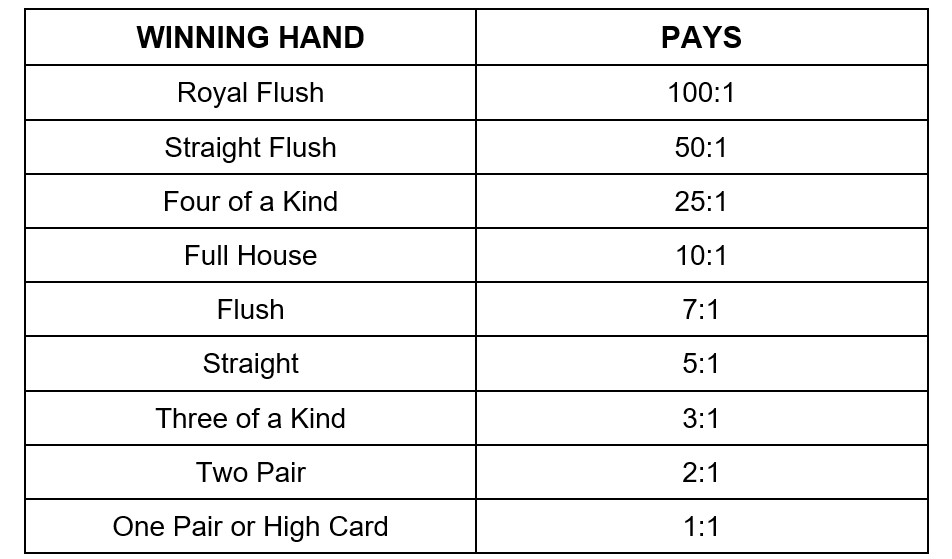 5 + 1 Bonus and Jackpot Side Bets
If you make an optional side bet you will also have a chance of winning even more. The 5+1 Bonus bet is settled using the Dealer's up-card and your own five cards to make the best possible five-card poker hand. The Progressive bet will pay you a share of the progressive jackpot for a Royal Flush or an enhanced fixed payout for lesser hands, as detailed below: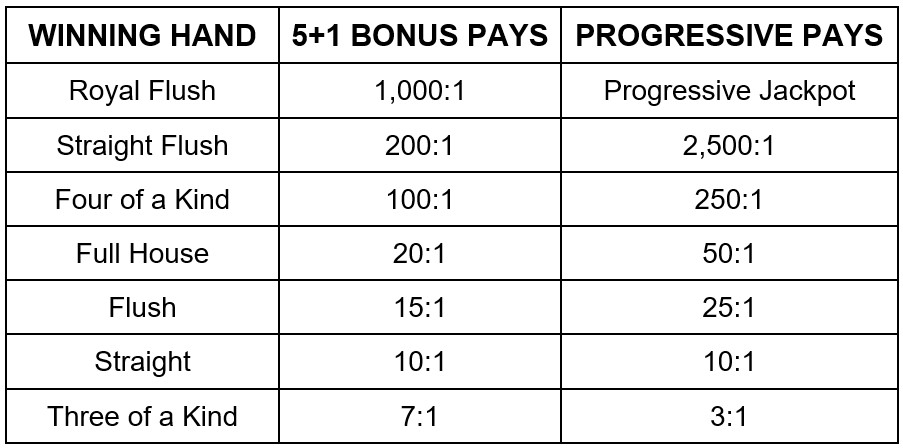 Live Caribbean Stud Poker: Our Verdict
Caribbean Stud Poker is one of the simplest poker games, as the only decision you're asked to make is whether or not you want to play the five cards that you are dealt. This makes the game just as suitable for complete beginners as for experienced players, and the optional side bets available in this Live Casino version from Evolution add even more excitement to proceedings. Whether you want to try and win yourself a share of a hefty progressive jackpot or focus on winning from the standard pay table, you're sure to have lots of fun.