Sports-themed online casino games are plentiful, but there is always room for one or two more, especially if they bring something new to the table. Super Striker is a five-reel pokie from NetEnt that does exactly that. It has a great soccer theme and a thrilling stadium atmosphere, but what makes it particularly special is that it allows players to place side bets on what symbols will land with each spin of the reels. This allows you to win in two different ways, and that's before we've even mentioned the multi-level Free Spins round.
Play Super Striker Pokie at These Casinos
Super Striker Info and Facts
Gaming provider: NetEnt
Launch date: 2020
Number of reels, rows, and paylines: 3 x 3 | 5 paylines
RTP & volatility: 96.04% | Medium/High volatility
Min and max bet: 0.10 - 75.00
Game features: Bet Slip, Golden Scatter, Multi-Level Free Spins

Format and Presentation
Super Striker is rather unusual in that it combines the very latest in audio, visuals and features with a fairly simple and somewhat retro-style layout. There are just three reels, three rows and five pay lines, and all of the action takes place in the middle of a packed football stadium. We know it's packed because the crowd makes a great deal of noise from the very start, cheering, chanting and singing as you play. You'll even hear an air horn or two being blown when you land a winning combination of symbols on the reels.
The symbols appearing on the reels include a single, double and triple GOAL!!! sign, a red and black pair of football boots, a golden pair of boots, a player in a red and black football shirt, and a golden player. A black and white regulation football serves as a scatter, and a golden football is a special Golden Scatter.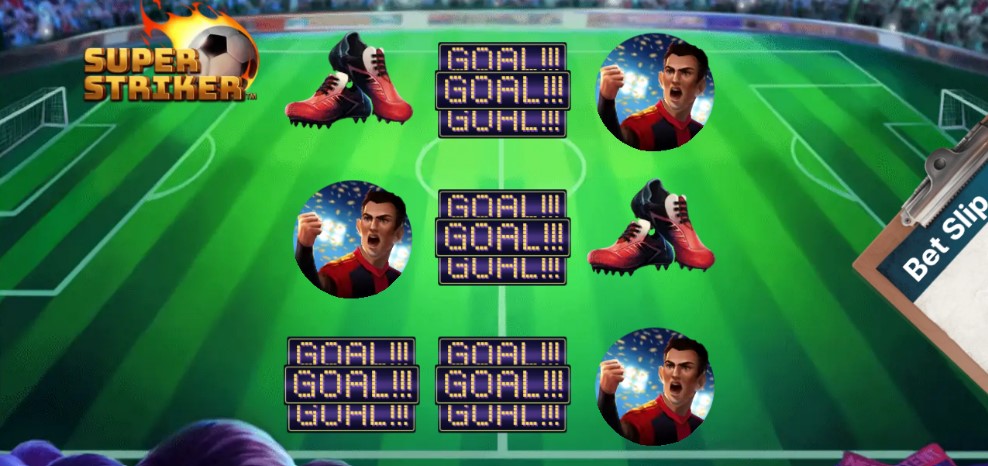 All of the symbols in Super Striker award prizes when you get three of the same on a single pay line. However, you can also pick up a prize by getting a mix of any three GOAL!!! signs, such as a single, a double, and a treble.
The audio in Super Striker is sensational. Each reel comes to rest with the sound of a boot kicking the ball, scatters make their own sound when they appear, and when a side bet comes to a conclusion you'll hear the blow of a final whistle. These touches give the pokie an authentic sense of atmosphere that all football fans will love.
Golden Scatter Feature
When you land a golden football on the reels you will trigger a Golden Scatter Feature. This is the simplest feature in the game, and it will award you a prize that will be determined at random.
Bet Slip Feature
To the right of the pokie reels, you'll see part of a clipboard with a Bet Slip attached to it. Click that clipboard at any time when playing the main Super Striker game and it will open up the side bet screen. This lets you choose any of eight different game symbols and then bet on a certain number of that symbol appearing on the reels within a certain number of spins.
For example, select the single GOAL!!! sign and you can bet on 11 appearing within 10 spins, 30 appearing within 30 spins, 60 appearing within 50 spins, or 120 appearing within 100 spins. Each outcome gives you a different potential payout, depending on how likely it is to happen, and you can adjust the size of your bet to suit your bankroll as well as your attitude to risk.
When you have submitted your bet, you'll be returned to the main pokie and the active Bet Slip will be shown on the right. Every time your selected symbol appears, it will be deducted from the number that needs to be collected, as stated on the slip. The slip will also show you how many spins you have left to go to meet the number required.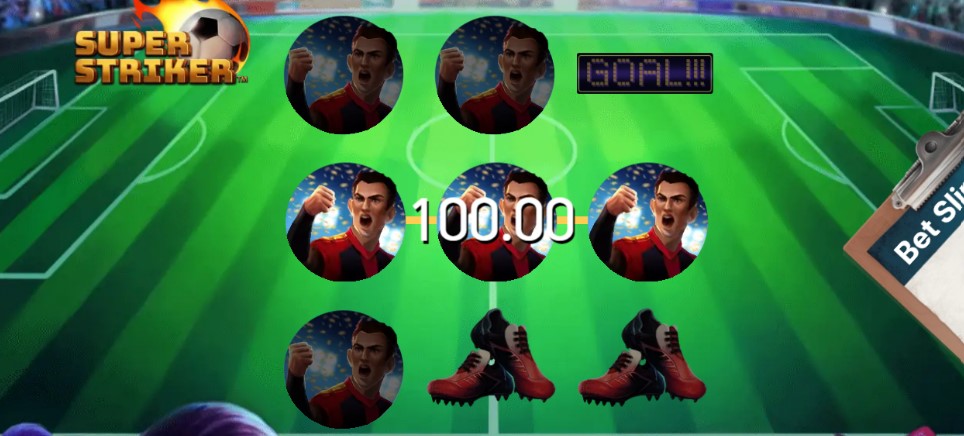 Super Striker Free Spins
The main special feature in Super Striker is the Free Spins bonus round. This will be triggered when you get 3 football scatter symbols on the reels at the same time. If a football scatter appears on the first and second reels, the third reel will be illuminated to build tension as you wait and see if a third scatter will land.
When it is triggered, this feature will give you 3 free spins. That sounds quite low, but the number of remaining free spins will be reset to three every time a scatter symbol lands on the reels, and that can keep things going for quite some time.
Only golden scatter symbols and blank spaces are in play in this part of the game. Once they have appeared, golden scatter symbols will stick in place from spin to spin.
This free spins round has five levels. Fill the whole grid with scatter symbols and you will progress to the next level. Each level has its own multiplier, from x1 on Level 1 to x10 on Level 5.
Super Striker Tops the League
If you were to see a still image of this pokie, the simple format of Super Stiker might cause you to think that it's an old-fashioned game. However, its fast pace, rich audio, and engaging special features - of which there are several - sets it apart as something quite special. NetEnt has done a great job in designing a sports-themed game that makes a real contribution to the genre. We loved reviewing it, and we have no hesitation in putting it at the top of the league.