The Respinners is a five-reel pokie from Hacksaw Gaming that strives to provide an authentic live music experience for anyone who plays it. That might sound like something of a tall order, especially when you consider that the band at the heart of the game is entirely fictional, but we were very pleasantly surprised. So much so that in many respects we prefer playing The Respinners to games based on and featuring the music of actual bands. Read on and we'll explain why.
Play The Respinners Pokie at These Casinos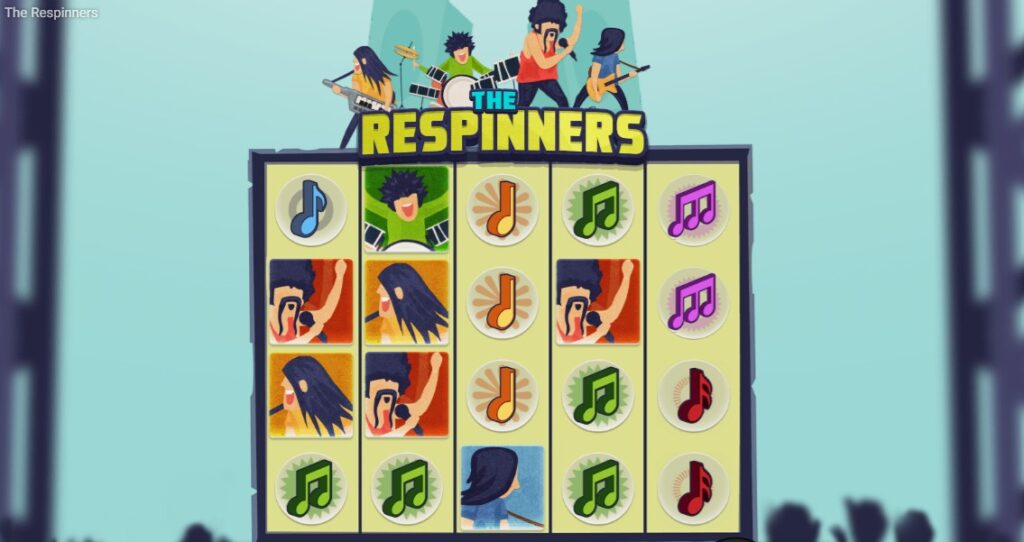 The Respinners Info and Facts
Gaming provider:
Hacksaw Gaming
Launch date: 2020
Number of reels, rows, and paylines: 5 reels | 4 rows | 1024 paylines
RTP & volatility: 96.4% | High volatility
Min and max bet: 0.20 - 75.00
Game features: Respins, The Crowd Goes Wild, Free Spins
A Stylistic Triumph
When you launch this game you'll first see a concert poster promoting the event while the title loads, and then the action quickly moves to an outdoor Casino Arena. A minimalist background shows the raised hands and bobbing heads of the crowd in front of you in a soft-focus silhouette, while the focus is on the five-by-four slot grid. On top of the grid stand the four members of The Respinners, with a keyboard guitar player on the left and a regular guitar player on the right. Between those two you'll see a drummer and a lead singer. These players have a central role in the game, so we'll return to them shortly.
The 5 reels themselves have a pale yellow background and show a variety of musical notes as symbols. There are five different note symbols paying lower-value prizes, and higher-value prizes are won by matching band member symbols, of which there are four. This game gives you 1,024 ways to win with each spin of the reels, and you can spin by using your mouse on the spin icon or by pressing the space bar on your keyboard.
Visually, The Respinners pokie is very simple to look at, but that simplicity suits the outdoor concert theme beautifully. As far as the audio content is concerned, you should expect to be impressed. When you aren't spinning the reels you'll hear a simple bass line being played over a pedestrian drumbeat, but when you land a win or two another player will come in with a melody on top, and the music continues to build up layer-by-layer as you play, which is a superb touch.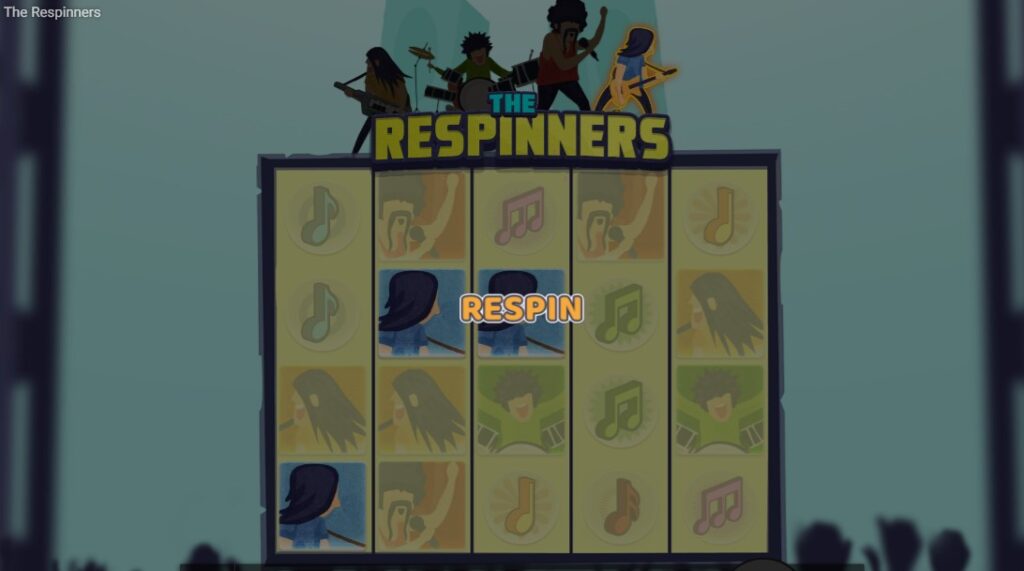 Respins Feature
Whenever you land a win with a band member symbol, the corresponding member standing on top of the grid will be highlighted by a spotlight. You will then receive a free Respin, which gives you a chance of landing another win without any further cost. If you land another band member win, that member will also be highlighted and you'll get a second Respin, and so on. Get lucky enough to win with all four band members in a single round and you'll trigger the game's Free Spins feature, which we will discuss a little later.
The Crowd Goes Wild
Another feature that can be triggered when playing The Respinners is called The Crowd Goes Wild. This feature can be activated at random on any spin in the main game, and when that happens a random number of wild symbols will be added to the grid. It's possible for up to 12 wild symbols to be added, so keep your fingers crossed and you may well get enough to help you land a big win.
Free Spins Feature
The main special feature to be triggered in this game is the Free Spins round. As we mentioned earlier, this can be activated by landing wins with all four band members in the same round, and the musical build-up to the possibility of that happening makes it particularly exciting when everything finally comes together.
You will receive 12 free spins to enjoy in this part of the game, and each of the four band members will have their own multiplier value. This value will be applied to any win of that band member's symbols, and it will then increase by 4 so that you have a chance of winning even more next time.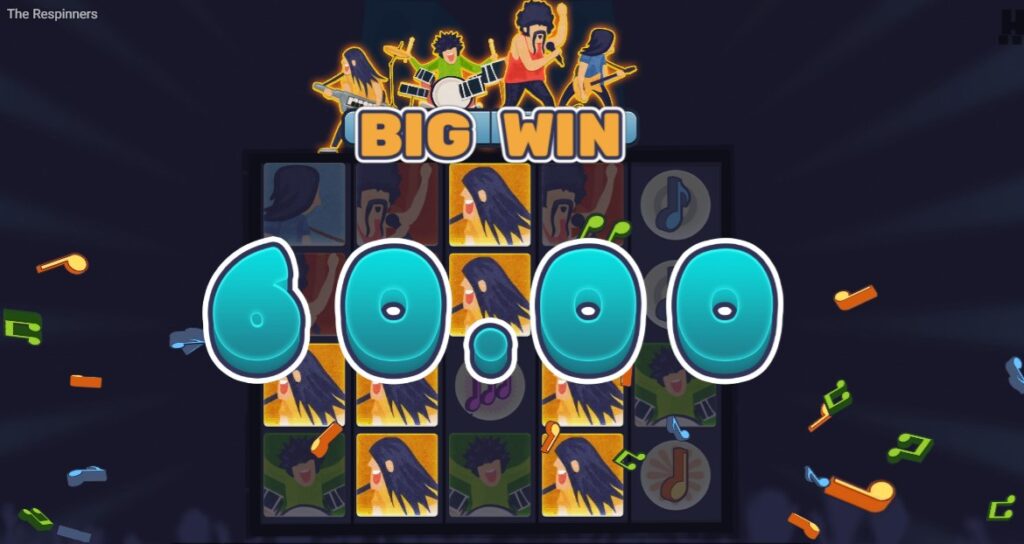 Additional Information
The audio is one of the richest parts of this game, but if you want to turn off the music or all sound at any point, you can easily do so via the settings menu. That menu also gives you access to all the information you might need about the game, including the paytable of symbol payouts, what happens if a game is interrupted, and so on.
Should you want to set the game running automatically, you can easily do that via the play button at the bottom right of the pokie screen. Click Advanced and you will be able to play 10, 25, 50, 75, 100, 500 or 1000 rounds, and state whether you want the game to stop on a special feature win or when you have reached a certain loss or single win limit.
The Respinners: A Great New Sound for Music Fans
There is no shortage of music-themed online pokie games in the world, but The Respinners stands apart from the rest for several reasons. The first is that it has an open-air concert vibe that is pulled off magnificently, and the quality of the audio is such that it actually sounds as you'd expect it to when standing in an outdoor arena environment. Mix in the requirement to highlight all four band members to trigger the Free Spins feature, and each one giving you their own multiplier when you succeed, and we think that this is a game you'll want to take for a spin again and again. Play The Respinners at one of the above mentioned casinos, or check out more options of the very best NZ casinos and get spinning.