Baccarat hasn't traditionally been a particularly well-known casino game in New Zealand, but its wide accessibility at online venues has helped it to enjoy a much higher profile over the last decade or two. This classic card game is a lot easier to play than it might seem at first glance, so in this article, we'll tell you all you need to know to start playing with confidence. If elegance and class are qualities that appeal to you, read on and baccarat could soon be your favourite online casino game.
Where to Play Baccarat Online in NZ

Online Baccarat: An Overview
The version of baccarat that is played online is also known as Punto Banco. We mention that at the outset because some gambling sites will list the game as baccarat in their lobby and others will list it as Punto Banco. Please be assured that this is exactly the same game when playing online.
Online baccarat is a game of chance that involves no skill or decision-making on your part as the player. While the game might appear a little complicated when you look at the rules governing how hands are played out, actually playing is as easy as playing an online slot. It is therefore perfectly suitable for beginners as well as experienced baccarat enthusiasts.
As far as setup is concerned, baccarat is classed as a card game or table game, and it uses a standard deck of 52 playing cards. Most casinos deal cards from a shoe of six or eight decks. The table is marked so that you can bet on three possible outcomes, known as the Player, the Tie, or the Banker, as shown in the illustration below: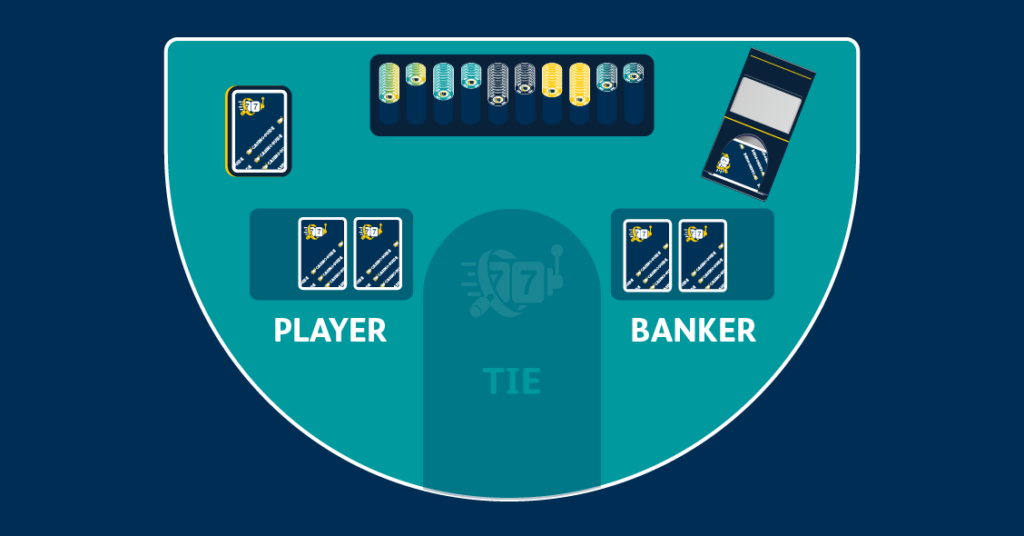 The Player and Banker do not represent you and the casino but are merely the names of the two hands that compete in each game. You as the player bet as an independent observer, so you can bet on any of the three outcomes (Player, Tie or Banker) as you prefer.
And what are you betting on? We're glad you asked! Your task is to bet on whether the value of the Player hand or the Banker hand will be closest to a total of 9. Playing cards have slightly different values than in other games, as follows: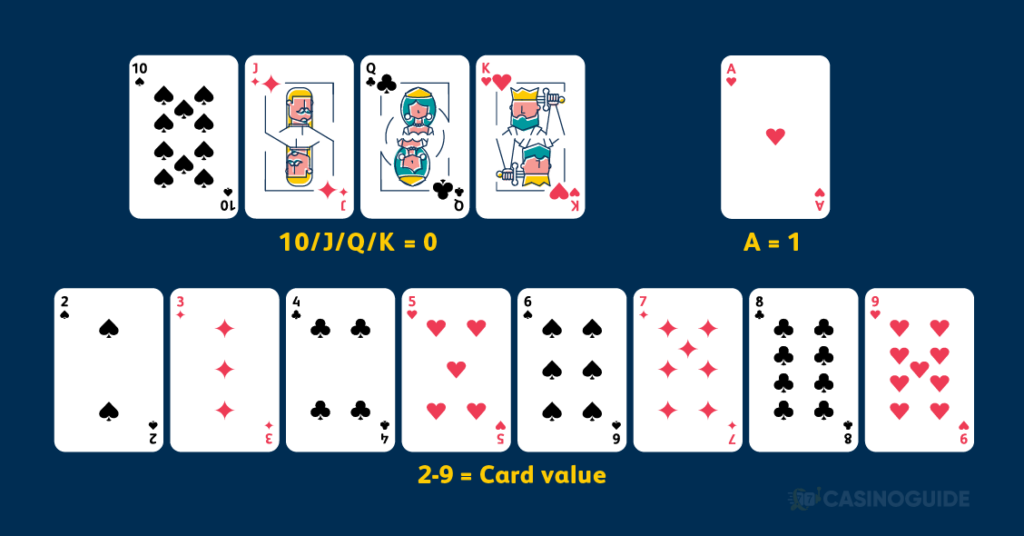 A game begins with each of the Player and the Banker hands being dealt two cards face-up. The value of the cards in each hand are added together, and if that total has two figures, only the second figure is retained as the total.
For example, imagine that the Banker is dealt a 5 and a 7. This would total 12, but only the second figure is retained, so the value of the hand would be 2.
Depending on the total of a hand, a third card may be dealt to it. We will discuss this in more detail shortly.
Payouts for Winning Bets
In most games of online baccarat, the odds paid for success are as follows:
How to Play
As you've just seen, the basic rules of online baccarat are quite simple. Actually playing the game is also very straightforward, and to illustrate that point we will now take you step-by-step from making your bet to - hopefully - receiving some winnings. We'll also explain when the Player or Banker will be dealt a third card and when they won't.
Choose Your Bet Size
Your first task is to decide how much money you want to bet on the hand coming up. As with most other casino table games, each baccarat game has its own minimum and maximum staking limits, and if you're just starting out it will probably be a good idea to play at a low-stakes table so that your initial exposure to risk is minimal. To choose your stake size, all you have to do is click the casino chip icon that represents the amount you want to bet.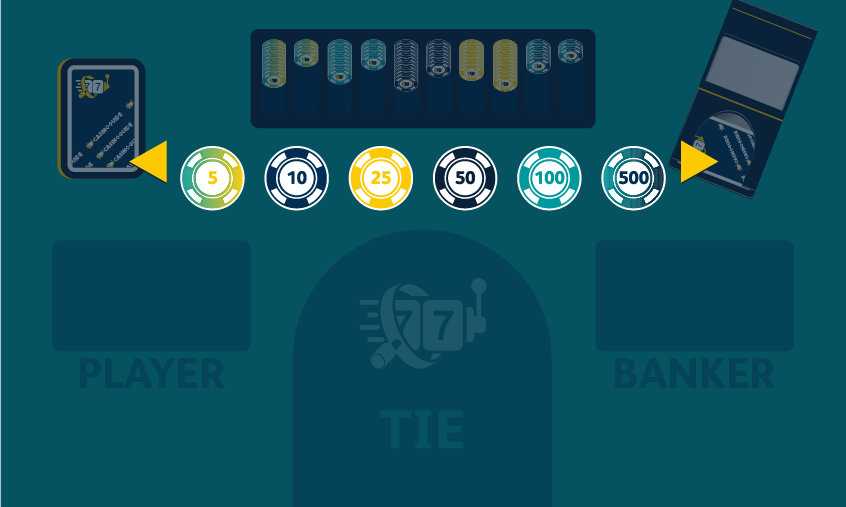 Make Your Bet
Having selected the stake of your intended bet, your next job is to place your casino chip on the area of the table that represents the outcome you want to bet on. For example, in the illustration below you'll see that a $25 bet has been placed on the next hand being won by the Banker.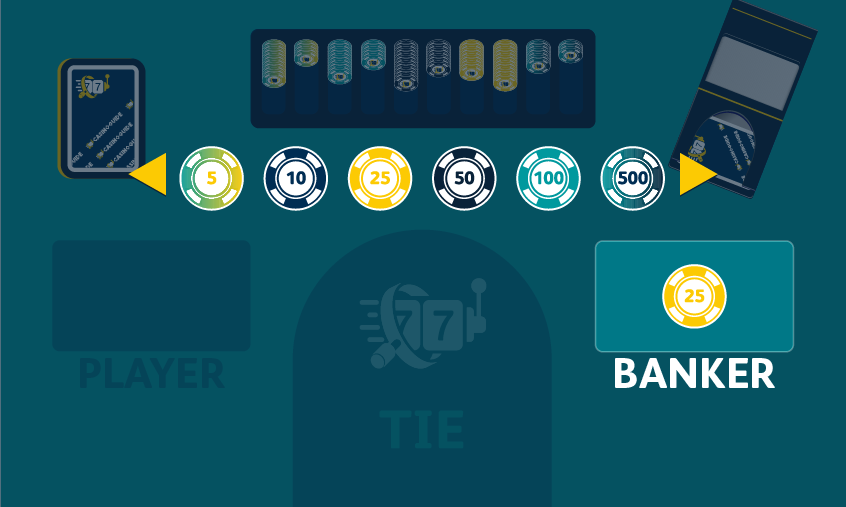 Observe the Deal
As soon as you have made your bet, the game proper will begin. Two cards will be dealt face-up to the Player hand and two cards will be dealt face-up to the Banker hand. As explained earlier, the hand values will then be totalled up with a 10, Jack, Queen or King having a 0 value, an Ace having a 1 value, and the cards ranked 2 to 9 retaining face value. Also, remember that a two-digit hand total will only retain the value of the second digit.
In the example game below, the Player has an 8-value hand and the Banker has a 9-value hand. Coincidentally, both of these hands are examples of a Natural, which is a hand with just two cards totalling either 8 or 9. When a Natural is dealt the game is over, and when two Naturals are dealt, a Natural 8 will always be beaten by a Natural 9. In this example, that means the Banker has won.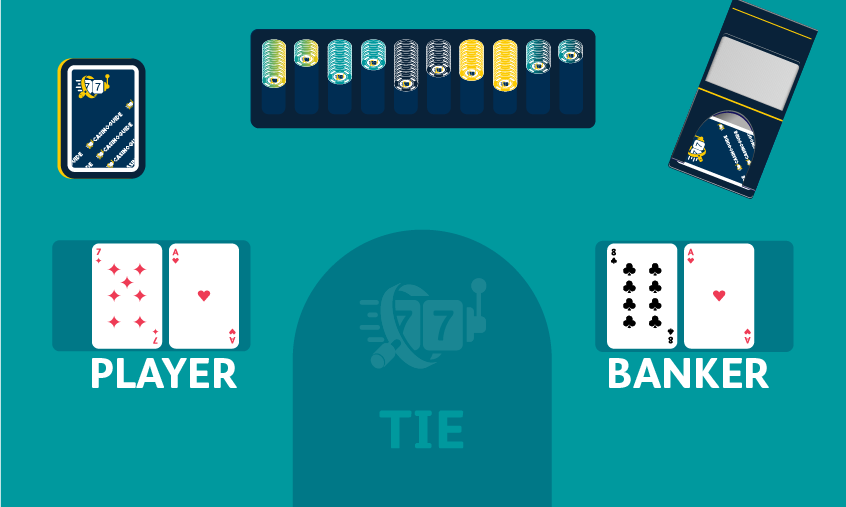 When is a Third Card Dealt in Online Baccarat?
If no Natural is on the table after the first two cards have been dealt to each of the Player and Banker hands, the respective hand totals will determine whether or not they will be dealt a third card. You don't need to worry about these rules, as the Dealer will assess the game and proceed accordingly without your input, but it's good to know how these decisions are made. Here, then, is a quick summary of the third card rules for the Player and Banker, respectively:
Player Third Card Rules:
Banker Third Card Rules: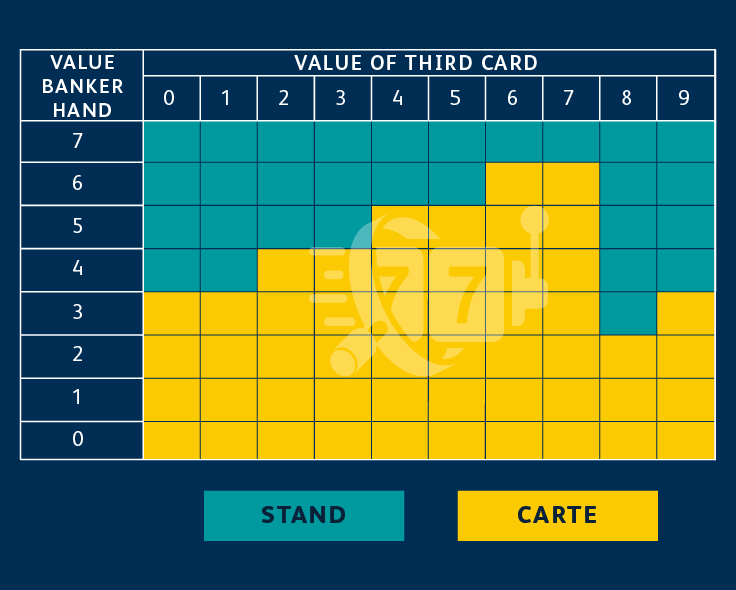 Collect Your Winnings
When all cards have been dealt according to the rules previously described, the final hand values will be totalled and the Dealer will announce the winner. If you have bet on the winning outcome, you will be paid your winnings automatically.
Land-Based Baccarat Variations
The version of baccarat that we have just walked you through is Punto Banco, as that is the type of game you are most likely to encounter when playing online. Those of us who also like to play at land-based casinos in New Zealand will sometimes encounter baccarat variations. The two you will come across most often are Baccarat Banque and Chemin de Fer.
Baccarat Banque
This variation is a lot like Punto Banco. The Dealer deals the cards and he is also the person at the table who decides – in according with the rules – whether or not a third card will be dealt to the Player and Banker. This type of baccarat game has been incredibly popular in times past, and some places had so many people playing that the casinos had to seat them at two tables, creating another variation called Baccarat à Deux Tableaux, or Baccarat With Two Tables.
Chemin de Fer
This is the kind of baccarat game that James Bond used to enjoy playing in the novels written by Ian Fleming. It's the game on which Punto Banco is based, and the biggest differences are that the players take turns to deal the cards and that they also get to decide whether or not they want to be dealt a third card. That makes Chemin de Fer a game with an element of skill, and not of pure chance as in Punto Banco and Baccarat Banque.
Baccarat Live Dealer Games
Baccarat is one of several classic table games that can often be played online with live dealers at the helm. Visit the Live Casino area of your favourite venue to see what's available and when you launch a Live Baccarat game you'll see that it involves real cards being dealt at a real table and that every aspect is being broadcast live from a casino studio. Placing bets works in the same way as when playing an automated game, but the whole thing is a lot more realistic.
Mobile Baccarat Casinos
Most online casinos these days will let you play games on your tablet or smartphone, and that makes it easy to play baccarat online when you're out and about. Just bear in mind that the smaller screen size of mobile devices could make the game a little less impressive than when it's being played on a full-size laptop or desktop display.

Best Tips for Playing Baccarat NZ
Because online baccarat is a game of pure luck and there are no decisions that you need to make as a player, there is no way to improve your chances of winning by applying any kind of strategy. Of course, that doesn't mean you should jump straight in and start playing without any kind of plan. Here are a few tips that should help you get off to a good start.
Tip 1: Practice with Free Baccarat
Most online casinos will let you play automated baccarat games in demo mode for no cost. Playing free baccarat like that is a great way of getting used to the game and deciding whether or not you want to bet with real money.
Tip 2: Set Up a Betting Fund
One of the best ways of staying in control of your online gaming is by setting up a betting fund and only betting a fixed percentage of that fund in any single gaming session.
For example, if you have a betting fund of $100, you might decide that you will only bet 20% of that fund in a single session, which is $20. You can then break that down into 10 bets of $2 each, 20 bets of $1 each, and so on, as you prefer. As long as you stop betting if and when you reach your 20% limit (and it could just as easily be 10%, 5% or even 1%) you won't fall into the disastrous trap of trying to chase your losses.
Tip 3: Avoid Betting on the Tie
The Tie is the worst bet in baccarat because it has a house edge of 14.36%. That means you can expect to lose, over the long term, $14.36 for every $100 that you wager on this outcome. In short, you should only bet on the Tie if you have a severe allergy to your own money and you'd like to get rid of it as quickly as possible. Focus instead on the Banker, which has a house edge of 1.06%, or the Player, with a house edge of 1.24%.
Online Baccarat Pros & Cons
There are many benefits to playing Baccarat online, but like anything there are also some drawbacks. Below we outline some of the key pros and cons to consider when playing Baccarat online:
Easy to Play - This is a game of luck that requires no skill to play.
Mobile Friendly - Baccarat can be played on all devices, including mobiles.
Elegant Style - Maybe that's why this was James Bond's favourite game.
Sounds Complicated - Its third card rules can be off-putting for new players.
No Strategy - You can't improve your chances of winning.
Baccarat NZ: Our Verdict
We love all kinds of casino games, but there's something about playing baccarat online that feels unique. Maybe it's the sense of elegance and tradition that surrounds the game or the fact that it looks complicated at first glance but is actually as easy to play as an online slot. Whatever the case, baccarat is a classic table game that we are very pleased to see widely available at online casinos throughout New Zealand.
FAQ
🔎 Is Baccarat a game of skill or chance?
🔎 Can I play baccarat in New Zealand?
🔎 Do casinos offer baccarat bonuses?
🔎 Who makes the best baccarat casino software?
🔎 Can you play baccarat on a mobile device?
🔎 What's the best bet in baccarat?
🔎 Can I play Chemin de Fer online?