Evolution is the king of live casino game developers, and in the Funky Time game show the company also demonstrates that it knows its way around a dance floor. This game, which has a lively 70s disco theme, was released in May 2023.
Funky Time Live focuses on a vertical DigiWheel with 64 segments, each of which will either pay you an instant prize or take you to one of 4 special bonus games. Those games are called Bar, Disco, Stayin' Alive, and VIP Disco, and if you get very lucky you could win as much as 10,000 times your bet.
Where to Play the Funky Time Game

Funky Time Info and Facts
Gaming Provider:
Evolution
Launch Date: 2023
Number of wheel segments: 64
RTP: 95.99%
Min and Max Bet: $0.10 - $1,000.00
Game Features: Bar, Stayin' Alive, Disco, VIP Disco
Presentation and Format
Funky Time is set in a disco-themed studio that takes you right back to the 1970s. If you weren't around back then, you can expect lots of vivid neon colours, light strips, glitter balls, and some extremely brave fashion choices.
At the heart of the game is a DigiWheel which has 64 segments. Some of those segments have a number, some have a letter, and some have the name of a bonus game. The breakdown is as follows:
28 segments show the number 1.

24 segments show a letter from the words PLAY, FUNK, and TIME.

6 segments show BAR.

3 segments show DISCO.

2 segments show STAYIN' ALIVE.

1 segment shows VIP DISCO.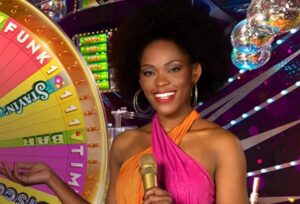 We love the look of the DigiWheel, which gets its name from the fact that every segment is actually a computer-driven display panel. It looks sharp and clear, even on mobile devices, and that says a lot, given the fact that it has 10 more segments than the wheels used in the Dream Catcher and Crazy Time games.
How to Play Funky Time
As in most other vertical wheel games, the aim in Funky Town is for you to bet on the type of segment that you think will be indicated as the winner on the next spin. Bets are placed via a simple interface at the foot of the screen.
When all bets have been made, the Funky Time wheel will be spun and the presenter will announce the winning segment when it comes to rest. If the winning segment is a number 1 or a letter, an instant cash prize will be paid to anyone who has bet on that number or letter, as follows:
Number 1 pays 1:1
Specific letters pay 25:1
If the winning segment is the name of a bonus round, all players who bet on that bonus round will proceed to take part in it.
Four Bonus Rounds
As we've already mentioned, there are four bonus rounds in this game, and those are called Bar, Disco, Stayin' Alive, and VIP Disco. Here's what's involved in each of them:
Bar
Every disco worth its salt has its own bar, so it's no surprise to see that there's one in this game. The big difference with this Bar is that it's tended by a "funky robot". He'll present you with three glasses, and you need to choose the one that you think contains the biggest multiplier. The barman will then fill the glass and spin a single-reel slot to generate another multiplier, which will be assigned to one of the three glasses at random. Your prize will be your stake multiplied by the final value of your chosen glass.
Disco
This is a CGI round where a character called Mr. Funky will strut his stuff on a dance floor that has 37 squares. The game presented will determine his moves by rotating a wheel showing four directions. Mr. Funky will collect multipliers as he dances in the directions being generated, and the round will end when he eventually falls off the edge of the dance floor. The final multiplier total will then be applied to your stake.
Stayin' Alive
In Stayin' Alive there is a ball machine containing 90 coloured balls. Each of these can help you progress up a multiplier ladder of 20 rungs (by 1, 2, or 3 rungs) or – in the case of a black ball – lose a life. You'll get 4 lives to start with, and the bonus round ends when all 4 black balls have been drawn. At that point, the achieved multiplier, which can be worth up to 10,000x, will be applied to your stake.
VIP Disco
This works in much the same way as the Disco round, but here the dance floor has 63 squares. That gives him more room to move without falling off, and hopefully to collect more multipliers before the round ends.
Funky Time Pros and Cons
17 different bets to choose from
Win up to 10,000 times your bet
Theme may not appeal to all
Funky Time: Our Verdict
We have no idea who came up with the concept of a disco-themed Live Casino game, but it works far better than it sounds. The DigiWheel in this game has 10 more segments than most other vertical wheel games, and we like being able to choose from 17 different bet options.
Each of the bonus games is enjoyable, and the idea of winning up to 10,000 times our bet is enough to get us moving like Tony Manero in Saturday Night Fever.
If that sounds like your idea of a good night out, play Funky Time today and we'll see you on the dance floor.
FAQ
🔎 Can I play Funky Time for free?
🔎 Where can I play Funky Time live?
🔎 What's the best Funky Time strategy for winning?
🔎 What is the Funky Time game RTP?
🔎 What is the maximum payout of the game?