Mega Ball is a Live Casino game that was released by Evolution in 2020. It has many similarities with bingo, keno and lottery games, and involves matching randomly drawn numbers with those on one or more game cards to win cash prizes. That alone would be enough to make Mega Ball quite popular, but the thing that takes it to the next level as far as players are concerned is the special Mega Ball Multiplier that's in play. This gives you the chance to win far more than you normally would - you can win as much as 1,000,000x your bet!
Best NZ Casinos to Play Mega Ball
Mega Ball Info and Facts

A Game of Glitz, Glamour and Good Luck
As if Evolution didn't have enough exciting live game shows to their name, in 2020 they released this gem. The studio from which the Mega Ball game is streamed is designed to bring as much glitz and glamour into your home as is humanly possible. It has a blue and glittery gold colour scheme, and the presenter's outfit will usually be just as dazzling. A large transparent sphere which houses 51 consecutively numbered balls is the focus throughout most of the game, and the cameras will zoom in on this as and when needed to give you a clear view of the balls being drawn.
As in most Live Casino games, the bottom fifth or so of your screen is used to present your betting interface. On the far left of this is a paytable that shows you what you can win for completing one line or more, and on the far right is a display showing the numbers that have been drawn in the current game. The space in between those two areas is reserved for your Mega Ball cards, each of which shows a five-by-five grid of numbers.
How to Play Mega Ball Live
Playing Mega Ball is just as easy as playing online bingo or keno. You start by purchasing however many cards you want to play in the upcoming game. You can play anything from 1 to 200 cards at the same time, and the more cards you play, the more chance you will have of winning a prize.
When the game begins, the Mega Ball sphere will start drawing numbered balls. Any matching number that appears on your cards will be marked automatically, and the aim is for you to complete as many lines on a card as possible. You only need 1 line to win a prize, but you can get up to 12 lines, and the payout increases according to the number of lines that you have, as you'll see shortly.
A total of 20 numbered balls will be drawn, with all numbers being displayed to the right of the Mega Ball machine as they appear. If you are playing multiple cards the ones that are closest to winning will automatically be shown on your screen so that you can see how well you're doing.
Mega Ball Winning Lines and Payouts
As we said earlier, the more lines you make on any given card, the more you can expect to win. If you manage to win using the Mega Ball number, all lines completed on that card will be paid at enhanced odds according to the Mega Ball Multiplier value. The payouts on offer are shown below, along with the maximum possible payouts with a 100x Mega Ball Multiplier in force: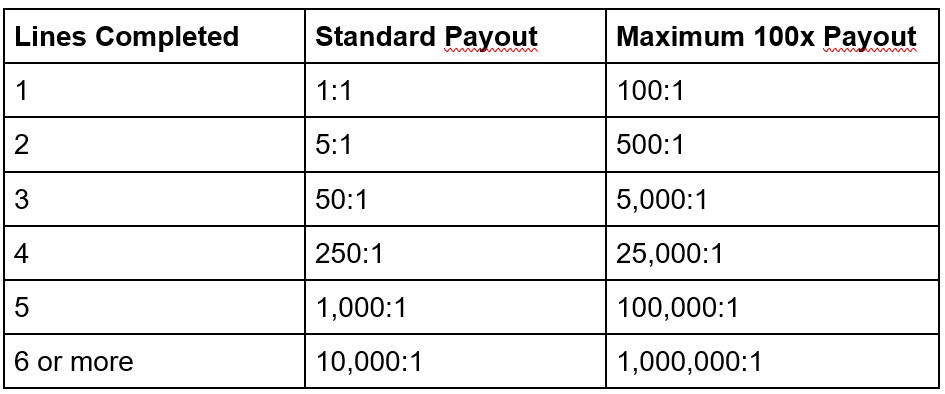 It is worth noting that, while the maximum payout here is stated as being worth 1,000,000 times your bet, a maximum win cap of $/€/£500,000 is in force. That being the case, it makes sense to keep your stakes low enough that hitting the biggest payout wouldn't take your win beyond that limit.
Mega Ball: Will Your Numbers Come Up?
Bingo, keno and lottery games are all very popular, so it's no great surprise that Mega Ball has been a massive hit for Evolution. Because this is a game of luck, there are no strategic decisions to worry about, and everyone has exactly the same chance of winning with a single ticket. Of course, if you choose to improve your chances overall by playing multiple tickets at the same time, you can do so. Play Mega Ball today and see which approach suits you best.