In 1985, Marty McFly travelled Back to the Future in a souped-up DeLorean. Today, online gaming fans can travel back to that year via any computer or mobile device with an internet connection. This modern-day miracle is possible thanks to a Live Casino game called Side Bet City, which was launched by Evolution in 2019. It's poker, but your only opponent is the table itself, so even the dealer will be smiling when you win.
Play Side Bet City at These NZ Sites
Side Bet City Info and Facts

A Neon-Lit Electric Dream
Side Bet City, like all Evolution Live Casino games, is streamed live and direct from a purpose-built studio. The set for this game has been very well designed to evoke the atmosphere of the 1980s, so you can expect plenty of sleek lines, neon lighting, and a presenter wearing a brightly colored retro outfit. The presenter stands in a Las-Vegas themed poker room behind a rectangular table, and in the background, you'll see evocative items from yesteryear like a boom box, a brightly coloured cocktail shaker and Americana-themed trinkets. This is a poker variant game with a cool edgy twist.
How to Play Side Bet City
Side bet City is a game that is based on poker, but instead of competing against other players, or even against the dealer, you are simply trying to beat the table. The presenter will deal a total of seven cards to the table and your task is to bet on whether a poker hand will be made from the first 3 cards, 5 cards or 7 cards, or whether all of those hands will lose.
Bets are placed via the interface at the foot of the screen. Select a casino chip of the value you want to bet and position it on the 3 Card Hand, 5 Card Hand, 7 Card Hand or All Lose propositions, as you prefer. If you want to bet on more than one proposition at the same time, you can do so.
And what is a winning hand, you might ask? Well, they are mostly regular Texas Hold'em Poker hands, with the caveat that only a few of them can be made with three cards.
Side Bet City Payouts and RTPs
The full range of winning hands for each betting proposition is shown below, along with their payouts and RTP figures: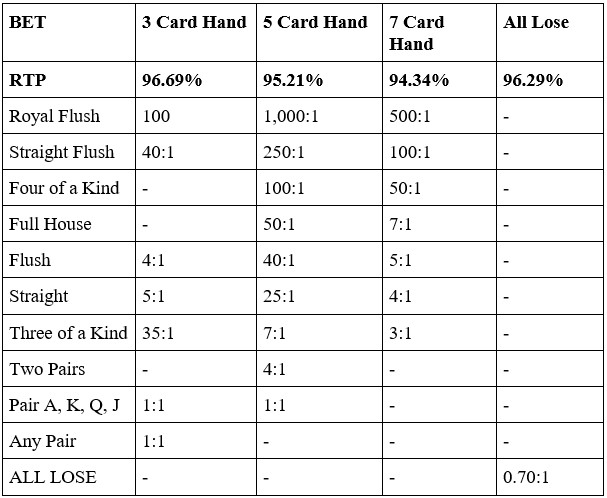 As you can see from the table above, payouts for 7 Card Hand bets are lower than those for 5 Card Hand bets. That is simply because you'll have more chance of winning with more cards on the table. This is also why the 7 Card Hand bet doesn't pay anything for easily made hands, such as Two Pairs or Any Pair.
Playing Side Bet City Strategically
Once you have made your bet or bets, there are no decisions that you have to make when playing this game. That makes Side Bet City a game of chance rather than skill, and so there is little room for playing strategically. Having said that, you will note that the 3 Card Hand and All Lose bets have the best RTP figures. It has therefore been suggested that one of the best strategies for this game is to bet on both of those outcomes at the same time.
Side Bet City: Time Travel Made Easy
Side Bet City is a very enjoyable Live Casino game with plenty to offer. It gives you a fast-based poker-style experience without any of the decision-making hassle normally associated with the game, and it wraps everything up in a superb neon-lit retro package. If you were around in the eighties, you'll love it, and if you weren't, it will give you a taste of what you missed out on.