Super Andar Bahar is a superbly presented Live Casino version of one of India's most popular card games. Although it might look complicated at first glance - especially when a hand is already underway - it's actually a very easy game that even a beginner can get to grips with in a matter of minutes. There is no skill involved at any point, so you'll never have to worry about making mistakes or having to play strategically. Simply take your seat and choose from a range of bets that could help you to win as much as 4,000 times your stake.
Best Super Andar Bahar Casinos

Super Andar Bahar Info and Facts
Game Setup and Presentation
When you first launch the Super Andar Bahar live casino game by Evolution, you feel like you're being whisked away to a luxurious and elegant casino somewhere in India. The studio from which Super Andar Bahar is broadcast live has been stunningly dressed and arranged to look as classically authentic as possible. You'll therefore see toranas in the background behind the main gaming table. These are traditional Indian arches, and they are cleverly used in series to give a nice sense of depth and atmosphere.
The Super Andar Bahar table is rectangular in shape and shows a horizontal line. Above that line is the word Andar and below the line is the word Bahar. A shoe of playing cards is positioned on the right-hand side of the table. In this game, just one standard deck of 52 cards is used.
Occupying the lower portion of your screen you'll see the Super Andar Bahar betting layout. There are several different areas on this layout, and those allow you to place several different types of side bets, as we will discuss shortly. A chip rack at the very bottom of the screen allows you to select casino chips of various denominations for betting purposes, and a graphic on the right-hand side of the screen summarises the results of previous hands.
How to Play Super Andar Bahar
The game version of Super Andar Bahar involves one Joker card being dealt and players betting on which of two hands - named Andar and Bahar - will be dealt a matching card first. There are also ten side bets that can be placed, as we will explain in a few moments.
A hand of Super Ander Bahar begins with the top card of a shuffled deck of cards being dealt as the Joker. This is placed to the right of the horizontal line on the table. Players then place their bets for the current hand. You can bet on whether the Andar or Bahar hand will match the Joker first, and you can make one or more side bets on how many cards will need to be dealt before a match is made. There are ten ranges to choose from, and each range pays its own odds according to the probability of it being successful.
The dealer will now start dealing the cards. The first card will be dealt to the Andar hand above the horizontal line, and the next one will be dealt to the Bahar hand below the horizontal line. Dealing will continue alternating between hands until a card matches the Joker.
The hand receiving the matching card is declared the winner, and the number of cards that were dealt to achieve the match will also be announced. Players who have bet on those outcomes will be paid accordingly, as shown below: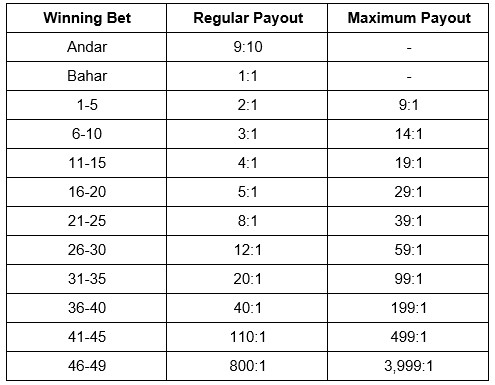 Super Andar Bahar: CasinoGuide Verdict
This is a great game that is far more engaging than its elegant simplicity would give us reason to expect. The side bets with their randomly assigned multipliers have a lot to do with that, and we appreciate the work that Evolution has put into this game to deliver an authentic Andar Bahar experience via Live Casino. Stylish, atmospheric and always entertaining, we love Super Andar Bahar and can recommend it with enthusiasm. You can enjoy the game at one of the above recommended casinos, or enjoy at one of our reviewed and approved NZ casinos here.