XXXtreme Lightning Roulette from Evolution is an even more electrified version of the original Lightning Roulette game which was released in 2018. This 2022 variation on the massively popular Live Casino game has much the same format, but its winning potential has been supercharged quite considerably thanks to the introduction of Chain Lightning and Double Strike Multipliers. In this review, we'll look at how the game is presented, what the main features are, and how to play.
Where to Play XXXtreme Lightning Roulette
Presentation and Format
Live online casino giants, Evolution (or Evolution Gaming as they used to be known), have once again delighted Live Casino fans with this 2022 release. The layout of XXXtreme Lightning Roulette is very similar to that of its predecessor released in 2018. The game is presented from a purpose-built Live studio with a stylish deep red and pale yellow theme that does a great job of making the place look like it's crackling with electrical energy waiting to be released.
A roulette wheel stands on a podium in the middle of the room. This has a traditional European Roulette format, so there is just one green zero in addition to numbers 1 to 36 in black and red. At the foot of your screen, you'll see the user interface that allows you to select your stake and place your bets. The main table betting layout is presented above your chip rack, while a smaller racetrack betting layout is located in the lower right-hand corner of the screen.

How to Play XXXtreme Lightning Roulette
Actually playing XXXtreme Lightning Roulette is very simple, and if you have already played the original Lightning Roulette game you'll find very few changes on the playing side of things. You can make the full range of roulette bets by selecting chips and placing them on the corresponding area of the table layout.
The odds paid for success are much the same for most bets apart from Straight Up. This is where you bet on a single number outright, and while this bet pays odds of 35:1 in a regular game and 30:1 in the original Lightning Roulette from Evolution, in this game it pays just 19:1. That might sound rather meagre, but only because we haven't yet mentioned the two things that make this game particularly special.
Here Comes the Electrical Storm
When everyone has placed their bets and the wheel has been set in motion, the presenter of the game will pull a lever. This will cause lightning to strike as many as five numbers on the wheel, and that will assign them with a multiplier value of up to 500x.
That initial lightning strike, which is also present in the original Lightning Roulette, will then be followed by an even more exciting Chain Lightning event. This will generate up to nine more lucky numbers to receive a multiplier.
As if all of that wasn't enough, a Double Strike can then enhance any of the lucky numbers that have already been generated, and this can increase their multipliers to as much as 2,000x. So, while a standard Straight Up bet only pays 19:1, the XXXtreme Lightning action can actually improve those odds a whole lot more.
Get Lucky and Win
After all of the lightning action has settled down, the rest of the game will unfold in just the same way as a regular game of roulette. The wheel will come to rest and the ball will settle into a numbered pocket. If you are lucky enough to have bet on the winning number, you will be paid according to its standard odds or - if it happens to be a lucky number - according to its multiplier value.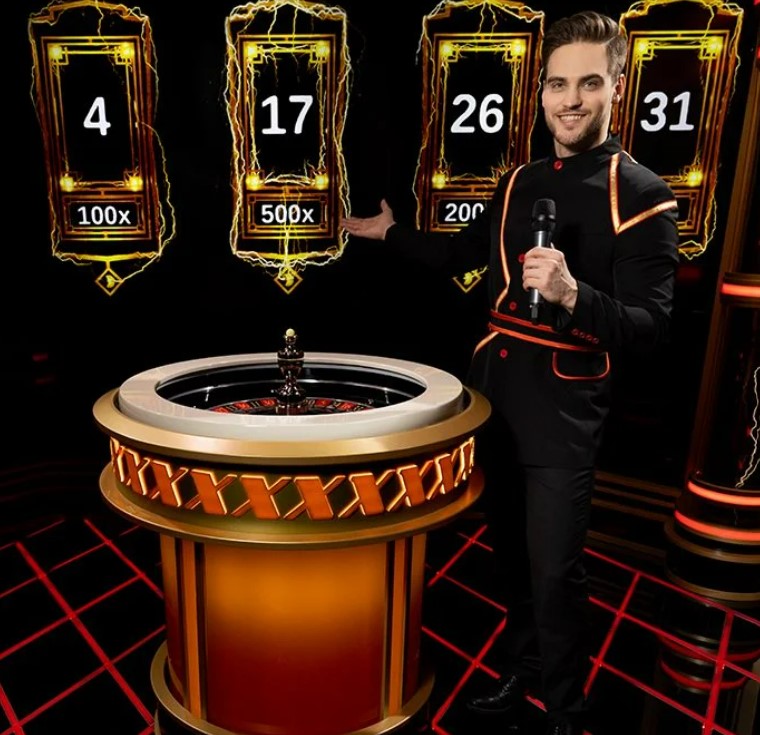 Playing XXXtreme Lightning Roulette Strategically
XXXtreme Lightning Roulette is a game of pure chance, so there is nothing that you can do to improve your odds of beating the casino. What you can do, however, is get into the habit of betting on multiple single numbers so that you increase your chances of hitting a number that has been multiplied.
For example, instead of placing just one Straight Up bet and giving yourself a 1 in 37 chance of winning a prize, you could make a Straight Up bet on each of the red numbers or on each of the black numbers. That would give you a 16 in 37 chance of success. If you are lucky enough to succeed, even the standard odds of 19:1 would cover your outlay and give you a little profit, and a multiplied winner could give you quite a lot of profit, depending on the multipliers involved.
Ride the Lightning!
The original Lightning Roulette game has been one of the best-loved titles at Live Casinos ever since it was first launched. Now Evolution has managed to make it even better, and XXXtreme Lightning Roulette is sure to be every bit as popular as its groundbreaking predecessor.