There are plenty of Western pokies in the world, but Money Train is one of the best. Released in 2019 by Relax Gaming, this pokie became so popular that it spawned a whole series of equally successful sequels.
The original Money Train title is easy to find at casinos in New Zealand and it's still the crowd-pleaser it always was.
In this review, we'll look at what the game offers in the way of theme, features, and payouts, so saddle up. We have a train to catch.
Top-Rated Money Train Casinos
Money Train Slot Quick Facts
Gaming provider:
Relax Gaming
Launch date: 2019
Number of reels, rows, and paylines: 5 reels | 4 rows | 40 Pay Lines
RTP & volatility: 96.20 up to 98.00% | High volatility
Min and max bet: $0.10 - $50.00
Game features: Bonus Buy feature, Money Cart Bonus Round, Bonus Spins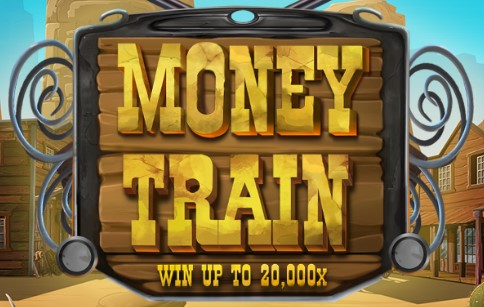 About Money Train
The Money Train that inspired the name of this game is a freight train that travels across the Wild West taking cash from bank to bank. Like most trains, it runs to a regular schedule, and that gave someone the bright idea of being in the right place at the right time and helping themselves to its contents.
The game is set outdoors, in a stereotypical Wild West town, and you'll notice an old windmill rotating silently in the background. The five reels of the pokie are accessed from the side of the Money Train itself, which has just pulled into the station.
We were impressed by the visuals featured in this game when it first appeared, and while the visuals of the sequels that have since been released are even better, the original still looks great. As far as audio content is concerned, you'll hear an upbeat Western soundtrack as you play, and sound effects include gunshots, rotating revolver chambers, train bells, and the jangle of boot spurs.
Money Train Symbols
Poker was always popular in the Wild West, so it makes sense that the playing card suits of diamonds, clubs, hearts, and spades serve as lower-value symbols. Four Western characters serve as the higher-value symbols, and a crossed pair of rifles is Wild. A purple crate bearing the word BONUS is a scatter.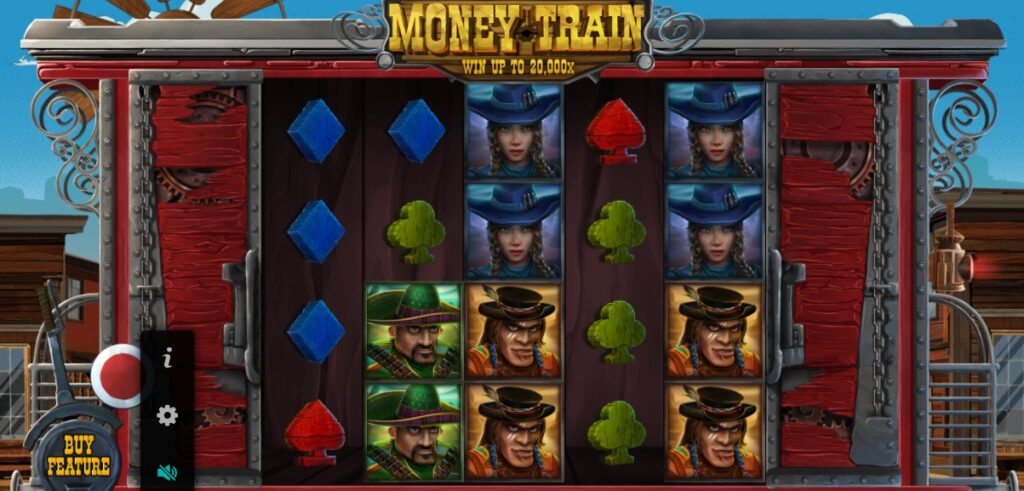 Money Cart Bonus Round
Your aim when playing this pokie should be to trigger the Money Cart Bonus Round, and you can do that in one of two ways. The first is by paying for the bonus to be triggered. This will cost 80 times your bet, but it will increase the RTP of the game to 98% from its usual 96.20%, and if you take this option the feature will be triggered on the very next spin. The other way of triggering the feature is by landing three or more scatter symbols on the reels at the same time.
The Money Cart Bonus Round takes place at night on a special set of reels. These reels don't contain any of the usual symbols. Instead, they carry multiplier values and tumbleweed, as well as Payers, Persistent Payers, Collectors, Persistent Collectors, and Widener symbols.
Multiplier values stick in place wherever they land.
Payers reveal a value and add it to all other values on the reels.
Persistent Payers act as Payers on every spin.
Collectors reveal a value and collect all other values already on the reels.
Persistent Collectors act as Collections on every spin.
Wideners reveal a value and open an additional reel.
You will start this round with three Bonus Spins, and the number of remaining spins will be reset every time one of the above symbols lands on the reels. Note that the total of spins will not be reset if you only land tumbleweed symbols.
A TOTAL board to the right of the reels will keep a running total of all the multiplier values that have been earned so far. When you run out of Bonus Spins, the value shown on the TOTAL board will be multiplied by your stake and paid to you as your Money Cart Bonus Round prize.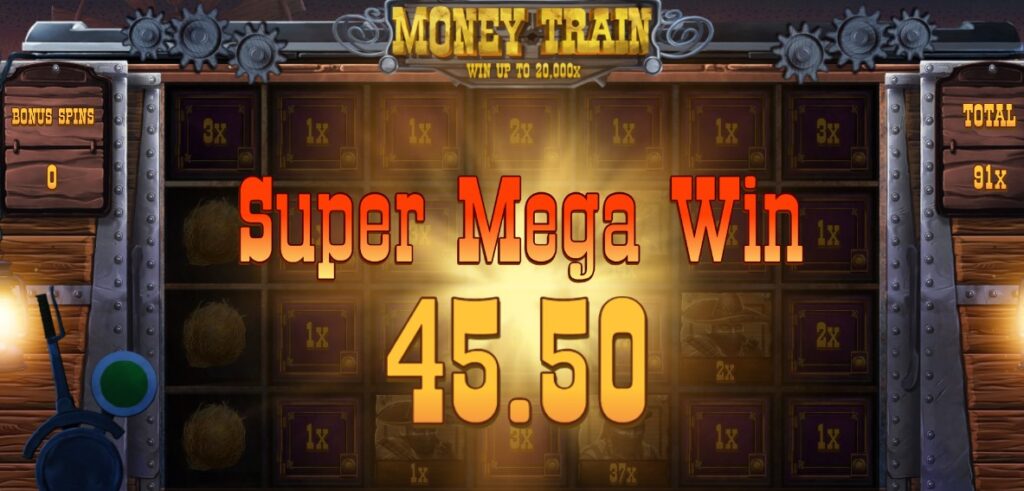 Money Train RTP and Max Payout
Money Train has a published RTP of 96.20%. However, if you buy the Money Cart Bonus Round feature the RTP for the duration of that feature will increase to 98.00%. The maximum payout in this game is 20,000 times your bet.
Money Train Pros and Cons
Western pokie that launched a series.
Win up to 20,000x your bet
High volatility won't suit everyone.
Money Train: Our Verdict
While its sequels might have better aesthetics and even more features, the original Money Train pokie is still every bit as enjoyable as it was when first released in 2019.
The game plays just as well on tablets and smartphones as it does on larger computers, and the Money Cart Bonus Round never gets old no matter how many times you play it.
Throw in the chance to win a top prize of 20,000 times your bet and Money Train is a pokie well worth holding up.
FAQs
FAQ
🔎 When was the Money Train slot released?
🔎 Where can I play Money Train?
🔎 What is the RTP of Money Train?
🔎 Is there a sequel to Money Train?
🔎 What is the maximum payout in Money Train?