Visa/Mastercard are two of the most popular card issuers in the world. They are used for everything from grocery shopping to travel and, of course, online casinos. Fast, convenient and free, they provide the simplest way to pay in a secure environment. In this Visa and Mastercard payments review, we will provide you with a general overview of these payment methods, including the pros and cons you should be aware of.
Top Casinos for Visa / Mastercard Users
Two of the Oldest Digital Payment Solutions
Both Visa and Mastercard were founded and are based in the United States of America. Visa was founded in 1958 whilst Mastercard was launched in 1966, and over the decades since both card providers have revolutionised digital payments around the world. By the 1980s, both Visa and Mastercard found their way to New Zealand, and today they are two of the most popular payment methods in the country.
Due to their relative simplicity and easy adoption, Visa/Mastercard payments are accepted by practically all online casinos in New Zealand. Payments are transferred instantly, and both card issuers provide advanced security features in order to protect users. As you will see by continuing to read this Visa/Mastercard payments review, these are not the only advantages of these payment methods.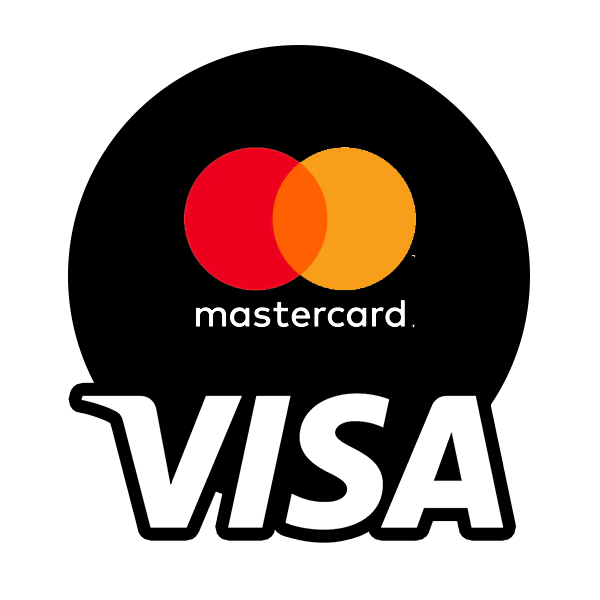 How to Make Casino Payments Using Visa/MasterCard
In order to get your hands on either a Visa or Mastercard card, you will need to open an account with a partner bank or financial institution. The choice is virtually endless, with most New Zealand banks, eWallet providers, and eMoney institutions providing such cards. Once you have created an account, you can order your card or create a virtual one for instant use.
To make your first online casino deposit using a Visa or Mastercard, all you need to do is:
Visit your casino cashier page and select the Visa/Mastercard option.
Enter the amount you wish to deposit.
Enter your card details, including the CVV code.
Complete any 3D secure or other security steps to confirm your transaction.
The transfer of funds should be instantaneous, allowing you to start playing with your funds immediately. Most online casinos in New Zealand will not charge you for depositing using Visa/Mastercard.
When you would like to effect a withdrawal of funds back to your card, all you need to do is:
Follow the casino's steps to request a withdrawal.
Select the Visa/Mastercard withdrawal method.
Enter the amount you wish to withdraw.
Provide further details as required by the casino to complete the transaction.
It is important to check whether your online casino supports withdrawals to your Visa or Mastercard, as a significant number of operators are only able to accept deposits, not withdrawals with this method. If they are unable to accept withdrawal, you will be asked to select an alternative method, such as a bank transfer.

Visa and Mastercard are Accepted at Most Online Casinos
One of the biggest advantages of using a Visa/Mastercard to fund your casino account is that these payment methods are almost universally accepted. In fact, it is very difficult and rare to find New Zealand online casinos that do not support these options. This means you can play at multiple NZ online casinos without having to use new payment methods.
Another important advantage of using this payment method is that it gives you access to casino bonuses and promotions. Many online gambling sites in New Zealand restrict the use of certain eWallets or other payment methods when claiming a bonus. This is rarely the case for Visa/Mastercard payments.
Due Diligence is Necessary to get a Visa or Mastercard
In order to obtain a Visa/Mastercard, you will normally need to open an account with a bank or other type of financial institution. This means that you will need to undergo a degree of due diligence by providing your personal information and, in most cases, verifying documentation. In addition, most online casinos will require you to provide proof of ownership for the selected card. These measures are taken so that the casino can adhere to strict financial regulations and prevent fraud and theft.
Fortunately, Visa and Mastercard are generally free to use by customers. Whilst certain credit or privilege cards come at a cost, basic debit cards do not usually incur any fees. In fact, it is the merchant or the online casino that needs to cover the majority of Visa/Mastercard administration costs.
A Variety of Visa/Mastercard Solutions
Thanks to today's technology, you can carry your Visa/Mastercard wherever you go via your phone or watch. If you are paying online, such as at a New Zealand online casino, you don't even need to own a physical card. You can create temporary virtual cards, including ones with a one-time payment limit, that allow you to fund your account before disappearing. These and other innovative features keep Visa and Mastercard at the forefront of digital payments worldwide.
Trust Visa/Mastercard to Secure Your Payments
There are numerous measures taken by Visa and Mastercard to protect your information and payments. All elements of the payment transaction chain, including the bank and online casino, are secured with end-to-end encryption certified to PCI DSS standards. In addition, an increasing number of cards require one-time passcodes and separate passwords in order to confirm any payment. Unsurprisingly, Visa/Mastercard are thought to be two of the safest payment providers in New Zealand and the world. Almost all trusted online casinos accept Visa/Mastercard as a payment method, and here at CasinoGuide we only recommend trusted casinos, so you can't go wrong playing games online if you have one of these cards.
The Pros and Cons of Using Visa/Mastercard
There are two sides to every story, and using Visa or Mastercard to make payments has both its advantages and disadvantages. Fortunately, the former outweighs the latter, as you can see from the pros and cons detailed below:
Visa and Mastercard are two of the most common payment methods in the world.
Accepted by the vast majority of online casinos in New Zealand.
Get a card to use exclusively for Visa/Mastercard payments at online casinos.
While Visa/Mastercard payments are normally processed instantly for deposit purposes, withdrawals can take several working days to complete.
Some Visa and Mastercard providers might treat casino deposits as cash transactions. This can result in them charging you a fee.
Not all Visa/Mastercard casinos will allow you to withdraw funds to cards, only to deposit with them.
FAQ
🔎 Does Visa allow gambling?
🔎 What online casino takes Visa?
🔎 How safe are Visa/Mastercard payments?
🔎 Can I use more than one credit card at the same casino?