Video Poker games have been popular since they arrived on the gaming scene in the 1970s. Originally housed in machine cabinets that looked a lot like video pokie offerings, these games were fully automated and gave people the chance to enjoy the excitement of poker on demand, with no other players being necessary. Playing video poker online makes the game even more accessible.
This guide will give you a beginner-friendly tutorial on how to play video poker online. You'll learn how the game works and how the different types of video poker ensure that you'll never get bored. We'll even discuss the important topic of video poker strategy and explore whether or not skill can help you to improve your chances of winning.
How to Play Video Poker: An Overview
Video poker is an automated casino game that requires you to make the best possible poker hand from five cards. Traditional poker games are played between multiple players and hands are made from a combination of hole cards and shared community cards. Video poker is different because this is a single-player game that has no community cards.
When a video poker game begins you will be dealt a hand of five cards. Below each card, you will see a button marked HOLD or DISCARD. Your task is to decide which cards to hold and which to discard. The cards you choose to discard - if any - will be removed from the screen and other cards will be dealt to replace them. At this stage, your five cards will be assessed and if a winning poker hand has been made you will be paid according to the odds of the game, as shown in its paytable.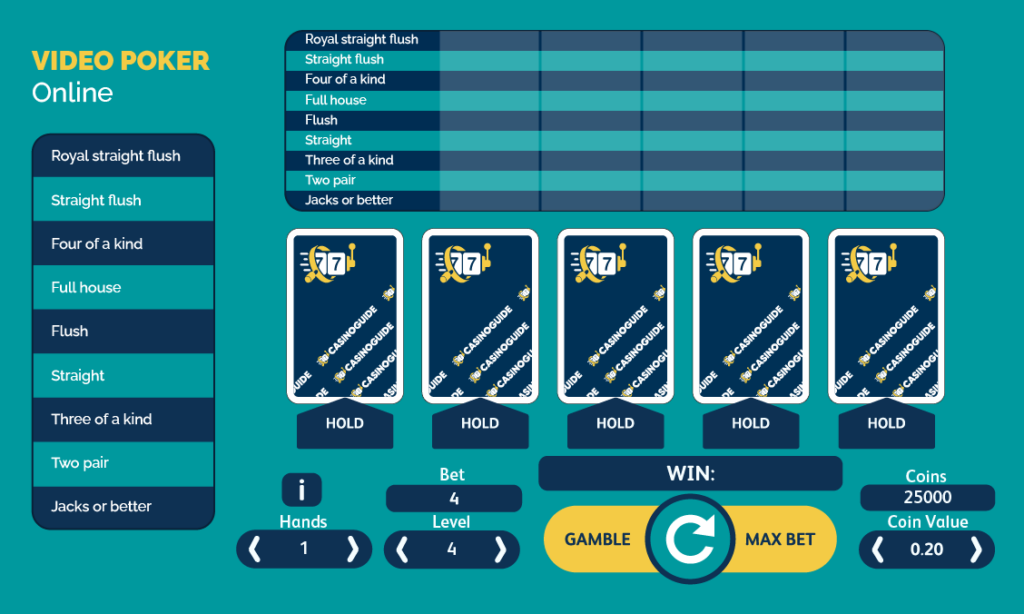 Video Poker Winning Hands
Video poker games offer prizes for a range of winning poker hands. The exact range will depend on the rules of the game, but generally speaking, you can expect to win a prize by making any of the following hands:
The better the rank of the winning hand, the more you can expect to win, with the Royal Flush offering the best prize of all. Those of you who are brand new to poker hands will find a full explanation of all the above hands on our online poker page.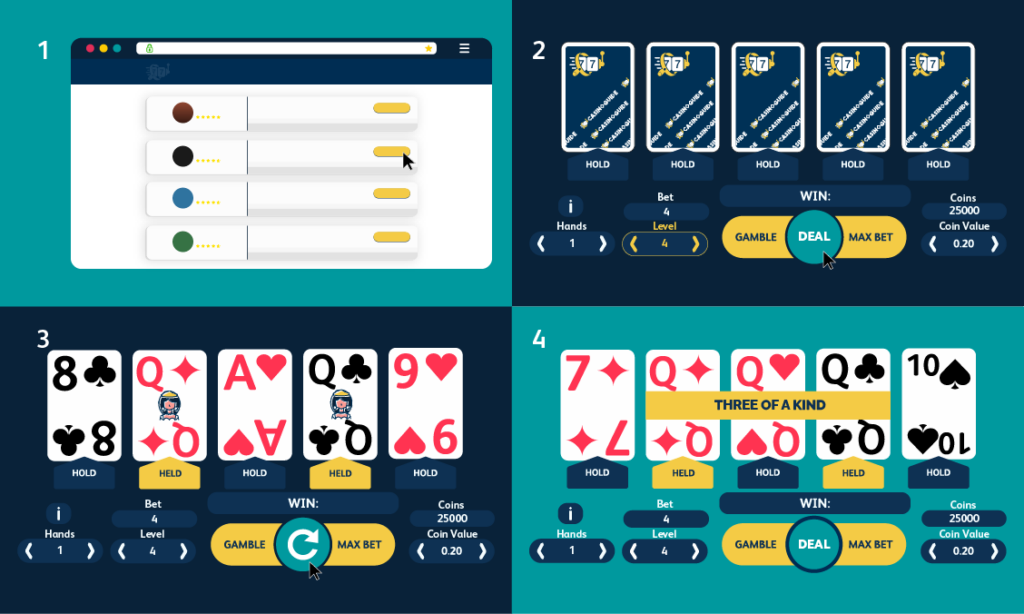 How to Play Video Poker: Step by Step
Having provided an overview of how video poker is played, let us now take you through the game step by step:
1. Select Your Stake
First, select the amount of money that you want to bet on each hand. A video poker game will typically let you bet anything from 1 to 5 coins per hand. You should note that some video poker games will offer maximum prizes, such as a progressive jackpot, that can only be won by players who bet the maximum number of coins. Always bear that in mind and check the rules of any game you play for the first time to confirm the situation.
2. Deal the Cards
When you have selected the stake you want to play with, hit the DEAL button. You will then be dealt five cards. The cards that you are dealt will be randomly selected from the deck by a Random Number Generator (RNG).
3. Assess Your Hand
You should now look at your hand of five cards and see if you have already made a winning hand according to the paytable of the game you are playing. In many games, a winning hand will be held automatically, but that isn't always the case. Hold whatever cards you want to retain and discard the rest.
4. Deal Again
Having selected which cards you want to keep and which you want to discard, press the DEAL button again. Your discarded cards will be removed and replaced, and the five cards that you have after that will be the ones that are assessed for the purposes of winning. You will be paid for the best possible hand only, and your prize will be credited to your account automatically, just as when playing online pokies.
Video Poker Variants
The traditional game of poker has many different variants, including Omaha, Texas Hold'em and Seven Card Stud. Similarly, video poker comes in several different varieties, and that means you can switch things up as and when you want so that you never risk getting bored. There are many more video poker games than we have room to detail here, so instead, we will highlight a handful of the main ones that are most commonly found at online casinos in New Zealand
Tens or Better
You may have noticed earlier that most video poker games pay prizes for a hand of Three of a Kind or better. In this game, a smaller prize is also paid for a single pair of 10s or better. This makes it a good version to play if you want to win a prize as often as possible.
Jacks or Better
This variant is just like Tens or Better, but here you will only get paid for a pair of Jacks or better. That means you won't win quite as often as when playing Tens or Better, but the prizes paid for other hands, such as the Flush or Full House, may be higher.

Deuces Wild
Deuces Wild is one of the most popular video poker games around, and that's because the deuces in the deck (that is, the playing cards with a 2 value) can be counted as any other card if doing so will help to give you a better hand. For example, if you get a five-card hand comprising three Kings, a Jack and a deuce, the deuce would be counted as a fourth King. That would give you a prize for Four of a Kind instead of Three of a Kind.
Aces and Eights
A Four of a Kind is a pretty good hand in video poker, but when you play Aces and Eights it can be even better than usual. This variant of the game offers bigger than normal prizes for getting a Four of a Kind of Aces or 8s. It will also give a bigger prize for getting a Four of a Kind of 7s and will pay out on any pair of Jacks or better.
Joker Poker
Most video poker games use a standard deck of 52 playing cards, but the Joker Poker deck also includes a Joker card. This can count as any card when you play to improve your hand wherever possible, much like the deuce in Deuces Wild. Needless to say, it's always good to see a Joker appear on the screen, and this is a card that you will rarely want to discard.
Bonus Poker
Bonus Poker plays much like Jacks or Better, but the thing that makes this variant special is that it pays more for particular Four of a Kinds. For example, a Four of a Kind of Aces will usually get the biggest prize enhancement, followed by a Four of a Kind of 2s, 3s, or 4s, and then a Four of a Kind of 6s to Kings.
Multi-Hand Video Poker
This isn't a variant of video poker, as such, but rather a particular type of game that lets you play multiple hands at the same time. You will find multi-hand video poker games for Deuces Wild, Jacks or Better, and other variants, and you can play 3, 5, 10, 25, 50 or even 100 hands at once, depending on the particular game you choose to play.

Free Video Poker
Many online casinos make their games available in demo mode so that players can try them without risking any money of their own. You can't win real cash when playing in this mode, but it does allow you to get to know a game at your own pace without losing any. Another good way of enjoying some free video poker deuces wild or any other version is by using online casino bonus funds where that is allowed. The advantage of playing with bonus funds is that you will win more bonus funds when you get a winning hand, which allows the free gaming to continue.
Video Poker Strategy
The question of whether video poker is a game of pure luck or one that also involves skill is a controversial one. Every hand that is dealt will be determined by a Random Number Generator or RNG, so the cards you receive are entirely a matter of luck. What you do with those cards, however, is entirely up to you, and if you play video poker in a deliberate and strategic way - rather than holding and discarding cards at random - you can improve your chances of winning to some extent.
Video poker strategy is a huge subject in and of itself. Here's some simple handful of tips that will point you in the right direction and help you get your video poker gaming off to the best possible start:
Before you play any online video poker game, always check its rules and paytable information. As you have seen, there are many different video poker variants, so it's essential to play the specific game in front of you rather than assuming that you can adopt the same strategy with every game you play. For example, holding a pair of 10s is usually a good idea when playing Tens or Better, but it might not be quite so important when playing Jacks or Better.
Keep your stakes small when you start playing. The smaller your stake on each hand, the more hands you will be able to play and the more experience you will get. You can always increase your stakes later when you are confident that you understand the game fully and can play it well.
Holding a winning hand and just discarding the cards that aren't needed for it (for example, holding a Three of a Kind and discarding the two unrelated cards) is often the best way forward. However, that isn't always the case. If you have a Flush that is just one card away from being a Royal Flush, it could also be argued that discarding that one card in an effort to hit the Royal would be the more strategic thing to do.
When you have played a good range of video poker variants, choose your favourite and study it in depth. Every variant can be played in a strategic way, and learning how to do that will improve both your chances of winning and your enjoyment of the game itself. There are books on all types of video poker that you can study, as well as plenty of tutorial videos to watch on YouTube.
FAQ
🔎 Can I play mobile video poker in NZ?
🔎 What is the best video poker to play?
🔎 Can you make money playing video poker?