NZ esports betting was almost unheard of just a decade or two ago, but now this thrilling pastime is just as popular as regular sports betting. This is something of a global trend, with similar excitement having already swept across countries like Japan, the United Kingdom, Canada and the United States of America, but it is no passing fad. The esports industry is worth billions, so it's almost certain that esports betting is here to stay.
In this Ultimate Guide to NZ Esports, you'll learn what's involved and how it works. We'll highlight the best esports betting sites, the esports games that are most popular for betting purposes, and how to get started in esports betting for yourself.
Where to Bet on Esports | NZ Casinos 2023
What Are Esports?
The word esports is a contraction of "electronic sports". It refers to video games, such as Counter-Strike: Global Offensive, or League of Legends, that are played competitively in a professional setting between teams or individuals. There are professional esports leagues based all around the world, and these compete in local, national and international tournaments for often staggering prize pools. For example, the 2022 League of Legends World Championship had a prize pool of US$2,225,000, with the winner taking home US$489,500.
Esports betting, as the term suggests, is the act of betting on which player or team will win a competitive gaming event or tournament. Betting on esports is possible with many online sportsbooks, and this is perfectly legal for Kiwis as long as you are careful to use sportsbooks that are based outside New Zealand.
Some people hear about professional esports and betting and worry that they are things that could potentially fall victim to corruption. This is a serious consideration, but corruption in esports is no more likely than it is in traditional sports.
That said, it is always good to be careful in such things, and so a not-for-profit members' association called the Esports Integrity Commission was established in 2015 to "take responsibility for disruption, prevention, investigation and prosecution of all forms of cheating and malpractice."
What Are the Main Types of Esports Games?
Almost any video game that can be played competitively has esports potential. Insiders tend to talk in terms of PvP (Player versus Player) and PvE (Player versus Environment) games, and most esports games tend to belong to the former category. The most popular genres of esports games are as follows:
Fighting
Fighting games involve players controlling characters who face each other in some kind of combat. The combat can be armed, as in games like Soulcalibur, which involves swords, chains and similar weapons, or unarmed, as in games like Street Fighter II and Mortal Kombat.
First Person Shooter (FPS)
These are games that give each player a first-person perspective and involve shooting weapons against their opponents or in-game enemies. The weapons used can be realistic, as in games like Call of Duty 4: Modern Warfare, or much less so, as in games like Doom and Quake.
Real-Time Strategy (RTS)
Traditional strategy games required players to take turns, but real-time strategy games like StarCraft II and Warcraft III involve all players being active at the same time. This makes RTS esports events exciting for spectators as well as for the players themselves, as waiting time is eliminated.
Multiplayer Online Battle Arena (MOBA)
As the name suggests, a multiplayer online battle arena game involves two or more players or teams battling it out in one giant virtual arena or environment. Examples of MOBA games include League of Legends, Dota 2 and Smite, and the aim in most esports events is for a team to destroy the base of the opposing team while protecting their own base from a similar attack.
Sports Simulations
These are video games that simulate a real-world sport such as soccer (FIFA Football), American football (Madden NFL), basketball (NBA 2K), and so on. It is common for participants in such sports simulations esports to organise themselves into various leagues that are patterned after the organisation of similar real-world sporting leagues.
Racing Simulations
Racing simulations are, in one respect, a subgenre of sports simulations, but there are so many of them that they tend to be considered a genre in themselves. These are games that involve racing around real or fictional circuits, and some feature in their own tournaments, such as the Gran Turismo World Series.

Why Is Esports Betting So Popular in NZ?
Esports betting is as popular in New Zealand as it is in other gambling-friendly nations, and for several good reasons. Here are just three of them:
The events are hugely entertaining and having a bet on a game that you're watching can often be just as enjoyable as playing the same game on your own console.
Betting on Esports involves skill as well as luck because you can assess the ability and form of those who play the games just as you can of those who play games like snooker or darts.
Esports never get old. While some games are esports classics by now, there are always new games, events and tournaments coming along to keep things fresh and exciting.
How to Bet on Esports
Betting on esports is just as simple and straightforward as betting on traditional sports such as rugby, soccer, or football. Here's how to place an esports bet:
Account Sign Up - Sign up for an account with a reliable online sportsbook that offers a good range of markets. We highlighted some of the best sites at the beginning of this guide.
Find an Event - Search for the event that you are interested in and the market you want to bet on. There are many different betting markets that you can look at, as we will discuss in a few moments.
Select Outcome - Choose the outcome that you want to bet on. This will automatically add that outcome to a virtual betting slip.
Enter Your Stake - On the virtual betting slip, input your stake and ensure that the details (the event, the date, the outcome, and the stake) are all correct and accurate.
Submit - Submit your online betting slip to authorise the bet.
Your bet has now been made, and you can focus on enjoying the event itself. If your selected outcome proves accurate, your bet will be settled and your winnings credited to your sportsbook account automatically. As in regular sports betting, the amount that you will win from a successful bet on an esports event will depend entirely on the odds of your chosen outcome and the amount of money that you stake on that outcome.
Types of Esports Bets
There are as many different betting markets available for esports events, and this means that esports betting is something that can be enjoyed by the widest possible audience. Two of the main ones, both of which are perfectly suitable for beginners, concern the Match Winner and Tournament Winner, as follows:
Match Winner
This is the simplest of all esports bets. Your task is to predict which player or team you think will win a particular match. If your selected player or team goes on to win as predicted, your bet will succeed.
Tournament Winner
This market requires you to predict which team or player you think will win a particular tournament. Because winning a tournament is more difficult than winning a single match, it is tricker to succeed in this market. Of course, that also means that the odds are more generous, so you will usually win more if your bet is successful.
Exotic Bets
There are also plenty of more specialist esports betting markets that you can explore. These "exotic" bets are better suited to experienced bettors, as they involve making trickier predictions in order to try and land bigger wins at larger odds. Different esports games will have different exotic betting markets associated with them, but just a few of the outcomes you might be asked to predict include:
The correct score of the match or tournament.
The number of rounds that will be played.
Which team or player will score first.
Which player will be named Top Player in the game or tournament.
The duration of the match.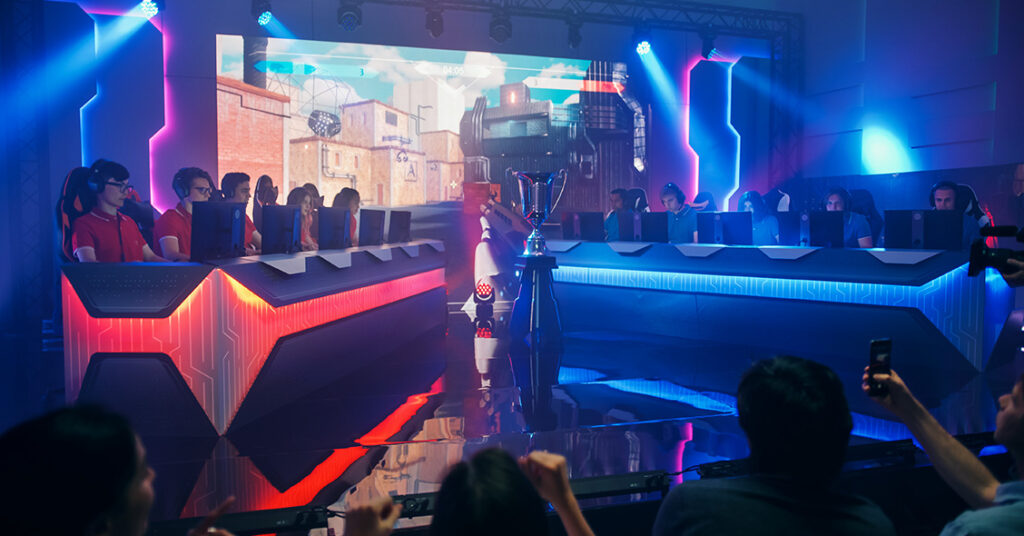 Best Esports to Bet On
One of the questions that many beginners ask is which esports games are best for betting purposes. Well, the best ones of all are those that you are interested in watching and learning about, but if you're asking about which games tend to get the most attention and coverage from sportsbooks, you'd do well to focus on the games below:
Counter-Strike: Global Offensive Betting (CS:GO)
This is a first-person shooter involving two teams of players called the Terrorists and the Counter-Terrorists. Both teams will pursue a clear objective that needs to be achieved (such as planting a bomb or defusing a bomb) and the first team to succeed wins the game.
Dota 2 Betting
Dota 2 is a sequel to an earlier game called Defence of the Ancients. It is a multiplayer online battle arena (MOBA) game that takes place in a fantasy world and involves two teams of five players. The aim of each team is to destroy a structure called the "Ancient" that belongs to the opposing team.
League of Legends Betting (LoL)
League of Legends is another MOBA, and this one has the accolade of being considered the largest esport in the world. Expect an annual League of Legends World Championship and League of Legend betting odds being available at all NZ esports-friendly sportsbooks.
Overwatch Betting
This is a first-person shooter from Blizzard Entertainment. Two teams of players compete to achieve one of several possible objectives, and an Overwatch World Cup tournament takes place each year. Overwatch 2 was released in 2022, so it is likely that this will also become an NZ esport regular in due course.
Starcraft Betting
Starcraft has a science fiction theme and is set in the 26th century where four different species are vying for supremacy. Professional teams have been playing Starcraft since the early 2000s, and the game is popular around the world, so you won't have any problem finding a wide range of Starcraft betting markets.
Fortnite Betting
Fortnite is a massively popular video game that has several different modes. One of the best - and an esports favourite - is the Fortnite Battle Royale, in which 100 players compete to see which one will be the last player standing.
The Increasing Popularity of Esports Streaming Services
It's fairly common to see big sporting events such as high-profile soccer or boxing matches being televised for the benefit of a general audience, but that isn't something that tends to happen with esports events. Fortunately, esports players and fans have come up with their own alternative, and that is to stream games and events to viewers via online streaming services that can be accessed on computers, tablets, smartphones and smart TVs. Two of the most popular streaming services for esports at the time of writing are Twitch and YouTube.
Watching an esports stream is as easy as signing up for a YouTube or Twitch account, logging in and searching for the game or events you are interested in. Most esports organizations have their own channels, and you can subscribe to these to watch live streams as well as videos of events that have been streamed previously.

Esports Betting Tips for Beginners
Success in esports betting involves being able to make accurate predictions about a game or event in advance. This is a skill that takes time to develop, and only then with practice and study, so you need to be patient. That said, here are some handy tips that should help to put you on the right track.
Bet With an Approved Site
You can legally bet with any online sportsbook that isn't based in New Zealand, but not all overseas sportsbooks are equal. All of the sportsbooks and casinos that we recommend here at CasinoGuide have been checked out and approved by our team of expert reviewers to ensure that they are licensed and regulated. You can therefore be confident that our recommended sites will provide you with a great service in a safe and secure manner.
Have Realistic Expectations
Like all forms of gambling, esports betting is a high-risk hobby that can - and almost certainly will - result in you losing money. This might sound rather pessimistic, but it's important to approach esports betting realistically so that you bet wisely and don't get disappointed when the inevitable losses occur. Make sure you have a realistic outlook and understand that every bet you make - no matter how safe and secure it may appear - can lose as well as win.
Manage Your Money
Since every bet has the potential to lose as well as win, it makes sense to manage your money carefully so that you don't bet with too much confidence on any particular outcome. It is a good idea to set aside a sum of money that you can afford to lose and use that as your bankroll for betting purposes. Even better, make it a rule to bet no more than a fixed percentage of that bankroll - perhaps 5% or 10% - on any one event. This will help you to avoid being wiped out by a result that takes you by surprise.
Make Simple Bets
We have said that there are many different types of bets that you can make in the world of esports. Even so, those of you who are new to this type of betting would do well to focus on the simplest markets that are the easiest to win with, such as those that require you to predict the winner of a match. You can then look at more challenging bet types when you have more knowledge and experience.
Bet on Form, Not Hope
Our final tip here is for you to base your betting decisions on the past form of the players and teams involved, rather than on your own hopes or hunches. While past form -  which means the results that have been achieved previously by an individual or team - is not a guarantee of future performance, it is the best indicator we have about what might happen in an upcoming event.

How Do Esports Betting Bonuses Work?
Online casinos and sportsbooks offer a variety of rewarding bonuses to attract new players. If an online casino or sportsbook allows you to make bets on esports events, you will be able to claim a bonus when you open an account and make your first deposit.
Your bonus will usually take the form of a free bet or risk-free bet, but it will come with associated terms and conditions that you need to adhere to. For example, you may only be able to use your bet on certain events, or on outcomes that have certain minimum odds. Read through the terms on the sportsbook providing the bonus and all such rules will be clearly explained.
How Do We Rate Esports Betting Sites?
At the beginning of this guide, we provided you with a handy shortlist of recommended esports betting sites. These are all sites that have been selected by CasinoGuide reviewers as being the best around according to their assessment of several key criteria. Here are the main areas that we consider for such rating and selection purposes:
✔️ Bonuses and Promotions: First, we look at what bonuses and promotions are being offered. The more generous they are, the better.
✔️ Terms and Conditions: We then check to ensure that the terms and conditions associated with those bonuses and promotions are fair to all concerned.
✔️ Safety and Security: Betting online requires a great deal of trust, so it's vital that any venue we recommend has the strictest possible safety and security protocols in place.
✔️ Customer Service: Can you obtain help and support with ease should you ever need to do so? Ideally, we like customer service to be available around clock.
✔️ Payment Methods: Can you make deposits to your account using the most popular and accessible methods around? The more choice you have, the better.
✔️ Ease of Use: How easy is it to navigate the sportsbook and place bets? We give better ratings to websites that go out of their way to be user-friendly.
✔️ Mobile Friendliness: Can you visit the site and place bets on your smartphone or tablet? Is it easy to do so? Only affirmative answers to those questions are enough to earn points for mobile friendliness.
Conclusion
Esports betting is a hobby that offers the highest levels of excitement and fun, and the option to study form in an effort to pick future winners keeps engagement levels high. As you have seen in this guide, getting started is as easy as signing up for an account with a suitable sportsbook, making a selection and placing a bet.
The real challenge, of course, is improving your ability to pick winners. That is something that you could well be working on for a lifetime, so enjoy the journey and good luck with your selections.
FAQ
🔎 Is betting on esports legal and safe in NZ?
🔎 What are the best esports to bet on?
🔎 How do you watch esports online?
🔎 Where to bet on esports?
🔎 What are the best esports betting sites for NZ players?
🔎 How do esports bonuses work?
🔎 What are the advantages of betting with international online sites?
🔎 Is esports betting a game of skill or luck?