Casino jackpots make headlines when they're won, and for good reason. Some progressive jackpots can be worth as much as a lottery win, if not even more. It isn't at all easy to turn a small bet into a five-, six-, or seven-figure fortune, but progressive jackpot pokies at least make it possible.
This article will explain the answer to the question 'what are casino jackpots?', and we'll talk about how they work. We'll introduce you to the four main types of online jackpots, which progressive jackpot pokies are the best, and where to find them. We'll also tell you about some of the biggest ever won - just in case you need some inspiration when you try to win one for yourself.
5 of the Best Jackpot Casinos
What Are Casino Jackpots?
Casino jackpots - or progressive jackpots as they're known in other countries like UK and Canada - are the top prizes paid on pokies and other casino games. In most games, the value of the jackpot that can be won is fixed at a certain value. To illustrate, a pokie with a top prize of 8,000x the bet will always pay that amount, and not a cent more. However, some games offer progressive jackpots that increase in value over time, and those are the ones that we'll be focusing on in this article.
While regular casino jackpots have a stated maximum value, progressive jackpots have a stated minimum. The value of a progressive jackpot will increase as players make bets on the game. The bigger the jackpot grows, the more attention it will get from players, and that will help it grow even faster. Eventually, someone will trigger the jackpot and win the whole amount. At that point, the jackpot reverts to its stated minimum value so that it can start growing for the next person who is lucky enough to win it.

How Do Casino Jackpots work?
Progressive jackpot pokies might sound complicated for those who are unfamiliar with them, but they're actually quite simple to understand. Each progressive game has a base jackpot, and that is a sum that is guaranteed to be paid, as a minimum, by someone who triggers it. Then, as players invest money by playing the game, a small proportion of each bet is added to the progressive jackpot fund. This is referred to as 'feeding' the jackpot.
The rate at which a progressive jackpot will grow, and by how much, depends entirely on the number of bets made on the game and their value. That being the case, a game that receives plenty of attention from players will see its jackpot soar more rapidly than a less popular title.
Because big jackpots pokies are good for both players and casinos, online gaming operators are always keen to find ways of helping prize funds climb as high and as quickly as possible. One common method is to link a jackpot to several games so that all bets on any game contribute to the shared jackpot. Another method is to allow the jackpot for a particular game to be 'fed' by bets at a number of different online casinos.
Eventually, someone will trigger a jackpot win. When they do, they will receive the entire amount of the jackpot prize fund. The jackpot will then be reset to its base value and the whole building process will start again.
How Often Do Casino Jackpots Hit?
There is no sure way to predict exactly when online jackpots will hit, but the thrill of trying to predict is what excites players. Winning all jackpots is all down to luck, and each game will have its own settings that dictate how often the top prize can be triggered and under what conditions. The amount of attention that a game gets is also a contributing factor. Generally speaking, the more people who play a game, the faster its jackpot will increase and the more often it will be won. Even so, there are never any certainties, and while some progressive pokies might deliver a jackpot win several times a year, others can be far less cooperative.
Types of Casino Jackpots
While all progressive jackpot pokies work in broadly the same way, they aren't all identical by any means. There are actually several different types of jackpots, so let's look at four of the main ones that you're likely to come across.
Standalone Jackpots
This is the simplest of all progressive jackpots and it is most often found at land-based casinos. The standalone jackpot is linked to just one specific game machine in one specific casino. Even if there is a row of five identical machines, the jackpot on each one will be completely independent, hence the term standalone. The jackpot on the first won't be affected by bets placed or jackpots won on any of the others, and vice versa.
Because standalone jackpots grow only from bets made on their particular games, they generally don't grow as quickly as other types. The advantage of standalone jackpots is that you can be certain that someone playing that specific game will eventually win it, and that it won't be scooped by someone playing an identical machine further down the row.
Local Jackpots
A local progressive jackpot is one that is shared by several games of the same type in the same casino. These are very common at the best online casinos, and they can also be found at land-based venues as well. If we continue using our example of five identical pokies in a row, a local jackpot would be fed by bets on any of those pokies. It would also be possible to win it by playing any of those games.
Because bets on all instances of the same game help to build up the value of a local jackpot, it will grow more rapidly than a standalone. At the same time, anyone playing any of the games linked to the jackpot will have the chance to win it. Someone who has been playing the game for minutes could therefore scoop the jackpot even though others might have been playing for several hours.
Network Jackpots
Network jackpots take things a stage further because these are shared between all games of the same type at multiple casinos. For example, when you play the popular Microgaming pokie Mega Moolah at all jackpots casinos New Zealand has to offer (see our Casino Reviews page for recommendations), you will have the chance to win its legendary progressive jackpot.
With a network jackpot being linked across a number of casinos (typically, across multiple casinos on the same network, hence the name) it will grow far faster than local or standalone jackpots, and to greater heights. However, as soon as any player wins the jackpot, no matter where they are in the world, it will be reset for everyone.
Multiple Jackpots
Multiple progressive jackpots are offered by an increasing number of online pokies. They work like regular progressives, but there will be several of them that can be won in the same game. For example, when you play Mega Moolah you will be hoping to land the headline-making Mega progressive. However, you can also win a Major, Minor or Mini progressive, each of which has a lower base value than the one before it.
The different base values of these multiple progressives are designed to give players smaller jackpot wins as they play for the big one. The smallest jackpot won't be worth anything like the sum offered by the biggest, but it will at least deliver a nice thrill as you play for one that is more substantial.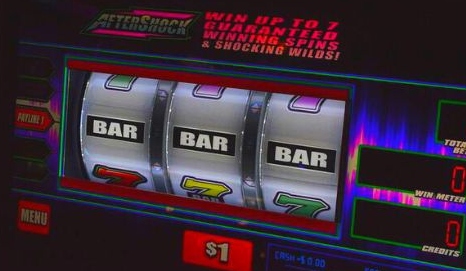 How Casino Jackpots are Won
Progressive jackpot pokies can be won in a number of ways. All of them require a massive amount of luck, which is why jackpot winners make headlines, but here are the most common ways in which a jackpot payout can be triggered:
Combination of Special Symbols
A high number of online pokies will require you to get a specific combination of symbols on an active payline. This is often the most valuable symbol in the game, but it could be a bonus or other special symbol, so you should refer to the paytable for more information about that.
These games are particularly exciting because you'll often see one, two or three of the special symbols land in turn, and that gets the pulse racing as you wait to see if you can land one or two more to win the jackpot.
Bonus Game Success
Some games are designed so that the progressive can only be won via a special bonus round. The main game will offer a fixed jackpot for a combination of the highest-valued symbols, but if you want to hit the progressive you'll need to trigger the bonus round first. You will then be given the opportunity to win the jackpot by getting very lucky in that bonus round.
What makes these games exciting is that triggering the bonus round could potentially mean you're on your way to a big win. That probably isn't the case, as the odds of winning a progressive jackpot are slim, but the chance alone is enough to get anyone's adrenaline pumping.
Random Jackpots
There are a growing number of games that award jackpots at random for no apparent reason. You can be enjoying a quiet gaming session and picking up little more than a few modest wins when all of a sudden you get lucky and land a progressive jackpot just for being in the right place at the right time. These games make every spin exciting because any one of them could be the one that triggers a potentially life-changing payout.
Must Drop Jackpots
Another group of pokies have something called a Must Drop mechanism. This is a feature of the software that forces the game to deliver its progressive jackpot within a specified period of time. That period of time could be an hour, a day, a week, or longer, but as the deadline looms closer, the odds of someone landing the jackpot get bigger.
Anyone who wants to maximise their chances of winning a progressive jackpot would do well to focus on playing games that are approaching their Must Drop deadlines. These are often highlighted on the Casino Promotions page. Of course, because these jackpots are won and reset so often, they rarely climb as high as they do in games that don't have such deadlines.
The Maximum Bet Condition
All online pokies have their own rules, and some jackpot pokies will have a maximum bet rule that it's important to be aware of. This states that the full value of the progressive jackpot can only be won by players who bet the full amount of coins. For example, if a game makes it possible for you to bet 1, 2, or 3 coins per spin, it may state that the progressive can only be won by those who bet the maximum of 3 coins. Always look at the rules of the pokies you play so that you know if this particular condition applies.

Biggest Casino Jackpots Ever Won
Make no mistake, winning a progressive jackpot is always difficult. Exactly how difficult will usually be determined by the size of the jackpot on offer, and some of the biggest might give you as little as a 1 in 49 million chance of succeeding. Despite this, a few lucky players do somehow manage to overcome those daunting odds and land some eye-watering wins in the process.
Best Progressive Jackpot Pokies and Game Providers
When you want to play the best progressive jackpot pokies, it makes sense to focus on those that come from the best casino software providers. Here are the ones that we recommend most highly, although of course there are plenty of others that you can choose from, too.
Microgaming
Microgaming was born in 1994 and has since established itself as one of the world's leading providers of online casino games. The development arm of the company is now known as Games Global Ltd, but the Microgaming brand is much more recognisable, having given us the superb Mega Moolah progressive in 2006. Other pokies in the Mega Moolah series have since been released, and all of them boast a progressive jackpot with a base value of €1,000,000. Just a few of our favourite Microgaming titles include:
NetEnt
Founded in 1996, the Swedish company NetEnt is another big developer that has given us plenty of progressive pokies to get excited about. The first was the 2010 release Mega Fortune, which has reels packed to bursting with all kinds of status symbols. A more recent progressive favourite is Divine Fortune, which has a much more mythical theme but can still make you feel like Midas whether you win or not. Now a part of the Evolution Group, NetEnt can be relied upon to give you maximum entertainment as you play for a big windfall. Some of the games that are particularly well worth checking out are:
Playtech
This is a company that releases games at an incredible rate but still manages to maintain the highest standards. We don't know how Playtech do it, but to be honest we don't care. This developer has been making waves in the business since 1999, and with over 600 games under its belt, it's earned its place at the top of the tree. Beach Life is one of its earliest progressive pokies, and that title is still being played with enthusiasm today. Our shortlist of the best Playtech progressives includes:
Casino Jackpots: The Future Looks Bigger and Better
Like casino bonuses, progressive casino jackpots get plenty of attention from players, and the more they offer, the more popular they are. That, along with the fact that online casino gaming is now a mainstream hobby rather than a niche interest, means that we can expect our beloved progressive jackpots to continue getting bigger and better in the years ahead.
FAQ
🔎 What are the benefits of casino jackpots?
🔎 What are the disadvantages of playing casino jackpots?
🔎 Is it easy to win on casino jackpots?
🔎 Are Casino Jackpots pokies rigged?
🔎 Is there any strategy for winning a Casino Jackpot?
Progressive Casino Jackpots Are Here to Stay
Playing online pokies is all about having fun, not necessarily winning, but having the opportunity to pursue a big prize is always an exciting prospect. While the chances of actually landing a huge progressive win are slim, it's the idea that counts. That's why so many millions of people play lottery games, and that's also why progressive jackpot pokies look set to be around for years to come.