Nolimit City is a popular online game developer that is famous for releasing pokies that are often as quirky as they are entertaining. Although the company has been around for more than a decade, its desire to surprise, shock and take things in completely new directions is as strong as ever. Evidence of that can be found in three of its latest releases, each of which is completely different from the others. Stick around and we'll tell you all about them.
Find Nolimit City Games at These Casinos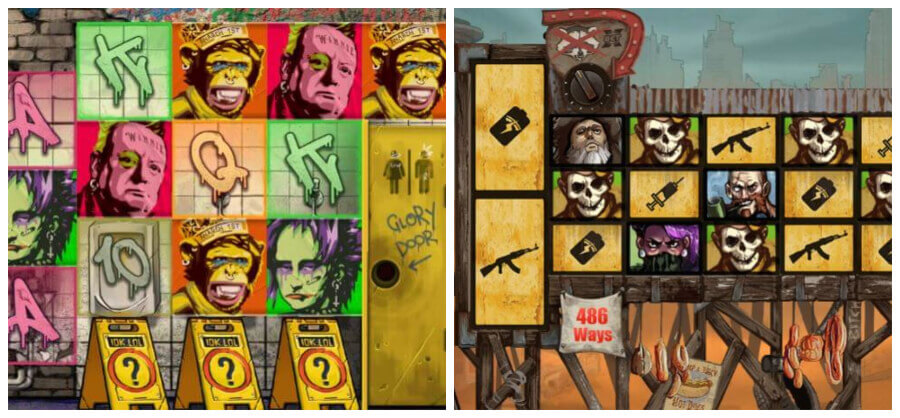 1. Punk Toilet
The first new game we want to highlight from Nolimit City is Punk Toilet. This was released just a few months ago as a sequel to the beautifully anarchistic Punk Rocker game of 2020. Punk Toilet has five reels that are presented on a brick wall inside a public toilet building, and locked urinals appear at the bottom of the second, third and fourth reels. Meanwhile, the fifth reel is mostly locked by a Glory Door, which we won't even talk about.
Another thing we won't tell you are the names of the special bonus features, as we'd get into trouble with our editor, and we're not yet quite that anarchistic. Let's just say that you really shouldn't play this game if you have a sensitive disposition. However, if you love everything that Punk Rocker stood for, you'll love Punk Toilet. It's so good that we can't say much about it.
2. Misery Mining
Misery Mining is another sequel, and this one follows on from Fire in the Hole. The prize potential here is bigger, and you'll have the chance to win up to 70,000x your bet. You'll start playing on a grid that has three rows and three reels, and gives you 27 ways to win. However, the gaming area will expand when xBombs explode, and that can give you as many as 823,543 ways to win on a grid of seven rows and seven reels.
A suitably trudging soundtrack, an even grumpier looking miner and a Misery Bonus Round that can be played in Mouse Mode or Rat Mode make this pokie a must-play for any Fire in the Hole fan.
3. Karen Maneater
The third recent release we recommend taking a look at is Karen Maneater. This is a six-reel pokie that focuses on a "Karen" who has a taste for eating men, and we mean that literally. The purple-haired character tracks them down, kills them off and then - when you trigger the bonus round - serves them up in a variety of bonus meals to her fast-food customers. If that isn't weird enough to satisfy your appetite for quirkiness then we don't know what would be.
Get Your Quirk On Today
We're thrilled that Nolimit City is still releasing games that are quirky and often rather rebellious, and the three that we've highlighted here should give you a good idea of what the company is all about. Play one, two or all three of them today at one of our reviewed and approved casinos and enjoy the anarchy.